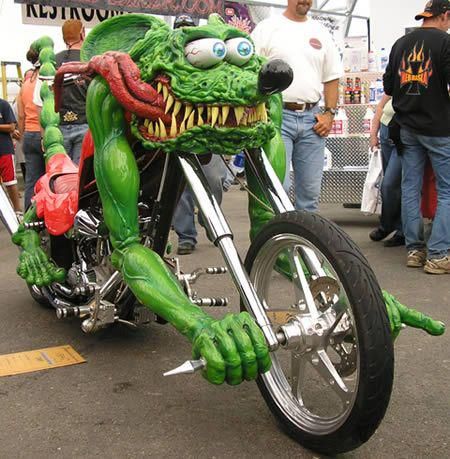 All chopper lovers know there was only ever one bike show worth winning – and that was the Rat's Hole Custom Chopper Show in Daytona Beach, Florida.
It was run by and named after a character that was profoundly larger than life – something that seems to typify post-60s America, an especially the burgeoning custom motorcycle scene.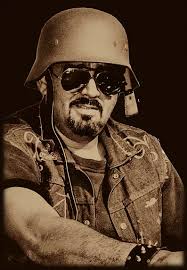 His real name was Karl Smith, but the chopper world knew him as Big Daddy Rat, and his bike shows were considered the highlight of Daytona Bike Week.
Karl first visited Daytona Beach in 1963, and according to his son, Karl Smith Jnr, "fell in love" with the place.
Having graduated from Ohio's Wittenburg College with a fine arts degree, Karl Snr opened up a four-metre by six-metre shop on Main Street called The Rat's Hole, and was one of the first people to airbrush art onto T-shirts.
His business grew. He was soon the owner of seven shops in Daytona Beach and a gift shop in Vegas. At the very height of his success in the mid-80s, he was worth some $US1.5 million.
But airbrushing T-shirts was not what made him famous.
His primary path to fame lay in his bike shows.
Florida's famous beach has played host to bike riders since 1937, and the week-long fiesta was grounded solidly in motorcycle racing. Wherever motorcyclists gather, a pissing contest is bound to ensue, and while there were any number of such contests out on the track, the Rat's Hole Custom Chopper Show was certainly in a class of its own.
It was in the Year of our Rat 1972 when Big Daddy Rat first assembled enough chrome, raked front-ends, hippy-child paint to put together the first bike show.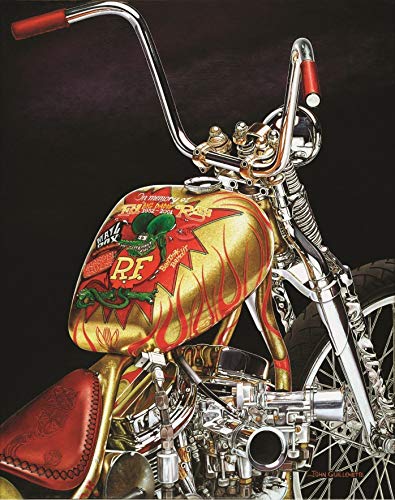 From that day forth, his shows just kept getting bigger and better (essentially driving large parts of the US custom motorcycle scene)  –and even branched out into other Rat's Hole shows held at Sturgis (the USA's other big bike get-together) and Essen in Germany.
But the common thread throughout them all was the stunning array of mind-boggling custom bikes – quite often showcasing cutting-edge technology and innovations that eventually found their way onto production models from Harley to Honda.
In fact, Honda's spectacular Rune was debuted at the show a few years back in three different versions. The people then voted on which one they liked the most and two years later, Honda made it a reality by rolling its first Rune out to a cheering public.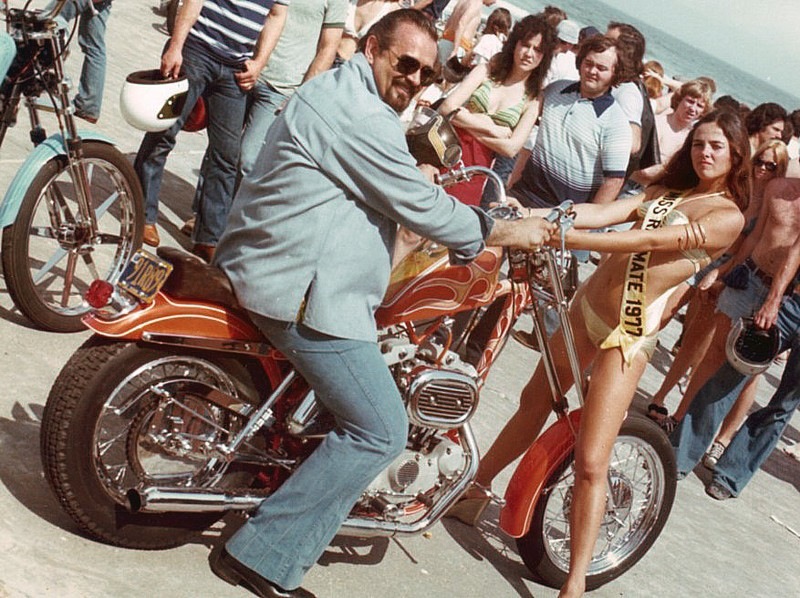 Throughout all of those 30 years, Big Daddy Rat's presence was ubiquitous – after all, it was his show, wasn't it? He was always keen to pose with bikini girls who entered the show's own beauty contests. And Daytona Beach had no shortage of them.
In a few short years, he became what would in today's Instagram world be known as an "influencer"
So influential was he with the bikers, that when things started getting out of hand in the 1988 when warring outlaw clubs would converge on Daytona to settle their differences in the sunshine, the police chief, Paul Crow, turned to Big Daddy Rat for help.
Big Daddy told the policeman to write a letter, promising a friendlier police presence in the future, which Big Daddy then caused to be distributed to all of the US motorcycle media. From that day on, things in Daytona Beach calmed right down and the whole event became a more family-oriented extravaganza.
And his show just got bigger.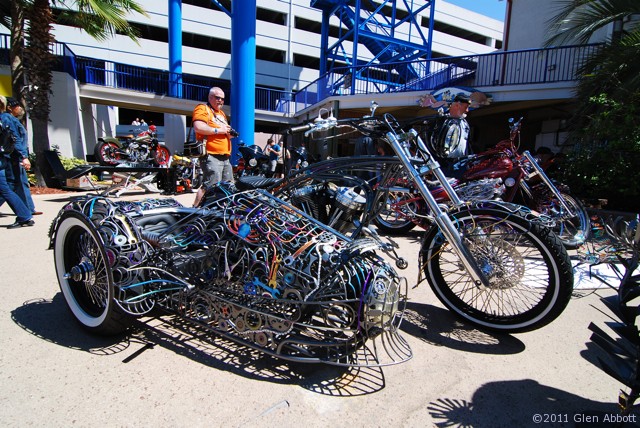 Anyone who was anything in the US custom bike scene has had bikes on show there – Arlen Ness and his son Cory, Indian George, Paul Yaffa – you name them, they've been to the Hole with their builds.
Sadly, Karl Smith passed away during his beloved Bike Week in 2002 and it was like someone had suddenly deflated a party balloon. The Rat's Hole show struggled on for a few years, before being postponed in 2005 due to sponsorship issues.
But the rise and subsequent popularity of motorcycle-driven Pay-TV shows like Orange County Choppers, has seen the Rat's Hole Show return with a whole new lease of life in recent years.
It is now, once again, arguably the world's premier custom bike show and an international jaw-dropper, doing its unique thing in Switzerland, Sturgis and Daytona Beach.
Long may it continue.
By Boris Mihailovic