Our roving racing correspondent, Tug McClutchin reports on the Argentinian MotoGP.
Ahhhhgentina! The country that brought us Che Guevara, Diego Maradona and the hottest tennis player of all time, Gabriela Sabatini, has just served up a MotoGP that provided all the passion and emotion of a sweaty Tango in a Buenos Aires brothel. Well, it was the good prostitutes of that overpopulated hell-hole who invented the Tango, and it's about time they received the credit they deserve.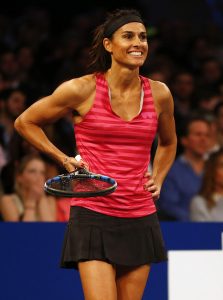 For those too young to remember her, this is Gabi Sabatini. See? Told ya.
There were Tangos all over the show at the CircuitoTermas de Río Hondo. It started with the one between Jack Miller and his Ducati during qualifying, and ended with the one between the various shouty cabals of Rossi and Marquez fanboys on social media in the days that followed the race. That battle will rage long after the two of them retire from racing, as some MotoGP fans consider their chosen God to be infallible, and they will not relieve themselves of that delusion for all the chivito in Patagonia.
There were numerous other Tangos across the weekend, and we'll get to those shortly. But lets go back to Jack. There were two things we learned on Saturday. The first was that the director of the MotoGP coverage is an absolute knob end. While Miller was smashing his final lap out to snatch pole in the final drizzly seconds of the session, we were forced to watch rider after rider cross the line, having gone slower than their previous times, then banging their fists into their fuel tanks and shaking their heads pretending to care as their times flashed up on their digital dash. Thanks to that spectacle of mediocrity, we missed one of the greatest qualifying laps the sport has ever seen. They produced a special video of it later on the MotoGP website, because they knew they'd screwed up. It was a qualifying lap for the ages, and earned the kudos of just about every rider in the paddock. The ones who didn't compliment Jack on his effort are clearly just jealous of his planetary testicles.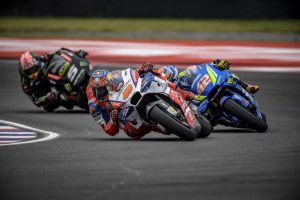 Jack was epic
Jack's slick-shod Ducati did everything it could to rid itself of its annoying human encumbrance on the wet track, spitting the Aussie into the air a number of times. Most riders would have rolled out of the throttle and given up on the lap after the first near miss. We've seen them all do it. The rest would have given up after the second near massacre. But not our Jack. He was determined to show the world his astonishingly large nuts are matched only by his clearly freakish stupidity, and every time his arse landed back somewhere close to the seat he twisted his right wrist and blasted on to the next wet corner and what was obvious to everyone was certain oblivion. Except oblivion never came. Only glory. Sweet, promo girl bagging glory. Pole position for the race for his new team, and a lap that will be talked about long after our memories of his weird accent fade.
And come Sunday, it was raining again. Before heading out for the sighting lap, the entire field shod their bikes with wet tyres, as you would. Except Jack. In a move akin to chucking a huge browneye to the entire field while wearing a bucket hat, our Jack threw on a pair of slicks, and proceeded out to strike fear into the hearts of those wet tyre shod pussies. They all lined up on the grid behind Jack, and saw what tyres Jack had on. They looked at each other. First they laughed. "That idiota kangaroo-fucker has lost his empanadas" Marquez yelled out to Crutchlow. Cal turned and yelled at Marquez to "Shut up dickhead". But that's just what Cal says to everyone. Besides, he was trying to concentrate. Then, one by one, they all realised what was really going on. Jack had just told every one of their girlfriends that there was a party on in his trailer that night and they were all invited. Hosted by a man. A real man. With testicles like the Hindenburg, only without the hot sauce. Shamed into realising their manhood was at stake, they all buckled and yelled at their mechanics to push their bikes back to pit lane to get some slicks. They weren't about to let Jack tango with their ladies without a fight.
And so Jack turned around to see an empty grid behind him.
Then, having switched to slick tyres after Jack's cag-questioning tactics, they all decided that although they wanted to pretend they had Jatz as big as the Aussie Cracker, they were all actually too scared to go and ride on them in the wet.
So they threw their collective toys out of the pram and refused to ride until the track had dried out a bit. Instead of making them put their wet booties back on and get out on the grid, Race Control decided to make Jack sit on the grid by himself for half an hour while the other boys asked their girlfriends if they could borrow some testosterone, if they could spare it.
Eventually it was Tango time, and we were then confronted with the field all lining up three rows behind our tennis-ball-balled Aussie hero. That was about as close to a penalty as they could think to give the collective cowards. Instead of Jack building a massive lead as they all peeled into the pits to switch from wets to slicks after lap 1, they all started 20m behind him on slicks, a gap that was always going to be obliterated by turn 2, as being the first guy into a wet turn 1 on slicks is not conducive to blinding speed, as you never really know how fast you can go… but the guys behind you do, because they have you as a guide.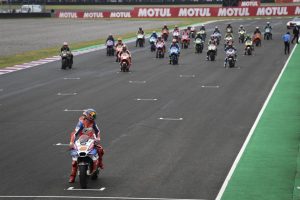 Jack always knew having pole position would be cool. But he never knew it would be this cool.
Marquez stalled his bike on the grid, and after bump starting it and riding it the wrong way back to his grid spot, was given a ride through penalty after the race started. Lets be honest, if it weren't for that, he would have disappeared into the distance and won by a week, because that mad talented bastard is crazy fast in those mixed conditions. Instead he ended up near the back of the field, although he was still ahead of Lorenzo. Everyone was. My Mum would have been. That dude's gone mad. He's mixed up the whole hammer and butter thing with the Black Mamba thing and created some kind of buttery snake that hammers away at the inside of his head, teasing him with it's slithery snaky voice, saying "You thuck" over and over again. (That's how snakes say "suck" you know). But I digress, nobody wants to hear about the back markers.
So Marquez proceeded to smash his way through the field, literally. Well, in fairness, they were all getting in his way, like cyclists in a Sydney peak hour. He hit an Espargaro. Sorry, I can't tell which one is which. It's like those guys in the Proclaimers. But he wasn't the only one. Petrucci also hit the same Espargaro, even harder than Marquez did. Sorry, I still don't know which Espargaro it was, but I know it was the same one Marquez hit. Do you really care, anyway? No, you don't, so shut up.
Zarco hit Pedrosa, and sent the poor fellow into orbit. But all of that Pedrosa and Espargaro bashing is perfectly OK, because none of them are Rossi. Nobody cared. Until of course Rossi went a little wide on entry to a corner, and Marquez dived for the half-gap that closed very quickly as Rossi tightened his line. They bumped, both ran wide onto the wet part of the track and then Rossi proved grass-tracking isn't his thing and binned it on the Buffalo. Cue inevitable social media meltdown.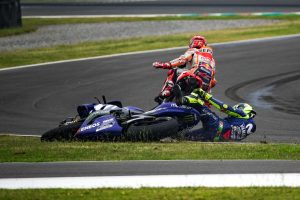 One day Rossi will figure out that the best way to avoid Marquez running into you is to ride faster than him. You can't hit what you can't catch. But that appears a tad too difficult.
Marquez then copped a 30 second penalty which put him out of the points anyway. Interestingly there was no matching penalty for Zarco, despite his move on Pedrosa being just as ham-fisted or Petrucci, who was worse than any of them.
In the aftermath Marquez went to apologise to Rossi, much like Rossi went to apologise to Stoner some years ago after he torpedoed the Aussie in an equally dumb move. But instead of doing what Stoner did all those years ago and take the absolute piss out of his opponent with a sledge that will follow Rossi to his grave (you remember the ambition outweighing talent thing? Of course you do), Rossi chose to sob at the back of his pit and sent his human mouthguard holder out to wave his arms passionately and swear at the Spaniard, dare I say it, much like a Buenos Aires prostitute performing a Tango? Sorry. I know. I've overdone the Tango thing. And probably the prostitute thing. I'll try and stop.
Rossi then proceeded to hold an impromptu press conference where he went into great depth about how he was now literally terrified of riding on the same track as Marquez. He's dangerous. He aims for my legs. I get scared when he's near me. I can't sleep at night. Will somebody hold me? That kinda stuff.
Marquez then held a press conference where he simply said, "My work here is done."
Meanwhile, the Last Tango in Argentina was taking place in the official motoGP post race press conference, between Cal Crutchlow (who won the race, did I mention that?) and the reporters. Cal was a bit pissed that only 3 people and a Capybara that had wandered in from his mud puddle by the nearby river had bothered to turn up. Fair enough too, he had just won the race, Honda's 750th GP win. He declared that from this moment forth he would only give interviews to those three journos present (one of whom was actually just the sound technician), and he was adopting the Capybara as a pet and taking it to the next round in Austin, where he would tell the American Border Control it was an assistance animal. Well, Americans are pretty stupid, so he should be sweet, and Cal would have someone to listen to his jokes.
Zarco finished second and Rins finished third on the Suzuki, after Miller ran wide on a corner with not long to go and dropped to respectable 4th.
Crutchlow, claimed he always knew he would win as he was the fastest guy out there all weekend. But he says that every week. You gotta be right sometime.
Next round is Austin, where history suggests Marquez is nigh on unbeatable. There will be no Tangos to be had. But there may be some boot scooting. I'll let you know. Will Rossi be too scared to show up? Will Marquez wear a bullet proof vest on the podium, lest some gun-loving, Trump voting, 2nd Amendment defending American Rossi fan take pot shots at him with an AR-15 from the roof of the grandstand? Will Jack once again embarrass those overpaid Ducati factory riders? Will I figure out which Espargaro is which? Tune in next round…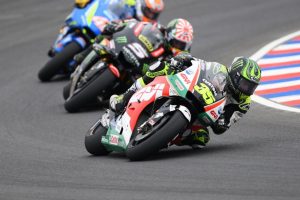 Pics shamelessly borrowed from ultimatemotorcycling.com – you can go there for proper stories.