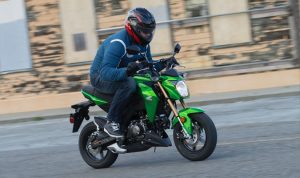 I'm pleased one of the more horrible motorcycle fads has passed.
Remember those colourful camo cargo pants? The ones that made the wearer look like drunken clowns had vomited lollies up on his nethers? The ones that took the concept of camouflage to places it could never possibly go? The ones that made you want to suplex the wearer into a furnace, especially if he had artfully matched his colourful camos to his motorcycle's paintjob?
And yes, I'm looking at a whole bunch of Gixxer riders who are now shamefully pretending it was never them.
Yeah, well, that's now mostly over. Though I did see one lone camo wolf still rocking them at a café in western Sydney.
But the next wave of horror is probably even worse.
Best ye prepare, pilgrims!
The little motorcycles are coming.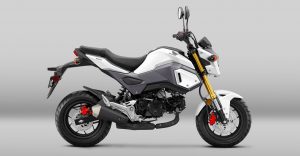 Put up your bastard hands if you think riding one of those Honda Groms or Kwaka Pros is some sort of acceptable thing for grown men to do.
Seriously? What's wrong with you? Was your mum molested by clowns when she was pregnant with you? Was your daddy some cruel despot's court jester?
Look, I get the whole 'motorcycle fun thing'. I have lived my whole life perfecting the whole 'motorcycle fun thing'. I'm sure there is even photographic evidence of me debasing myself on a mini-bike at some drunken barbecue and slamming into the clothes hoist.
Potato salad, cheap booze, and the fine company of my fellow drunks have always led me down reprehensible paths. Happily, my shame has been surrounded by superb fencing or followed by the disposal of witnesses, and thus it has remained relatively private. As it should.
But this toy motorcycle thing that has come upon us in the form of the Grom and the Pro is a shame from which we may never recover as a species.
Let me just clarify something before we go any further. I'm sure both these toy motorcycles are well-made. I'm sure they both do what they are intended to do – which is a) to transport smaller-statured third-world people around their crowded third-world urban environments; and b) amuse folks who enjoy seeing tame lemurs in pants riding them around inside a circus tent.
And that's fine.
But it is not fine that grown motorcycle men (who are not drunk or have not lost a bet) seem to wish to be seen in public astride one of these things.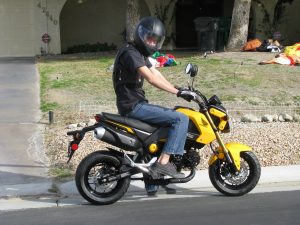 By all means ride one around your mate's backyard. Ride it into his pool. Fill yourself with rum, smoke a bag of dope, tell your girlfriend to hold your beer and try jumping one over a barbecue. Hilarious fun.
But riding one for real, as a worthwhile form of transport in an Australian city?
What part of your brain has ceased to function?
People have told me, when I have asked why they ride them, that it is 'fun'.
They are lying. Buzzing along at truck-axle height on a clown's motorised sight-gag cannot, on any planet, be fun.
The Vietnamese communists in Hanoi do not ride these things for fun. They ride them because their socio-economic circumstances deny them the dignity of riding proper motorcycles.
The Indonesian land-grabbers are not at all amused having to thread their Groms through the terrifying streets of Jakarta, but it's not like any of them can afford to commute on a Harley.
Then there is the 'cute' argument.
'Cute' is a pretty girl in a bikini riding her scooter to the beach.
A grown man idling through traffic on a Z125 Pro is not cute. Not even if he does his nails and waxes his legs. The people who are smiling at him are smiling at him the same way they smile at malnourished bears dancing in Romanian villages while gypsies beat them with whips – with pity and helplessness.
It's the same way I smile at those bearded women who ride Deus Ex Machina stuff.
So it's not cute and it's not fun.
But is it cool?
Shut up.
Do you think a square-wheeled pushbike being pedalled through a village fair by a bloke with a big red nose is cool?
Cool is a lot of things to a lot of people, and motorcycles are, on general principles, cool (unless you fit a top-box to them or belong to HOG or Ulysses), but we must remember neither the Grom or the Pro are real motorcycles.
It's like a Chihuahua is not a real dog. It's just a shrunken, misshapen, approximation of a dog some tequila-sodden Mexican drug-baron had bred because his crazy teenage wife might enjoy carrying it in her handbag when she was out shopping for stolen American jewellery.
So by all means buy one. Or three.
Invite your mates over and race them around your suburb late at night, high on meth and bathed in the light of the Supermoon.
But don't ever pretend they are anything other than silly gimmicks best ridden by trained koalas in some new Gold Coast theme park.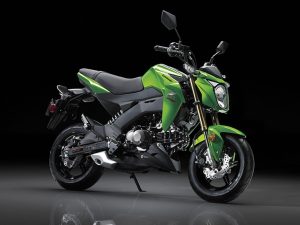 Words by Boris Mihailovic