He did. In many ways.
Firstly
by winning. Finally.
Mugello is important to Ducati. Actually that is a lie. It is more important than life to them.
It is their spiritual home, up the road from the factory in Bologna, and around half that distance from the magical city of Firenze (Florence, to you bogans)
. Winning here is more important than winning anywhere.
The staff from the factory come to watch, and if they lose, you wouldn't want to be buying any bike that rolled off the line the following Monday, as the tears of the workers would see the bikes rusting before they even get crated
. Italians don't take many things
seriously
, but this is one of them.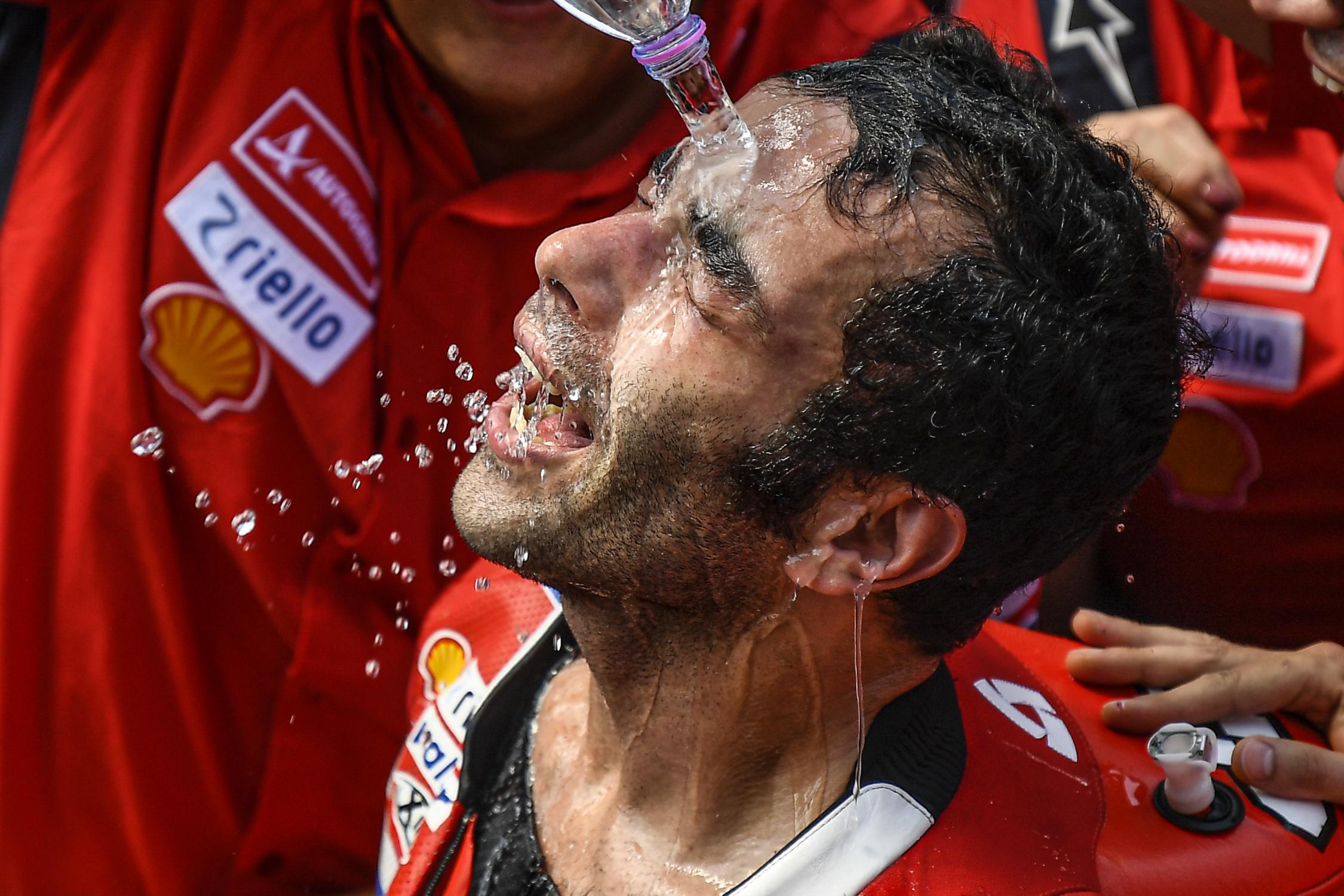 Evian. Water of champions. And Naive spelt backwards.
Danillo Petrucci has rewarded Ducati's faith in him by bringing home the trophy, and scoring his first MotoGP win in the process
.
He's outperformed Lorenzo's shitty efforts during his time with Ducati, at much lest cost
.
Much chatter existed in the press before the race about a threat to Petrucci's ride for next year from Jack Miller, and although Jack has shown the pace this year to run with the big boys at the front, in fact he ran the fastest lap of the race on Sunday, but he hasn't done enough to knock the likeable Italian from his perch on the red bike
.
Whether the speculation had any legs or not matters little. Petrucci can pretty much guarantee a contract extension now.
And Jack is likely to keep his ride at Pramac anyway, unless the Marquez family leave a horse's head in someone's bed to score Alex the ride
.
The little shit with more teeth than Luna Park won in Moto2 again today, although everyone knows he's not a copy of his big brother, despite what the Italian press wuld have you believe
.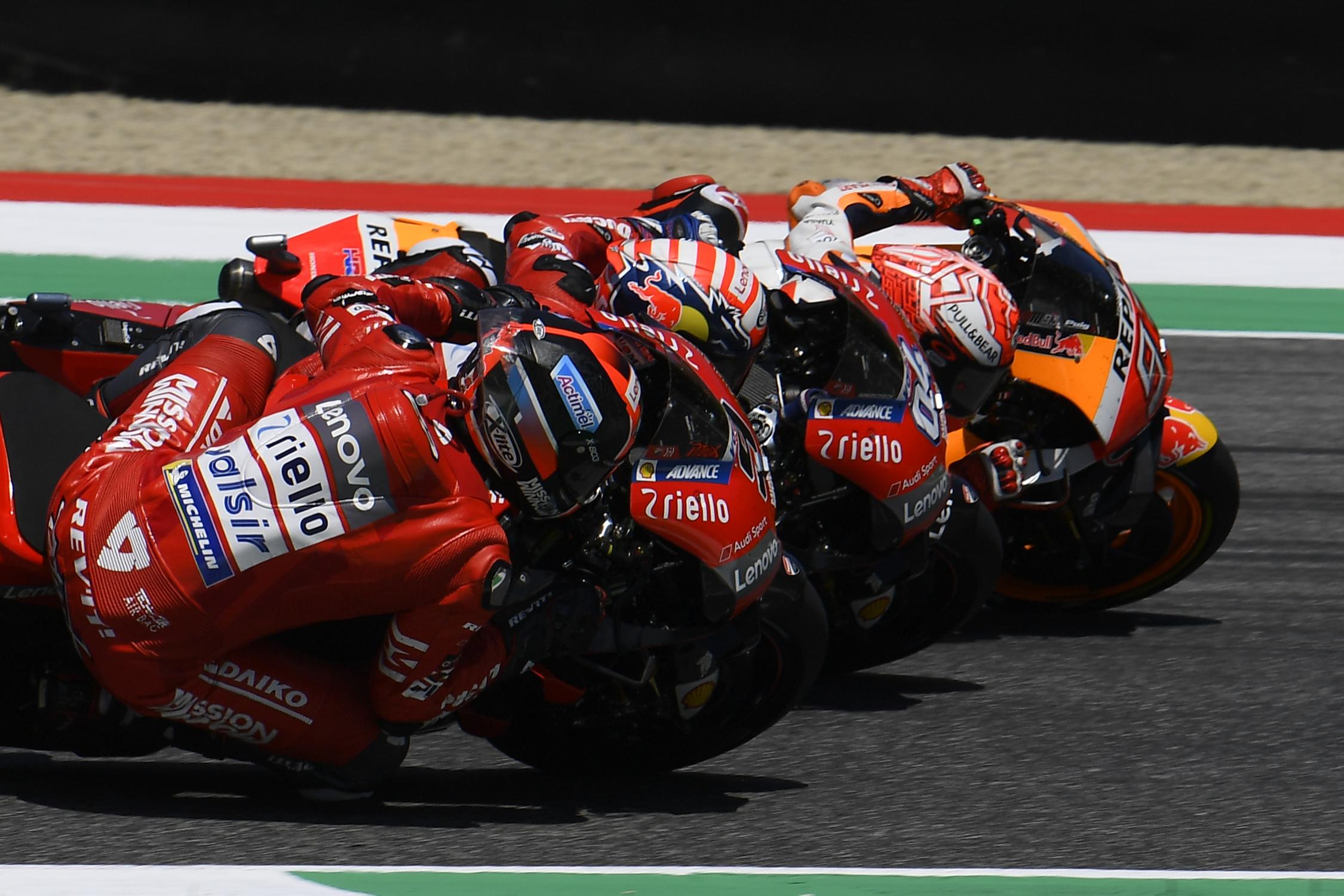 Petrucci parked himself on the inside of the first corner on the last lap, and was never headed.
Dovi put on a brave face and said all the right things, like "I'm happy for Danillo, and for Ducati" etc. But those who saw him kicking the living shit out of Ducati test rider Michele Pirro out the back of the garage knows he
was pissed
off
. Test riders aren't
just
used to gather data. They are whipping boys. This was despite Pirro finishing a commendable 7th, only 13 seconds behind the winner. Good effort for a part-timer.
Dovi's 3rd place allowed Marquez in 2nd to stretch his championship lead by a few points to 12, but the truth is no racer likes
being beaten by
his teammate
. Not even the placid Divizioso.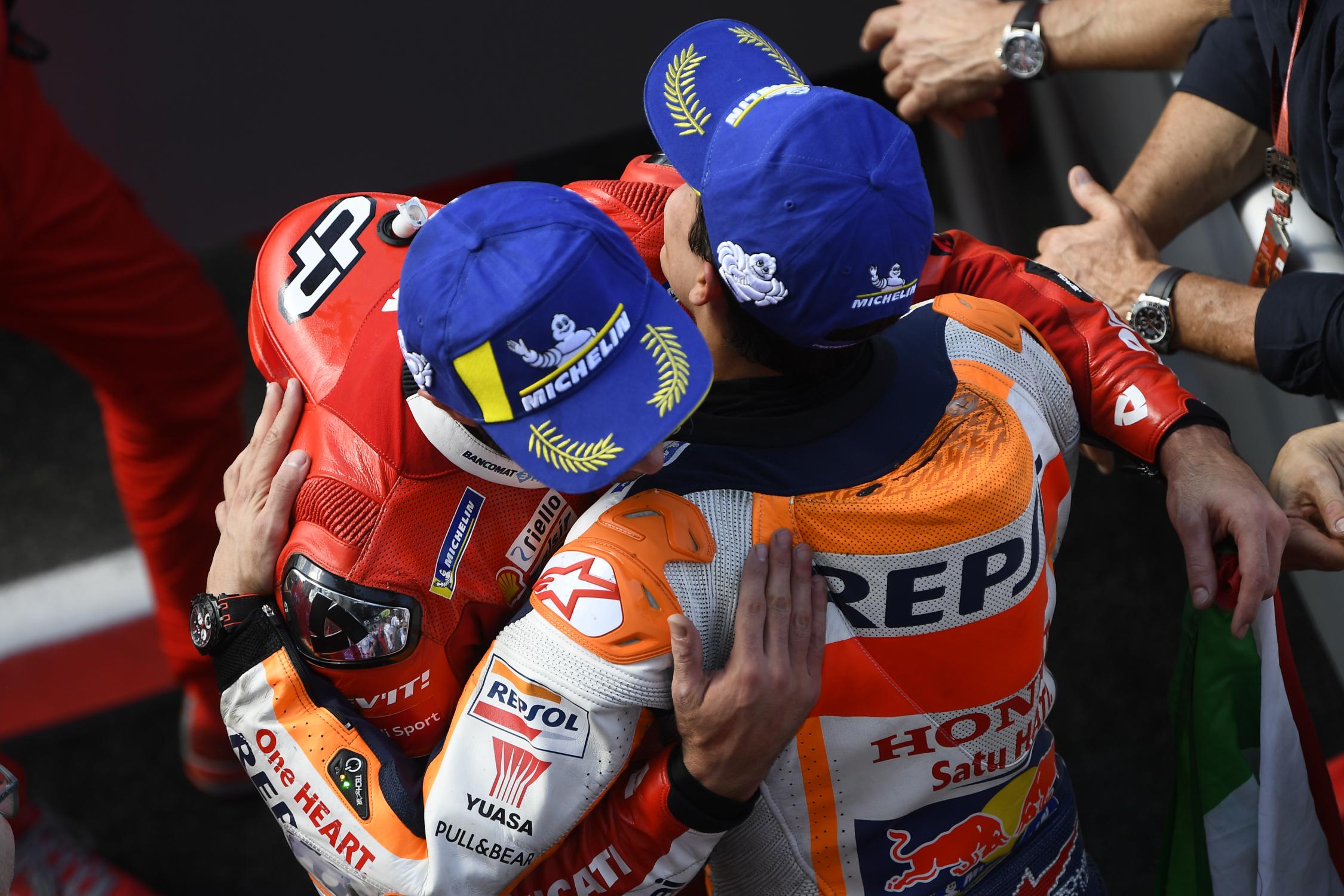 "You are no threat to me, so I hug you"
Marquez knew he had to lead onto the finish straight if he was to win. Any Ducati in front of him was never going to
be caught
and passed by the line. He dived into the 1st corner on the last lap with a massive dive up the inside in spectacular style.
All three riders seemed to made contact at some point in that corner, and Marquez spent the rest of the last lap pushing his front tyre like a lunatic, looking for a way through on Petrucci
. He looked like crashing a few times on that last lap. It's one of the things that make him great.
He was scrubbing that front tyre in almost every corner, in typical marquez "Chequers or Wreckers" style
. He could have settled for 2nd, kept Dovi at bay, and protected his championship lead. But he kept trying to win. It's what makes him one of the greats, and so brilliant to watch.
For his part, Petrucci ran
slightly
tighter lines on corner entry during his last lap to prevent a Marquez attack, held tight lines mid-corner, and
took advantage of
his Ducati's grunt off the corners to make sure he had enough of a gap at the next braking zone to keep him safe
. His final lap was faultless, and all done with one of MotoGP's best ever hunters up his arse like Liberace. That win will give him the confidence to run with the big boys for the rest of the year, as it should.
Rins put in another great ride and made the Flying Blue Shovel look much faster and better than it is. Whatever Suzuki is paying him, they should double it.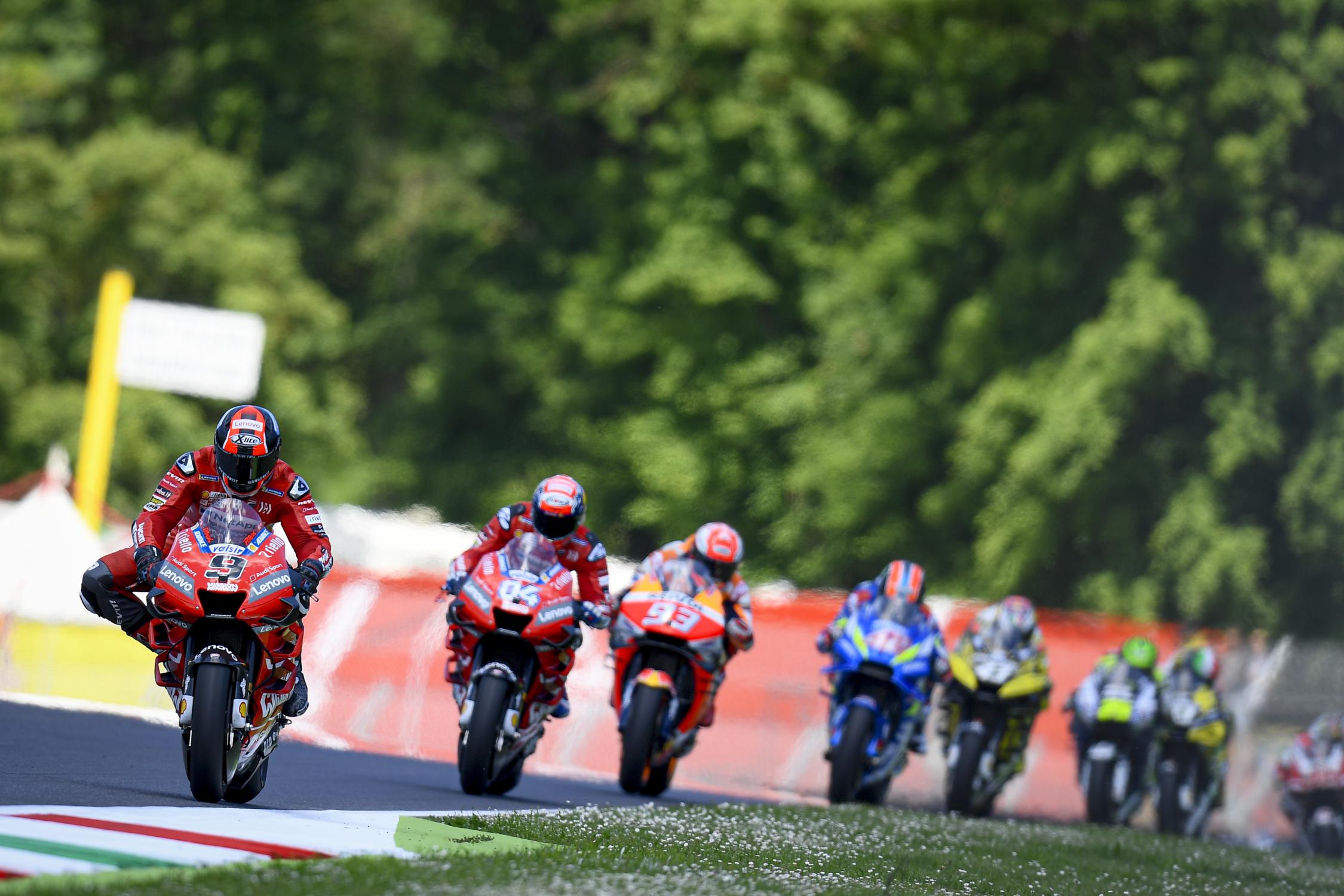 One of the best races of the year…
And Nakagami put in one of his best performances ever on the satellite Honda, keeping out Mav, Cal, and the crazy French Kid who calls himself El Diablo, who will one day be one of the best riders in the field
. Not sure why a Frenchman would give himself a Spanish name, but there you go.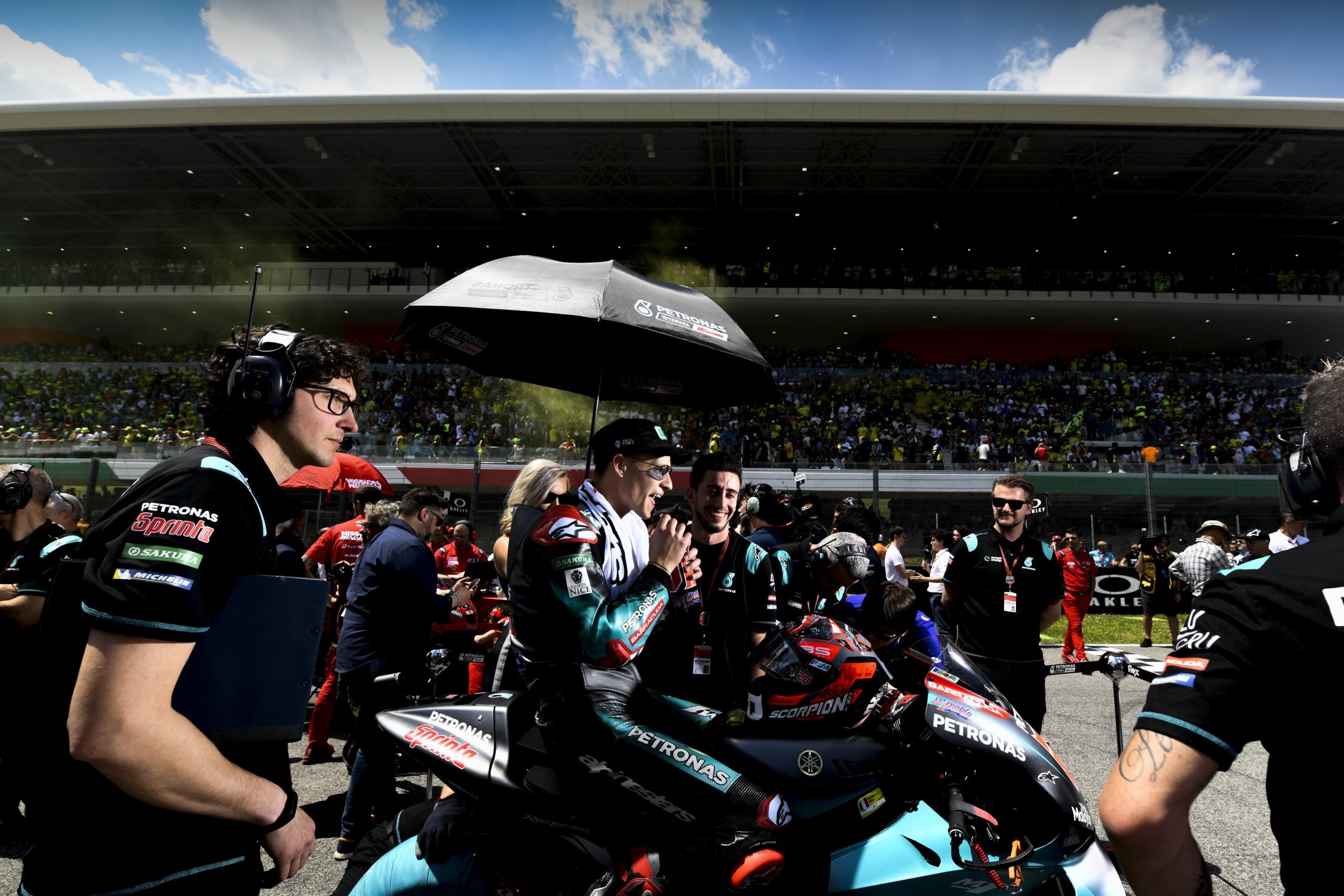 El Diablo. It's Spanish for "the devil". You're gonna call yourself that, you better be able to back it up. I reckon he can.
Rossi spent most of the day digging himself out of the gravel, and ended up staying there in the end. His wretched season continues. His qualifying performance was crap, and so was his racing.
There are conversations about the bike, but he's the same guy that also claims to be one of the best development riders around too
. That's not working well for him right now. And his fans continue to look for excuses, although they are becoming more laughable by the day.
Especially since that French kid with the funny name is belting him, on last year's bike, with an engine that Yamaha has tuned down a bit to stop him from embarrassing Rossi
. It appears Yamaha can't even get that right.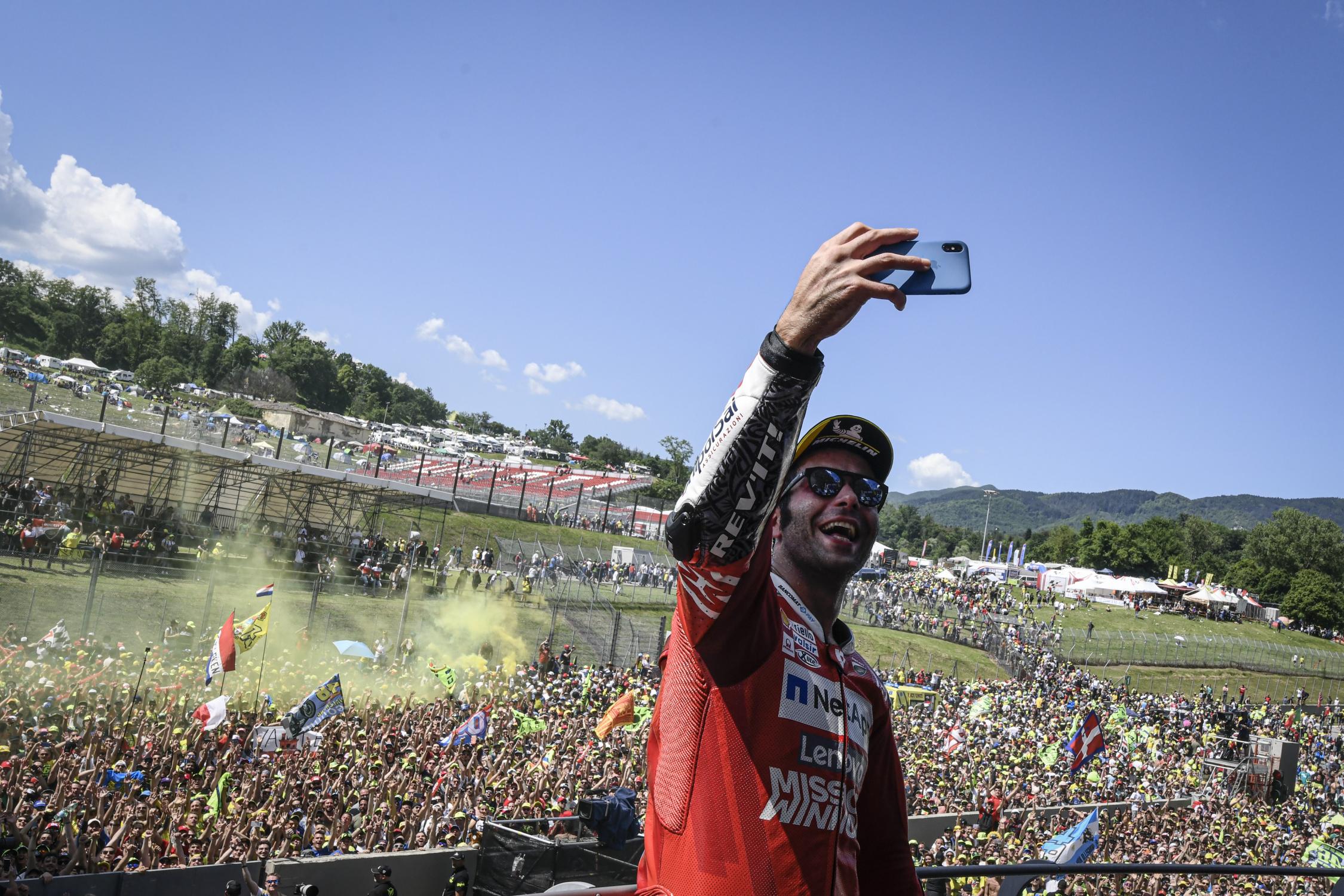 "Ahhh, look! I take selfie with the yellow evaporating tears of Valentino fans. This is much fun"
Miller lost the front a lap after setting the fastest lap of the day, and Bagnia crashed out too, making it a shitty double for Pramac
.
Sponsor Lamborghini may be rethinking their offer of letting Jack loose in one of their supercars later this week
.
Someone told me Lorenzo was out there, and I didn't believe them until I checked the time sheet. And there he was! Who knew? Even Honda forgot he was there.
He managed to beat Karel Abraham, although he didn't beat Joan Mir on his Suzuki, even though Rossi had already run into Mir to try and get him to come and play in the gravel
.
Lorenzo's first year at Honda is looking
eerily
similar to
his first year with Ducati.
Honda will already have the lawyers looking for the performance exclusion clauses in his contract
. They won't want him there next year if they can help it. Honda has always been less patient than Ducati. They'd rather pay Lorenzo out and piss him off than allow him to embarrass them for another year. If he doesn't come good this year he may find himself in WSBK for 2020.
I don't care how often you ride your local mountain road and bathe in your own piss. You'll never be this good. Stop kidding yourself.
That was the best race since Assen last year. Next we go to Catalunya, where I plan to stock up on chorizo (it's awesome there), and then we go to Assen again. Seems like only 12 months since we were there last. Time flies, eh? Wait. It is 12 months. Forget I said that.
By the way, it's only an hour after the race, and the music is already blaring out of Petrucci's motorhome, and the party has started
.
I'm off there in a minute, but you can hear the music from here in the Mugello media centre, and from the windows you can see the people climbing on board
. It's a bit different to the party I
was invited
to after Lorenzo's win last year. For a start, everyone climbing up the stairs is female, and they're all hot. I'm looking forward to this party much more.
But I never picked Danillo for an Eagles fan.
Oh well,
maybe
he'll
just
sit back, and Take It Easy.
When you're the winner, you don't have to do the work. That's the rule.