In the rain, nobody can see you crying. Just ask Rossi. He was again on for a win at Valencia, but just like in Sepang, he buckled. But so did many others, some of them with some big crashes. Trying to control the massive horsepower of these modern bikes in standing water at high speed is most problematic, no matter how good modern wet tyres are. Even the on point millisecond accuracy of modern traction control cannot cope with it.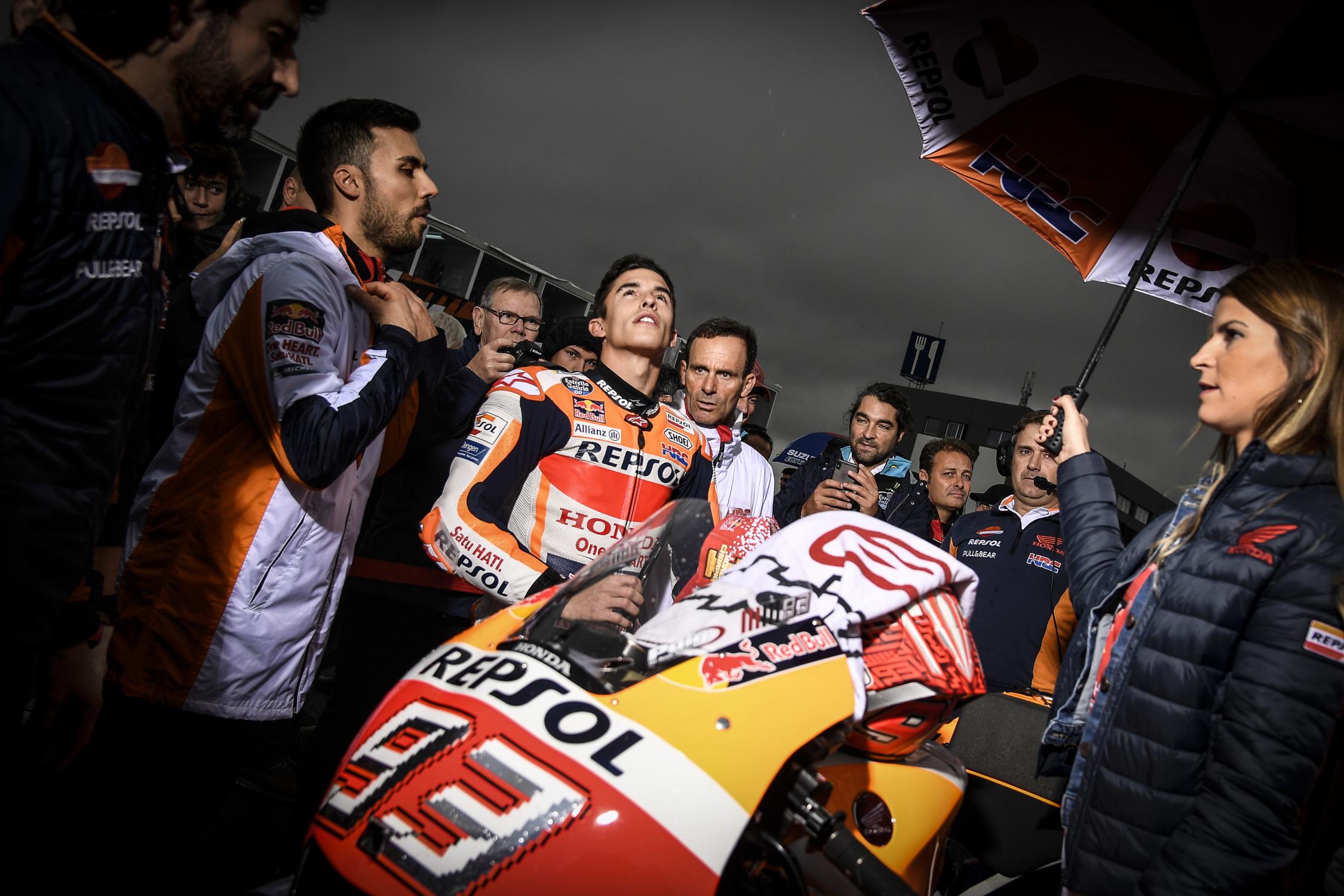 Yes, Marc, it's raining. No, Marc, it's not going to stop.
Much was made of the decision to red flag the race when things became very hairy. From my perch in the warm, dry, fully catered media centre I actually thought they were a lap or two late putting the red hanky out. Shit, I wasn't even game to go outside, much less race a bike in that mess. It's all well and good for the Facebook warriors to demand the riders perform for our pleasure, and "just slow down and ride to the conditions". That's all very cute, but these guys aren't like you. They are racers. They will race each other no matter what. It was too wet. It was weather that sees road riders huddled together on footpaths under shop awnings. Riders were beyond any semblance of control. Luck was all that was keeping them upright, and each of them knew they were a split second away from catastrophe. Finally Dovizioso took matters into his own hands and raised his left had to the control tower as he aquaplaned past. Suddenly realising that they may be about to kill someone, the officials threw the red.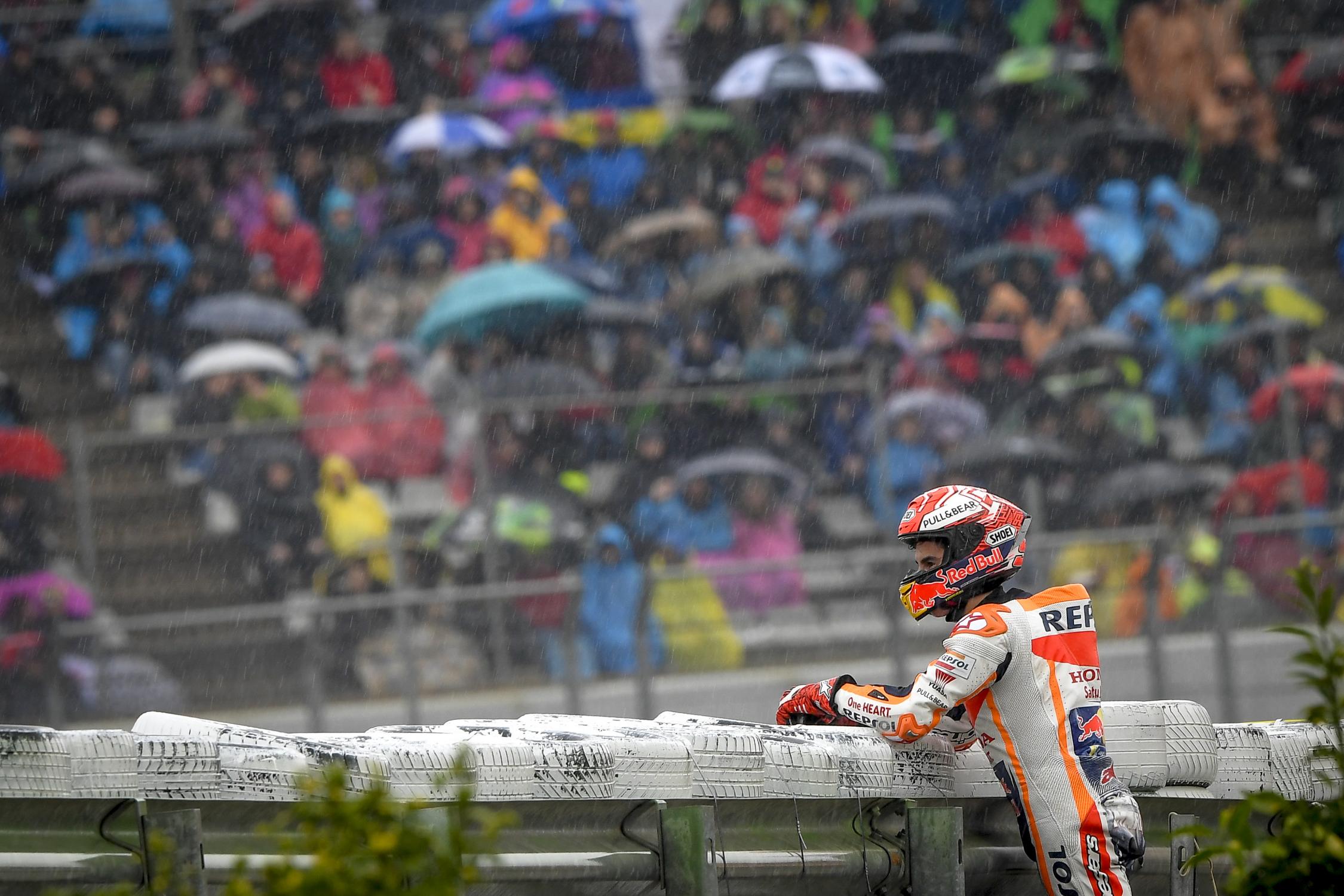 That didn't end well
The restart provided some interest, but Dovizioso is in his element in the rain, and some shrewd tyre management over the weekend meant he had a fresh soft front wet to bolt in when most of the others didn't, so he was pretty much assured of the win. We can argue that they should be made to restart on the same tyres they used in the first part of the race, but the rules allow them to change tyres, so he did.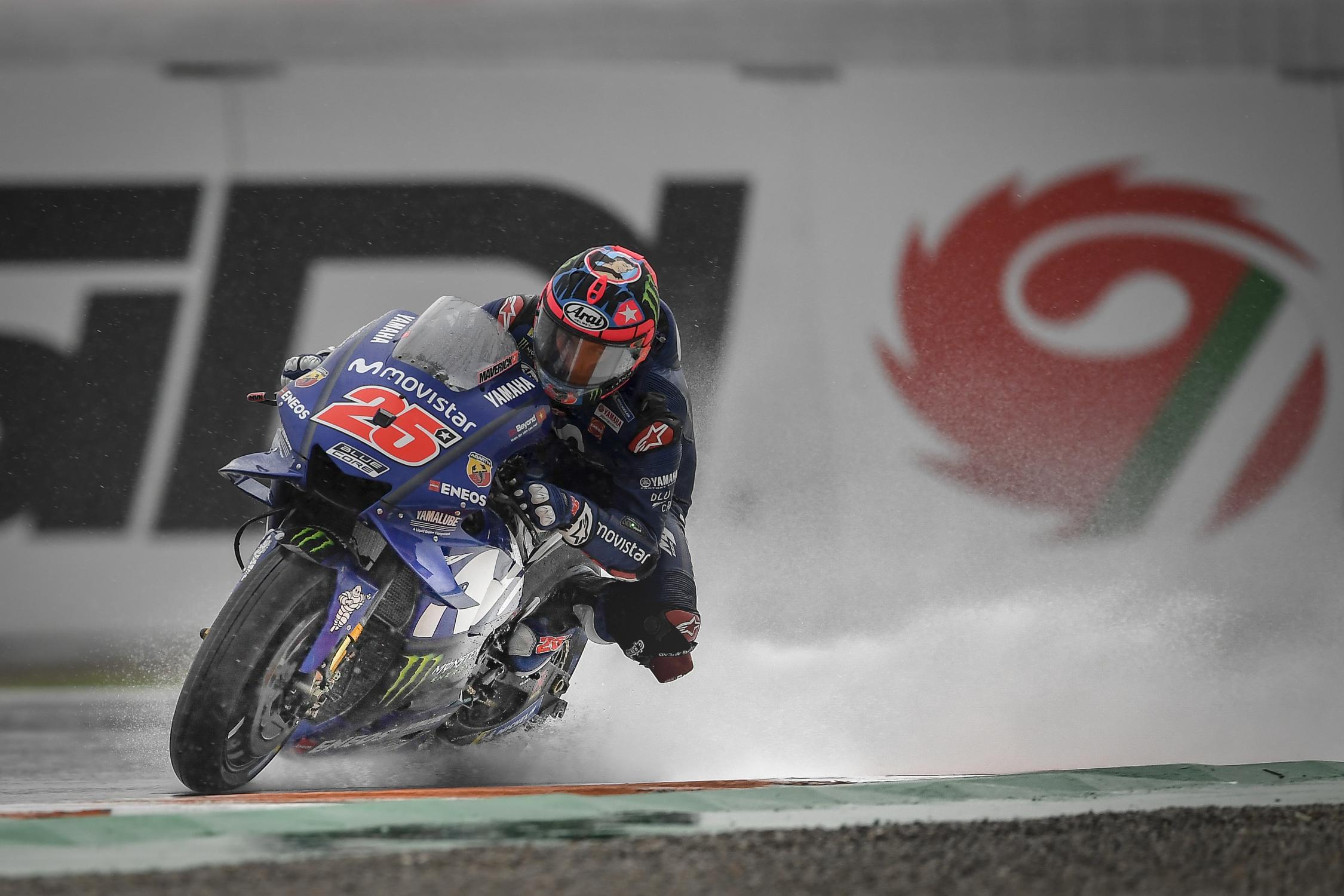 It was a touch damp. Yamaha should have hooked Mav up with an outboard.
But for all the action and carnage, the whole thing felt like a bit of a let down really. At this time of year when the title has been decided a month ago, many of us are looking forward to the test session that is about to come, where everyone jumps on their new bikes for next year, than we are to the last race of the year. And having it turn into simply a battle of attrition certainly didn't help the spectacle.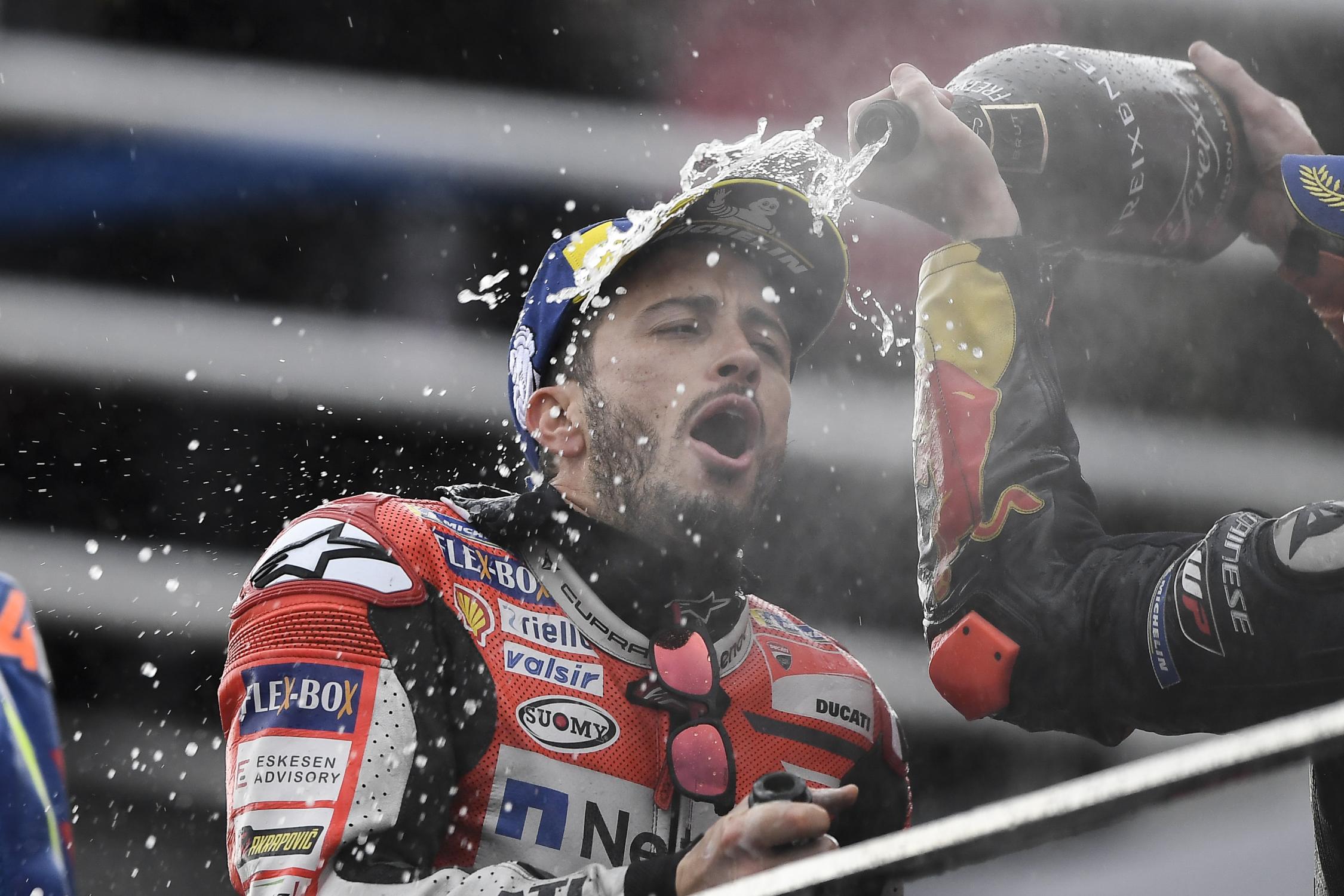 Stop it fellas, you'll make me all wet
So I'll leave it there. 2018 is done. And now here's my review of each rider's performance. Let's start a massive online shitfight over the scores I have given them and abuse each other. 
See ya, Dani. Thanks for the memories.
This is my profound summation of each rider's season, complete with a score out of 10. This exclusive rating is known on racing circles as the Tugometer, and it is the one true measure of a rider's greatness. They all wait with clenched buttocks each year for these scores, because this can destroy a career. This score is not a comparison with each other (that's what the championship standings are for), it is based on their performance compared to what I expected from them for the year. Call me names all you like. See if I care as I sip 18 year old Macallan by the fire in my cabin in the Pyrenees and cash my cheque from the good but clearly gullible people at the National Motorcycle Alliance who pay me to write this crap for you.
#4 Andrea Dovizioso 6/10 Ducati Team
I tipped him to win this year. Prick. It was his last chance too. Marquez was vulnerable. The Honda was not a good bike this year, even though many uneducated fans assume its the bike to beat. It's not, Marquez just made the Honda look good. Truth is the Ducati is so much better than anything else out there it's like night and day. But 3 DNFs in the first 7 races was to almost end his chances pretty early, and he was then finished off by a resurgent Lorenzo in the middle of the year who stole points off him. If Dovi had ridden to his potential, won 6 or 7 races and just kept finishing, he was a very good chance. But he just didn't do well enough. Sadly for him, Honda will not go backwards again next year. They will fix their shit. And unless Marc gets hurt, Dovi can't beat him. 2018 was the big chance, and it's gone. 
#5 Johann Zarco 6/10 Tech 3 Yamaha
Started the year looking like the next big thing, then discovered groupies and went missing for a few months before coming good again. Johann is temperamental, and if his head is not right, he's slow. He worries more about who's coming from behind than who's in front that he can catch. But when he's good, he's very good. Devastating, even. Would have scored an 8/10 if not for the mid-year meltdown. Next year he's off to KTM, having given up on the prospect of a factory Yamaha ride. If he throws himself into the challenge, he could well be the man to bring them to the front of the field. If he throws his toys out of the pram, it will end in tears.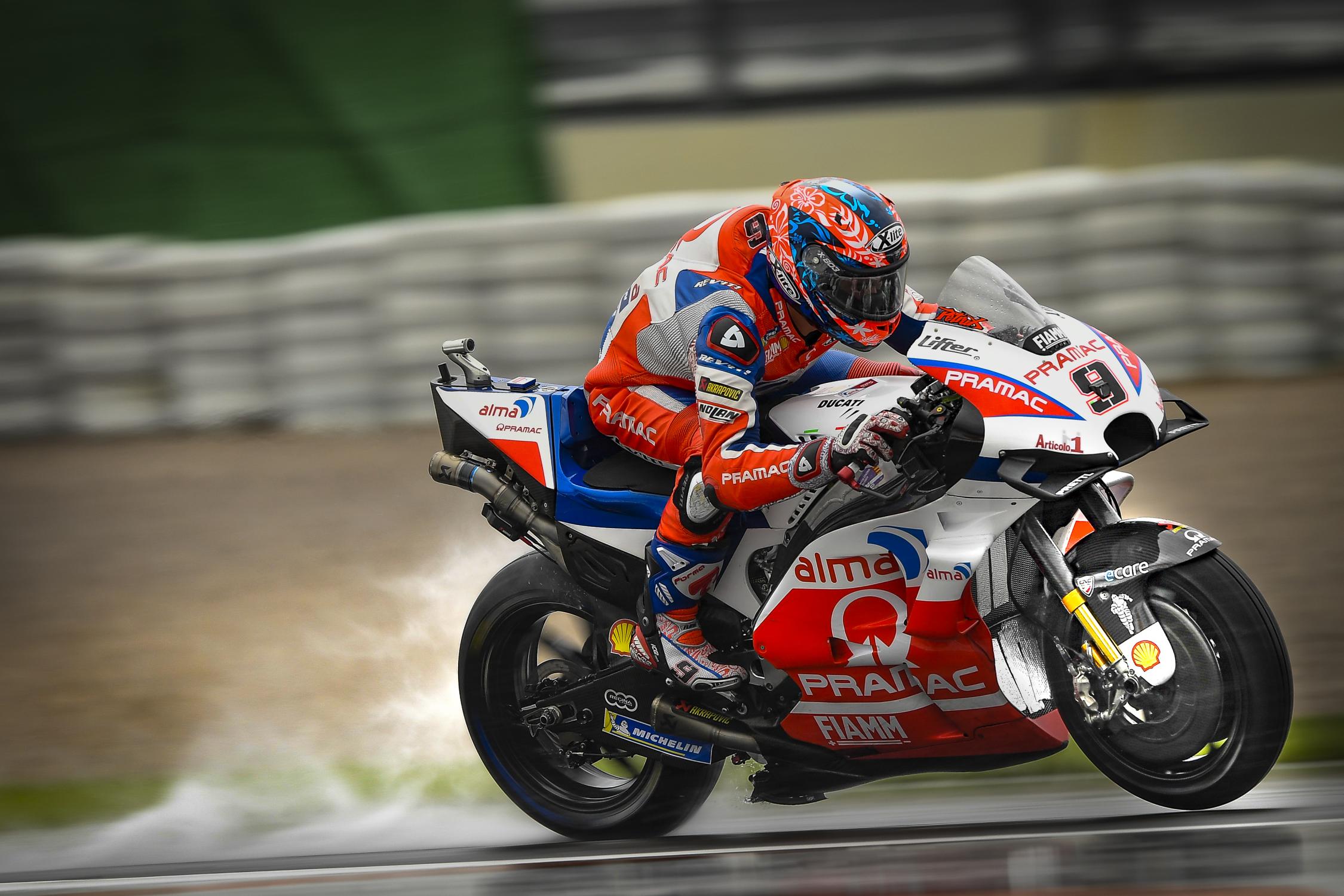 Time for Danilo to step up.
#9 Danilo Petrucci 3/10 Alma Pramac Ducati
Danilo has been lucky to score himself a factory ride for 2019 replacing the departing Lorenzo. His results really didn't warrant the promotion. Given that this year he has been on a GP18 (compared to his teammate's GP17) I expected more from him. He's scored one podium. That's it. On the best bike in the field. He'll want to lift his game next year in the factory team or he won't be there long.
#10 Xavier Simeon 2/10 Reale Avinta Ducati
Poor. Must try harder. Does not play well with others. First year in the big boys class, should have done better on the Ducati.
#12 Thomas Luthi 2/10 Marc VDS Honda
Another now boy from Moto2 who came with lots of promise, he didn't deliver much. Needs to pump it up next year, but an old Honda won't help him.
#17 Karel Abraham -3/10 Angel Nieto Ducati
Karel is proof that whilst an abundance of talent may not necessarily score you a MotoGP ride, having a rich Dad will. The man pedals better than most mere mortals, but he's out of his depth in MotoGP. Always has been. I'd have more respect if he spent his money running a team for some up and coming riders. Go on Karel, be a team manager. Make your Dad proud, at last.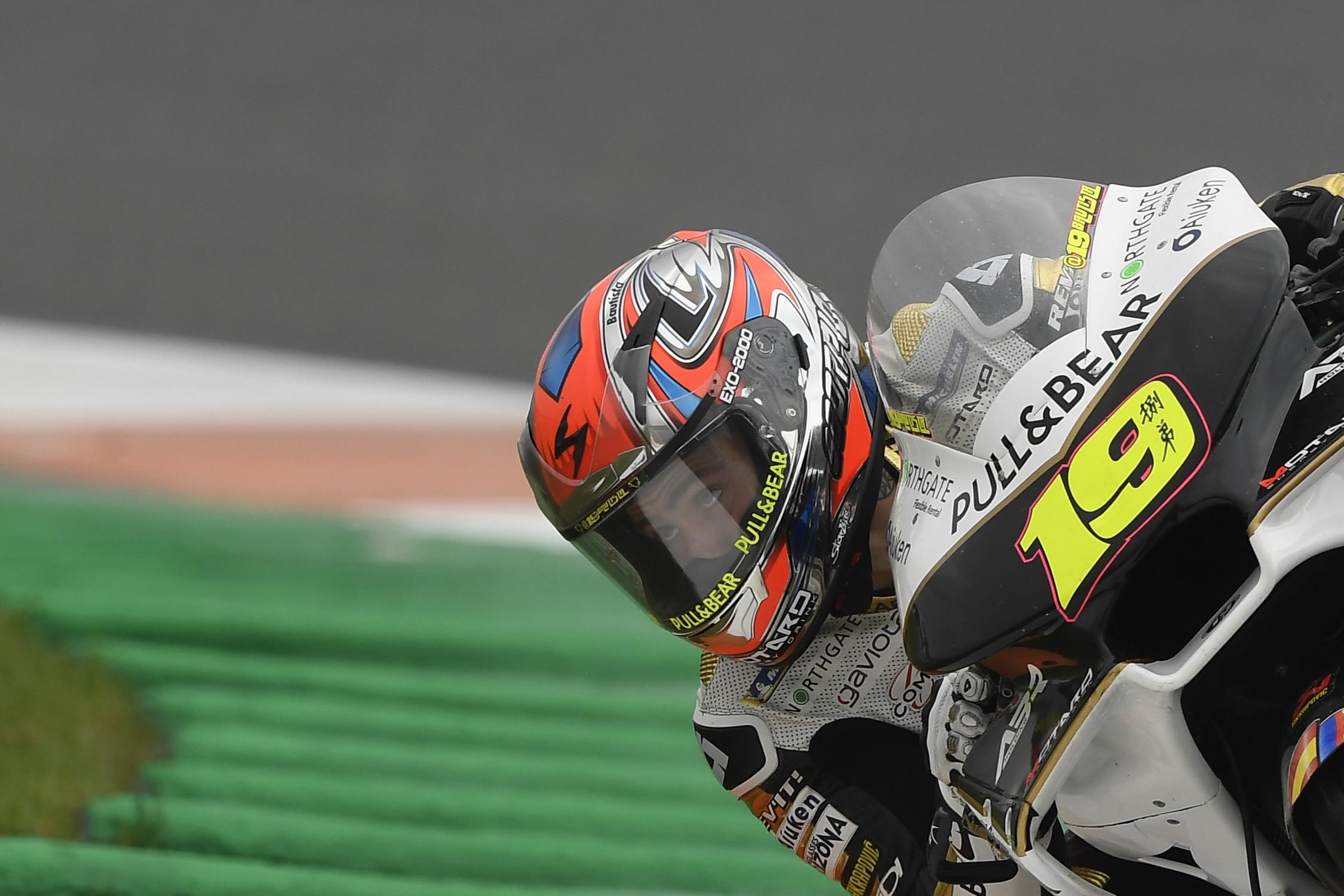 Alvaro scores a 9/10 on the Tugometer
#19 Alvaro Bautista 9/10 Angel Nieto Ducati
Alvaro has been very good this year, much better than I expected. His bike is crap early in a race, but comes good later on as the fuel load drops, and he regularly tears through the field to finish in the top 10. He deserves better than the bikes he has been given in MotoGP, which he proved when he filled in for Lorenzo in Australia. If Lorenzo's ego hadn't got the better of him and he'd done the right thing and pulled out of the following round in Malaysia early enough for Alvaro to ride the bike there too, he may well have surprised some people again. He's off to ride for Ducati in WSBK next year. I won't be at all surprised to see him win it. He's good enough, and a top guy to get pissed with. But you didn't hear that from me.
#21 Franco Morbidelli 5/10 Marc VDS Honda
A tough year for Franco, riding one of the most difficult bikes in the field. The old Honda. Next year he will need to start breaking through a bit.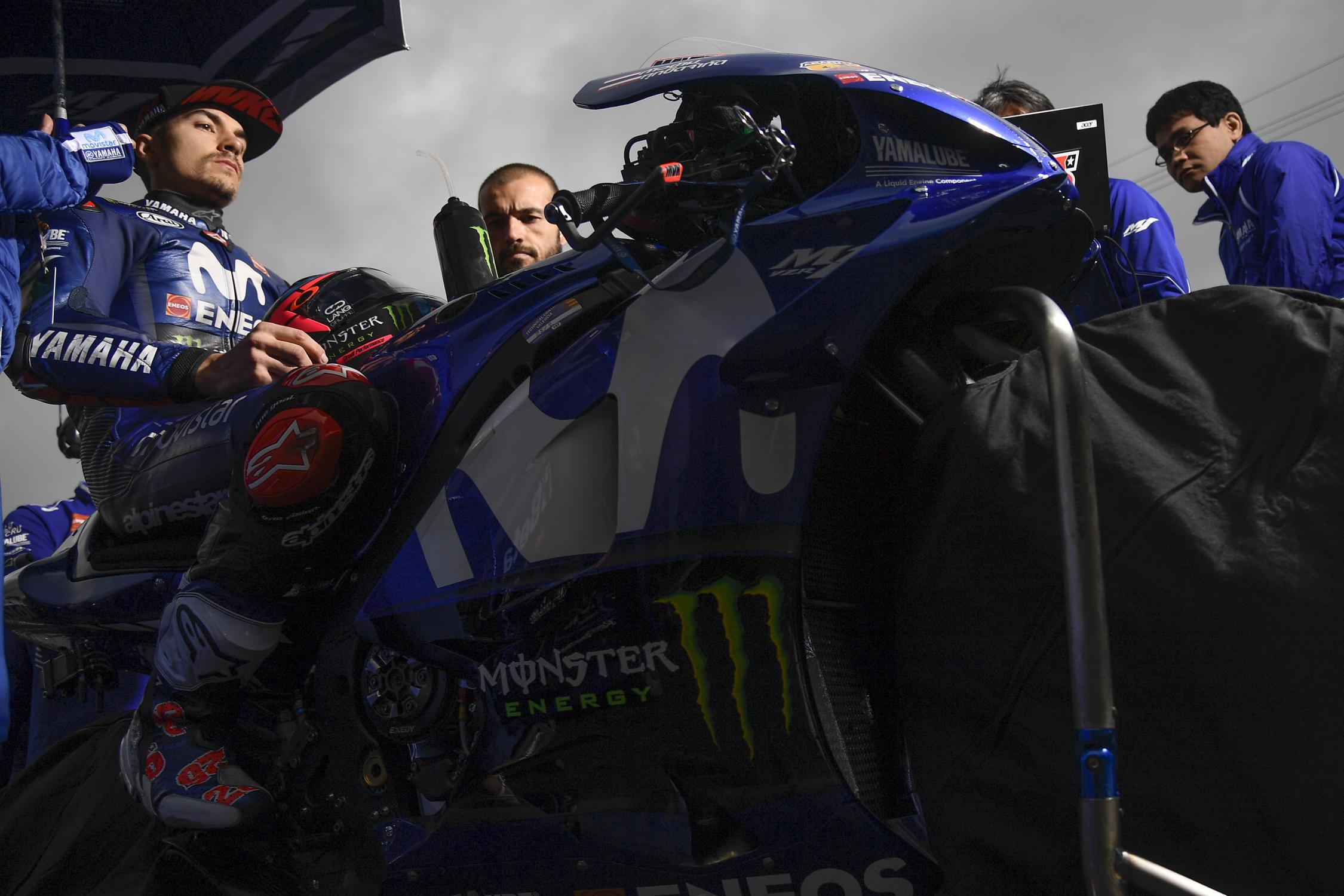 Mav hopes a new number will cure his shit. It will take more than that.
#25 Maverick Vinales 5/10 Movistar Yamaha
I can't help but think Maverick should have done better this year. He did score Yamaha's only win of the year. But the Yamaha was screaming for someone to show it who was boss. Mav is now known by his enemies to be emotionally fragile, something they will exploit. Reverting to the race number he used as a kid (12) for next year is an admission that he's all out of credible ideas.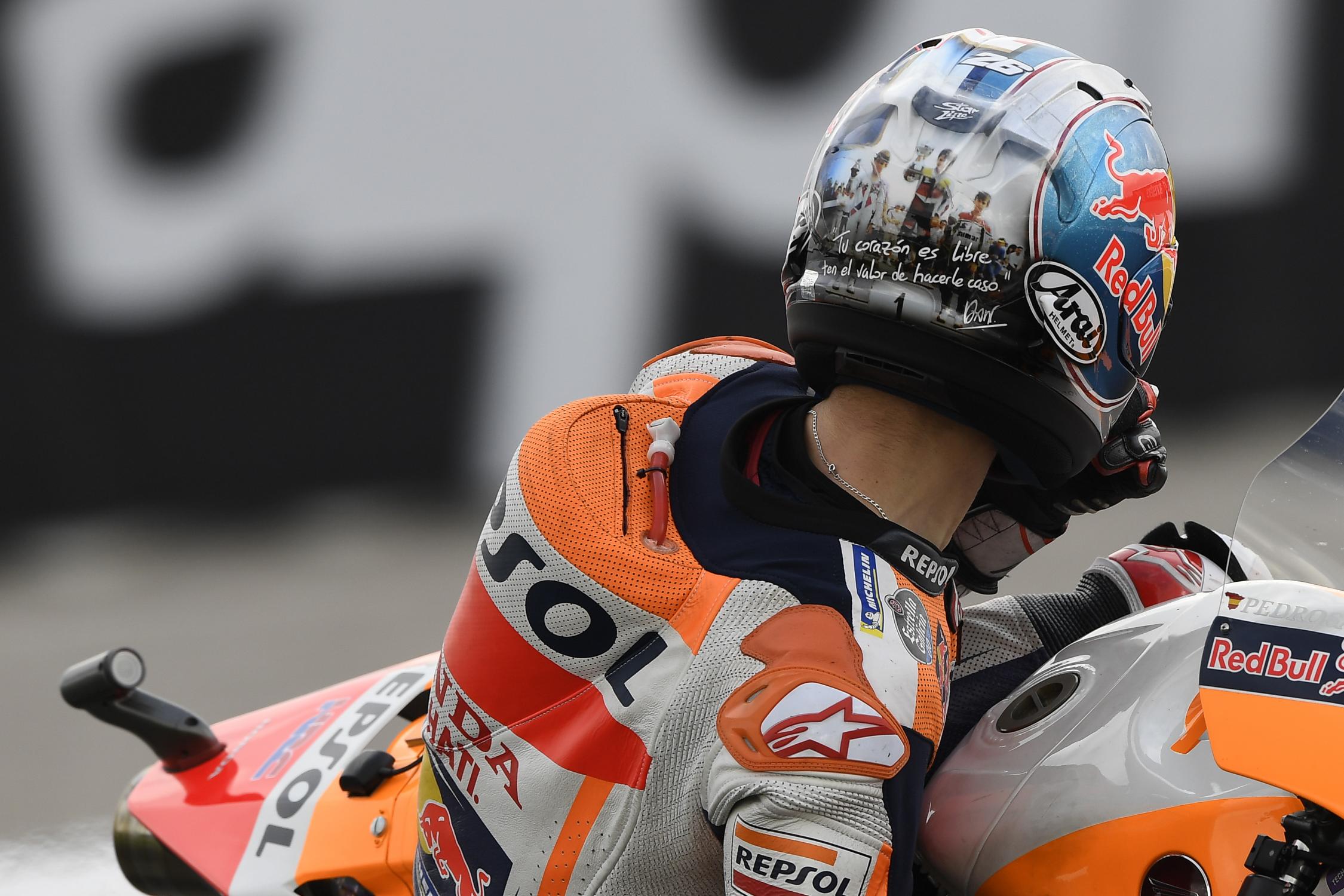 Dani's last lid brought back memories of kids racing minibikes. Glory days. Seeya, Legend.
#26 Dani Pedrosa 4/10 Repsol Honda
Dani has done his best Clark Griswold impersonation this year, going on a world tour on his motorcycle to celebrate his last year in MotoGP. And good on him. No point breaking even more of those tiny, chalky bones trying to win on tyres that were just not built for men of his stature. If the old glory days of Michelin vs Dunlop tyre duels had continued, Dani would have won a title or two at the top level on the rubber being pumped out in those days. But when Bridgestone entered the game and built a tyre with a stiff carcass to maximise the braking ability of modern grand prix braking setups, and then Michelin followed suit when they took over as the control tyre supplier, Dani's goose was cooked. He struggles to get the stiffer tyres up to temp early in a race, and even though he's often strong at the end, he's usually lost too much time by then. His ability is unquestionable, as shown by his multiple championships in the support classes. He is a tiny man with the heart of a heavyweight boxer. He deserved better, but the technical side of the sport robbed him. Had be been 4 inches taller and 12 kg heavier, we'd talk about him differently in the future. He'd be a true legend. As it is, he's the toughest man I've met in the paddock. Farewell, Dani. Gracias.
#29 Andrea Iannone 5/10 Suzuki Ecstar
Needs to spend more time riding fast and less time banging other rider's girlfriends in the dunnies. Just sayin'. 
#30 Takaaki Nakagami 6/10 LCR Honda
Pretty good year for Taka on the old Honda. Very consistent, and only a couple of retirements. He did better than I expected, and has now had a good learning year under his belt.
#35 Cal Crutchlow 6/10 LCR Honda
After winning a race early and declaring himself a championship contender, Cal then set about proving himself wrong by eating as much gravel as he could for the rest of the year. He's been fast, the second best of the Hondas, but he does still have that annoying habit of throwing it into the weeds pretty regularly. The big question for next year will be whether he can recover early enough from his nasty ankle break from Phillip Island. It's the kind of injury that can end a career. Let's hope Cal gets back in good time, and if Lorenzo can do some good development work on the Honda in the off season and make it more rideable, Cal will benefit from that too.
#38 Bradley Smith 4/10 Red Bull KTM
Another average year for Brad. He's off to be test rider for Aprilia next year, and we might see him fill in occasionally if needed. That would be nice. He's a good kid. For a Pom.
#41 Aleix Espargaro 4/10 Aprilia Gresini
A second crash plagued year on the Aprilia for Aleix. Something tells me that bike is better than he and Redding have made it look.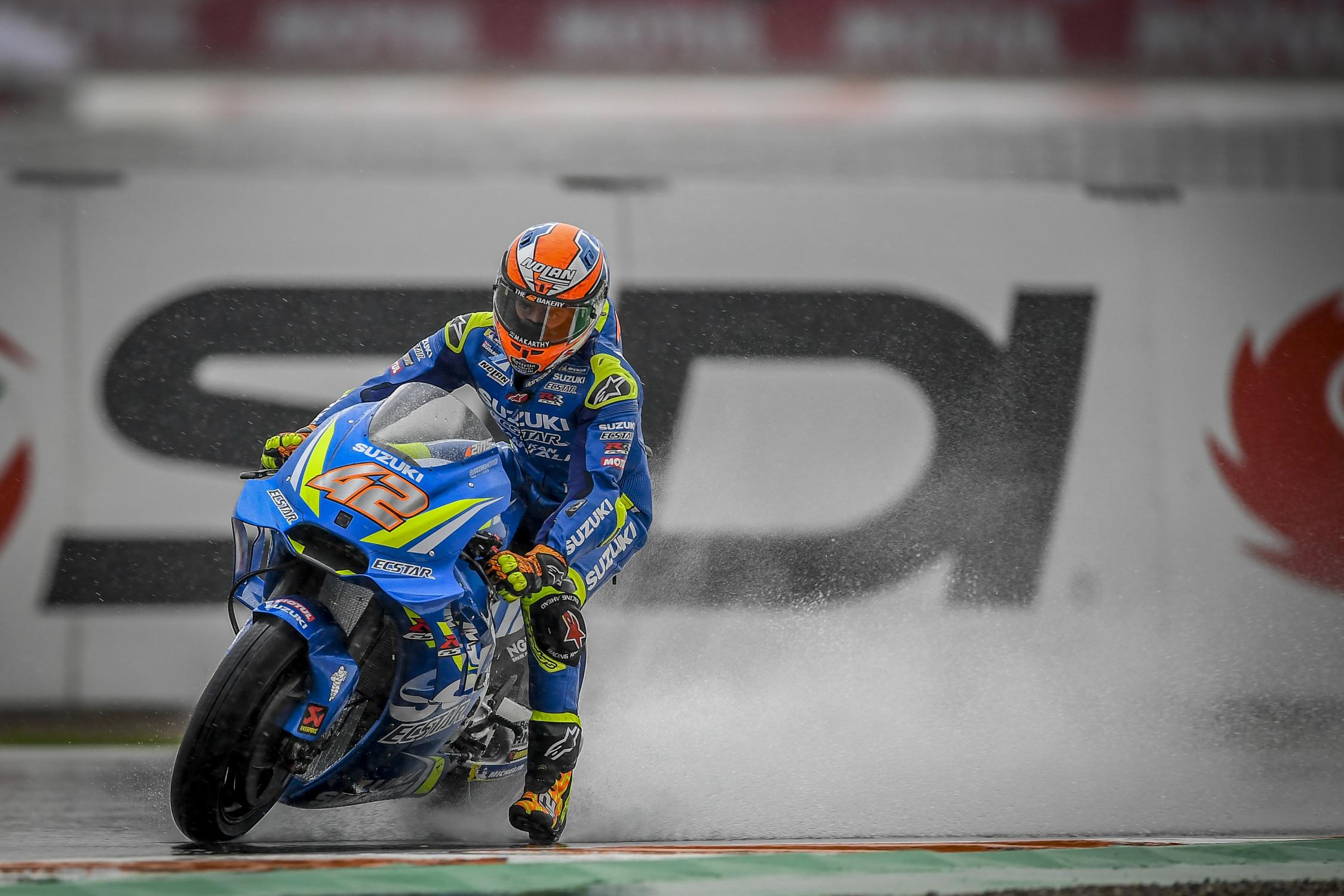 Rins tested Suzuki's new Outrigger Mode on the weekend.
#42 Alex Rins 8/10 Suzuki Ecstar
Rins held it together for Suzuki while Iannone let them down. The bike is coming along nicely, and so is Alex. They'll be an even better combo next year. Look for more podiums, with a good possibility of him finding the top step.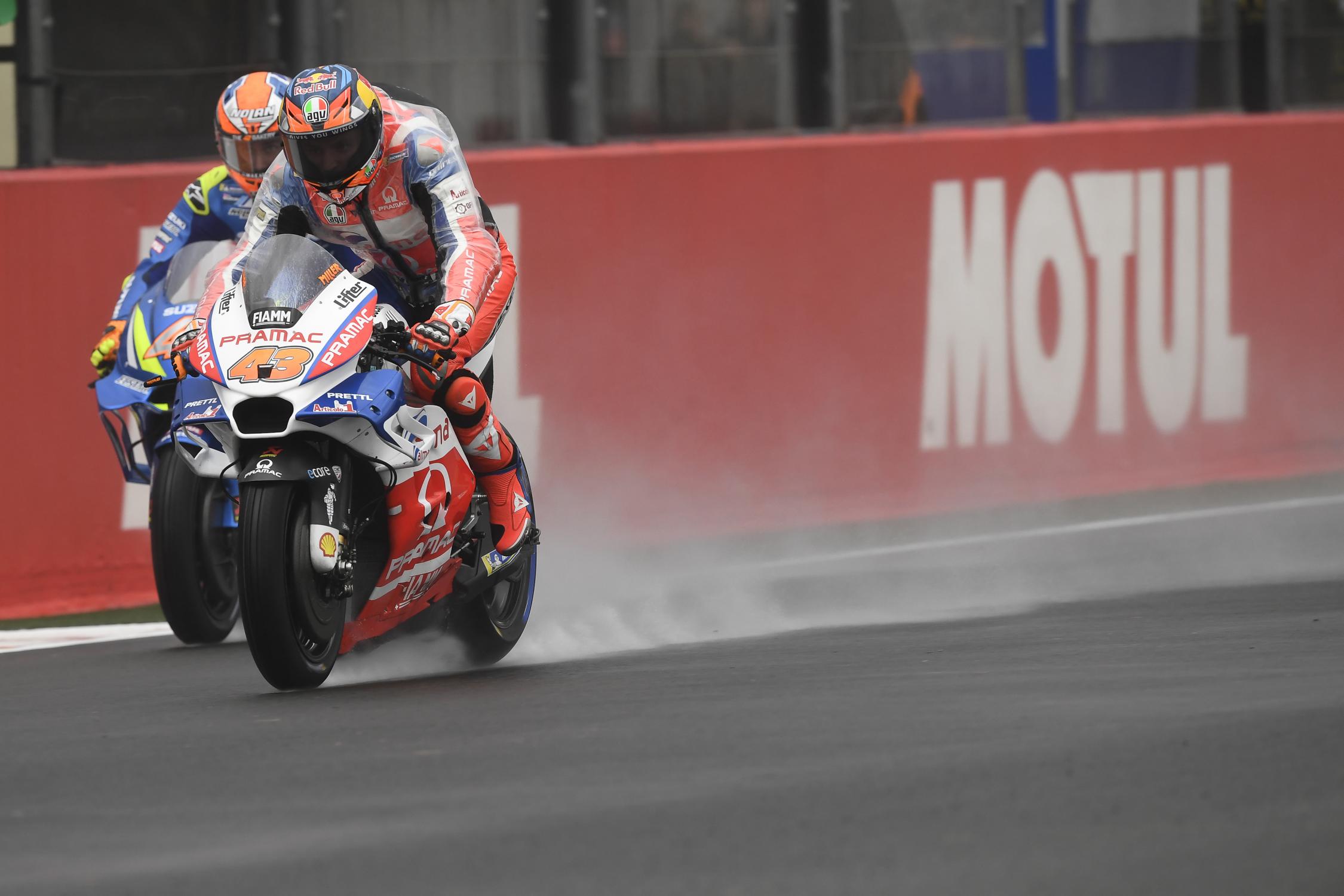 Jack gets a factory spec GP19 next year. No pressure…
#43 Jack Miller 6/10 Alma Pramac Ducati
Jack has shown good speed this year, but suffered a lot of crashes. What we probably didn't know early on in the year is that the older GP17 he has been riding is a quite different bike to the GP18 ridden by his teammate and the factory boys. It really stood out when Alvaro Bautista, also riding a GP17 this year, jumped on Lorenzo's bike at Phillip island and rode like a champ. The difference between the 17 and 18 was all of a sudden starkly displayed. So we now know the older bike hurts its tyres more than the 18, and doesn't get off corners as well either. It also suffers under a full fuel load. And sometimes it just can't run the soft rubber when the 18 bikes can. Given all that, Aussie fans can take heart that although Jack has been crash prone, he has been very fast on that old bike. He will stay with the Alma Pramac team next year, but will move to an updated GP19 chassis, the same as the factory team. The big test will be whether he can stick the satellite bike up with the factory bikes on a regular basis. I reckon he can. And if the new bike is easier to ride fast, the crashes may disappear a bit too.
#44 Pol Espargaro 5/10 Red Bull KTM
Not a great year for either of the KTM boys, despite glimpses of speed on occasions. He beat his teammate, which is good, but was beaten by his brother, which is bad. Especially at family Christmas, where he will be forced to wear the knitted "loser" jumper his mum knitted when he and Aleix were kids to try and spur them on to greatness. Good job, Mum. I was going to give him a 4, but gave him a bonus point for snatching a podium at Valencia and dropping the F Bomb twice in his post race interview. Attaboy. Lets have some more of that.
#45 Scott Redding 3/10 Aprilia Gresini
Shit year for Scott. Real shit. And for the last half of the year he actually didn't give a shit either. He's just too tall and heavy to make a GP bike work with these Michelin tyres. He's not alone on that score. The other tall guys like Rossi and Petrucci also suffer from their height causing a weight distribution that the tyres don't like, particularly the rear. This is Scott's last year in MotoGP. Sadly, he'll be best remembered for dislocating his mate Marc Marquez' shoulder with a sumo sized slap on the back after Marc wrapped up the title. It was the most brutally effective he's been all year. People forget that Redding was, until the amazing win of Can Oncu in Moto3 this weekend, the youngest ever winner of a GP. He won on a 125cc bike at the age of 15, beating names like Iannone and Marquez that day. The man can pedal, of that there's no doubt, but MotoGP has become a formula that just doesn't suit his body size. He's off to race a new Panigale V4 in the British Superbike Championship next year in Paul Bird's team. He'll win it too, in a canter. You can expect him to reappear at World Championship level in superbikes, where the bikes and the Pirelli tyres will suit him down to the ground. He's still only in his mid 20's. Don't be surprised if an older and wiser Scott Redding wins himself a WSBK title on a Ducati in a couple of years time. I hope he does. Racing needs men like Scott. They add the vitality the sport requires.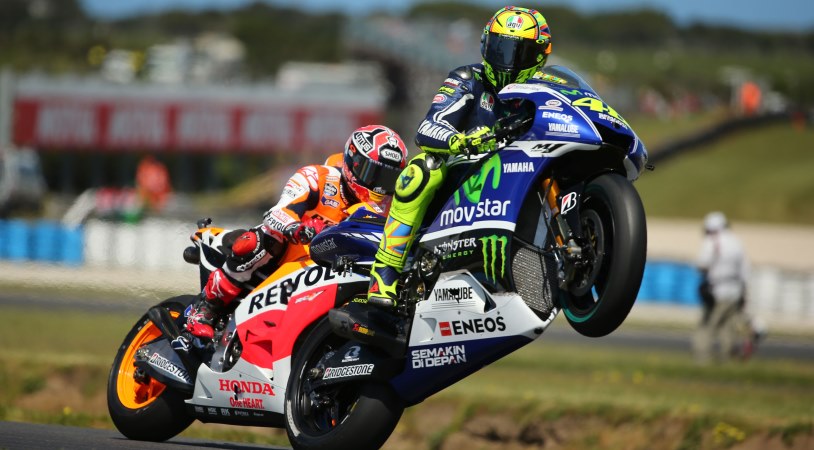 Come on, old son. We need more of this next year. We're counting on you.
#46 Valentino Rossi 4/10 Movistar Yamaha
It's certainly no secret that the Yamaha has been temperamental this year. But so have its riders. Pair of sooks. In the early part of the year Zarco, on last year's Yamaha, made the factory boys look like hacks. Yamaha has found some mojo in the back half of the year, but Rossi's big chance of a win in Malaysia saw him crash out of the lead when he saw the gap to Marquez dropping by .2 of a second per lap. He could hear the footsteps. He knew Marquez was going to be unstoppable, and crashed trying to stay far enough in front to avoid the inevitable. It was as close as he came to a win. Problem is, he's no normal rider. He's a legend, and we expect more of legends. He's won one race in two and a half years. Next year will mark 10 years since his last championship win. Not good enough. Marquez is riding a shitbox too, but he crashes his brains out every week getting the best out of it, and he wins in the process. More effort is needed from Rossi. He is legend. Time to ride like like one.
#53 Tito Rabat 5/10 Reale Avinta Ducati
I like Tito. And not only because he has a name that would suit a pet chimp. He's a nice guy. So was his Dad, Helmut, even if he was one of the quietest guys ever to grace the GP paddock. Maybe Tito is actually too nice for a racer. He was trundling along OK this year on his old Ducati, until he suffered that awful broken leg when he tried to catch a flying motorcycle with his tibia. He still has a lot of work ahead to get back on a bike, but he still has a ride for next year at this stage, so that's a start.
#55 Hafizh Syahrin 5/10 Tech 3 Yamaha
A pretty good first year for the Malaysian. But he needs to step it up now.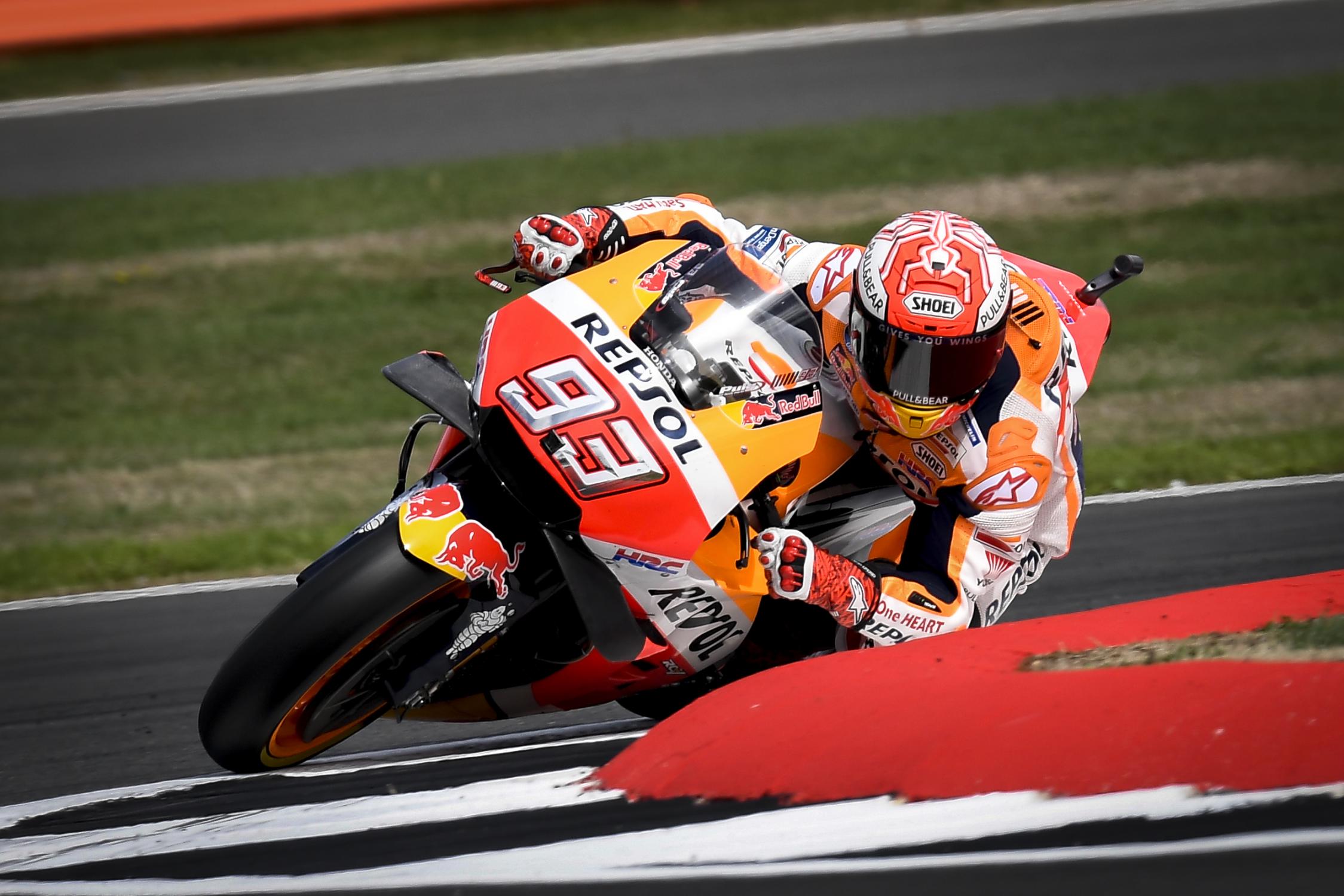 Freak. Wait until he gets his shoulder fixed.
#93 Marc Marquez 11/10 Repsol Honda
Freak. The bike is tough to ride at the limit, and loses its front end like my Mum loses her glasses. Marquez has managed to teach himself to save front end crashes that would see normal humans cartwheeling through the gravel, and he does it 3 or 4 times every race. He takes "Chequers or Wreckers" to a whole new league. It's next level. He's raised the bar. We are watching history in all its poetic glory unfolding right before our eyes. Sit back and marvel at him, for he is wondrous. I didn't think I'd live to see a better natural motorcycle rider than Casey Stoner, and yet here we are. This year he won almost as many races as the rest of the riders combined. He won the title by 75-odd points, on a bike nobody else could do much with. He'll win next year too. And the one after. And the one after that. Shit, he'll win the next 10 if he stays in one piece. And if Honda can sort the bike out and make it work the way it should, who knows what we will see from him.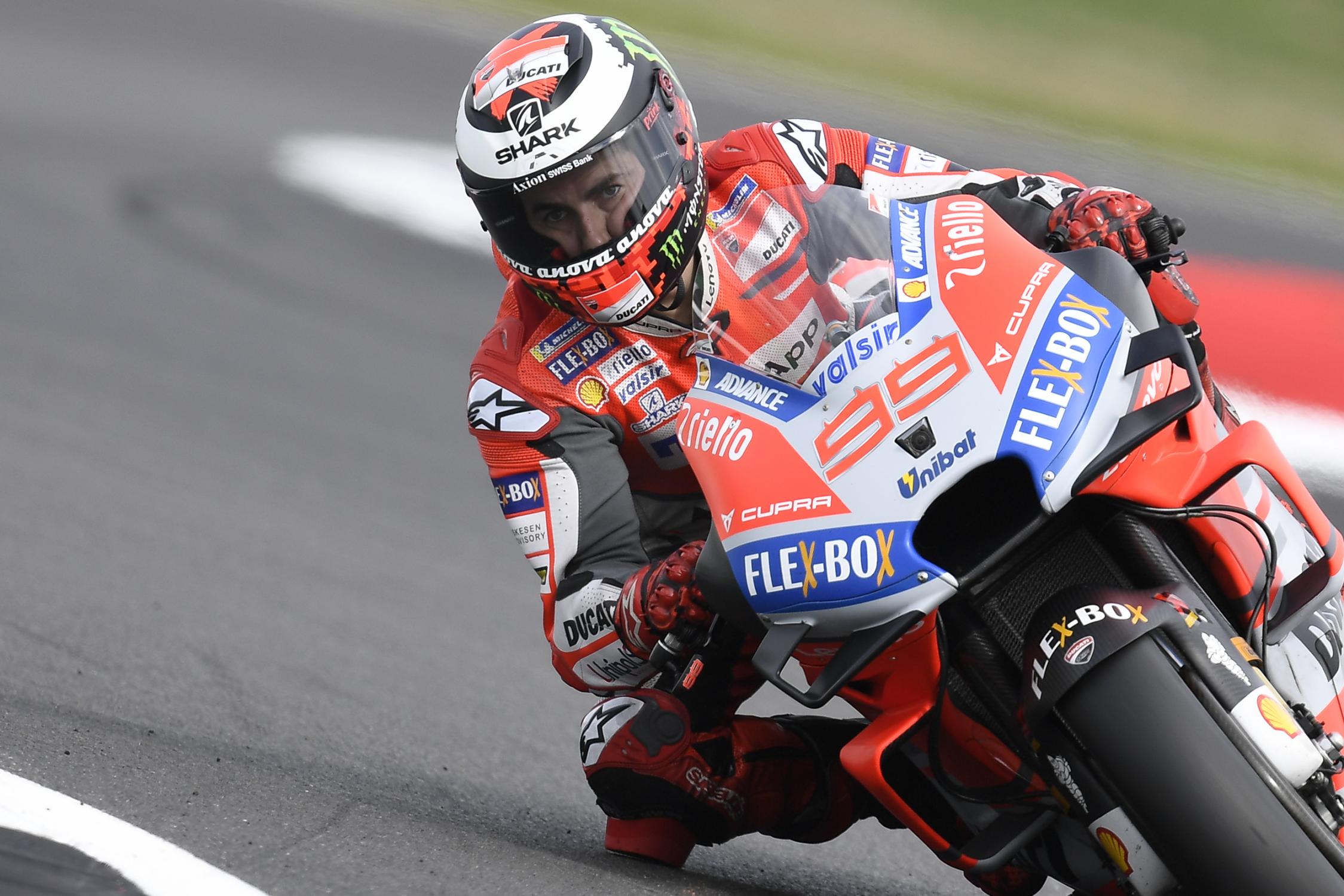 Jorge is about to taste plenty of tar at the hands of the Honda
#99 Jorge Lorenzo 4/10 Ducati Team
2018 proved, as if we didn't already know, that when Jorge is happy and comfortable on a bike, he is brutally fast. But when he's not happy and comfortable, he is a big ball of surly egotistical shit that can't ride out of sight in a snowstorm. He's won 3 races this year, yet is around 200 points behind Marquez. I can't remember the last time someone won 3 races and came 10th in a championship. Guys have won titles with less wins than that. He's going to Honda next year to replace Pedrosa. He thinks it will go well. It won't. The Honda is probably the hardest bike in the field to get the best out of, and it certainly isn't easy to ride. And it won't suit Lorenzo's smooth, high mid-corner speed style. Just ask Dani. So unless Honda turns up to Tuesday's test and pulls the covers off a rebadged 2015 Yamaha, I reckon he's stuffed himself. He'll be lucky to match Pedrosa's 2018 results. It will be that bad.