2020 HARLEY-DAVIDSON LOW RIDER S REVIEW
It's obvious Harley is now building the best bikes it's ever built. Engineering sorcery continues to be created to ensure Harley's traditional pushrod engine still barks its thunder at the world.
And lovers of the marque, of whom I am one, applaud each time Milwaukee wheels another model out. There's still life in them thar hills!
The Low Rider S is the latest incarnation within the now-widely-used Softail platform, and while Harley likes to nudge its traditional market into imagining it's a Dyna (a model Harley killed off in 2017), it's not. Dynas had two shocks on the back, and the Low Rider S rolls on the hidden single-shock Softail chassis.
While it is largely a styling rethink, the addition of the bigger, rigid-mounted 114-cube engine and a steeper rake (down to 28 degrees from 30), make the Low Rider S one of the fiercer and sharper steering beasts from Milwaukee's stable.
In keeping with this design theme, Harley has done its level best to give the Low Rider S some ground clearance to go with the marketing hype of "performance-first attitude". This was achieved by raising the mid-mounted footpegs a touch. But it was a touch too much for me.
Now I am not a particularly tall bloke. I shade six-feet in the old money. And while I like to imagine I have long supermodel legs, I don't. They're just kinda normal, I guess. I'm certain shorter riders will not have any issue, but I found the position of the foot-pegs really awkward. My knees actually felt like they were pointing to Heaven, and I felt ungainly riding it.
Except when I was lashing it like rented mule up and down the deserted West Head road. Then it felt pretty right.
And this is why the Low Rider S is a bit of a head-scratcher for me.
Firstly, it heaves out a massive 155Nm of torque. And that's lovely. It steers pretty sweet, and it's got twin-discs up the front, so it will eventually stop if you persist, and the gearbox is smoothness itself. The seat is lush and supportive and the handlebars are high and wide in keeping with the whole Sons Of Anarchy styling – the Low Rider S is known as Anarchy 2 at the factory, a tip of the hat to some of the bikes used in the Sons of Anarchy TV series, which in turn drew their inspiration from the Hells Angels, who rocked that whole West Coast small-fairing-and-high-bars look a few years ago – so that's all well and good.
But the riding position was gnawing on me. Unless I was on it hard, and my mind was focussed on the business of getting 300kg of bike around a 65km/h bend at 120km/h, all I could think of was how much I hated where the pegs were.
And did they add much to the ground clearance? Yeah, a bit. But I was still grinding them down McCarr's Creek Road with very little effort. Harley does offer forward controls for the Low Rider S, but to my mind that kinda defeats the purpose a bit. And while forward-mounted pegs might be more comfortable, they will not assist ground clearance.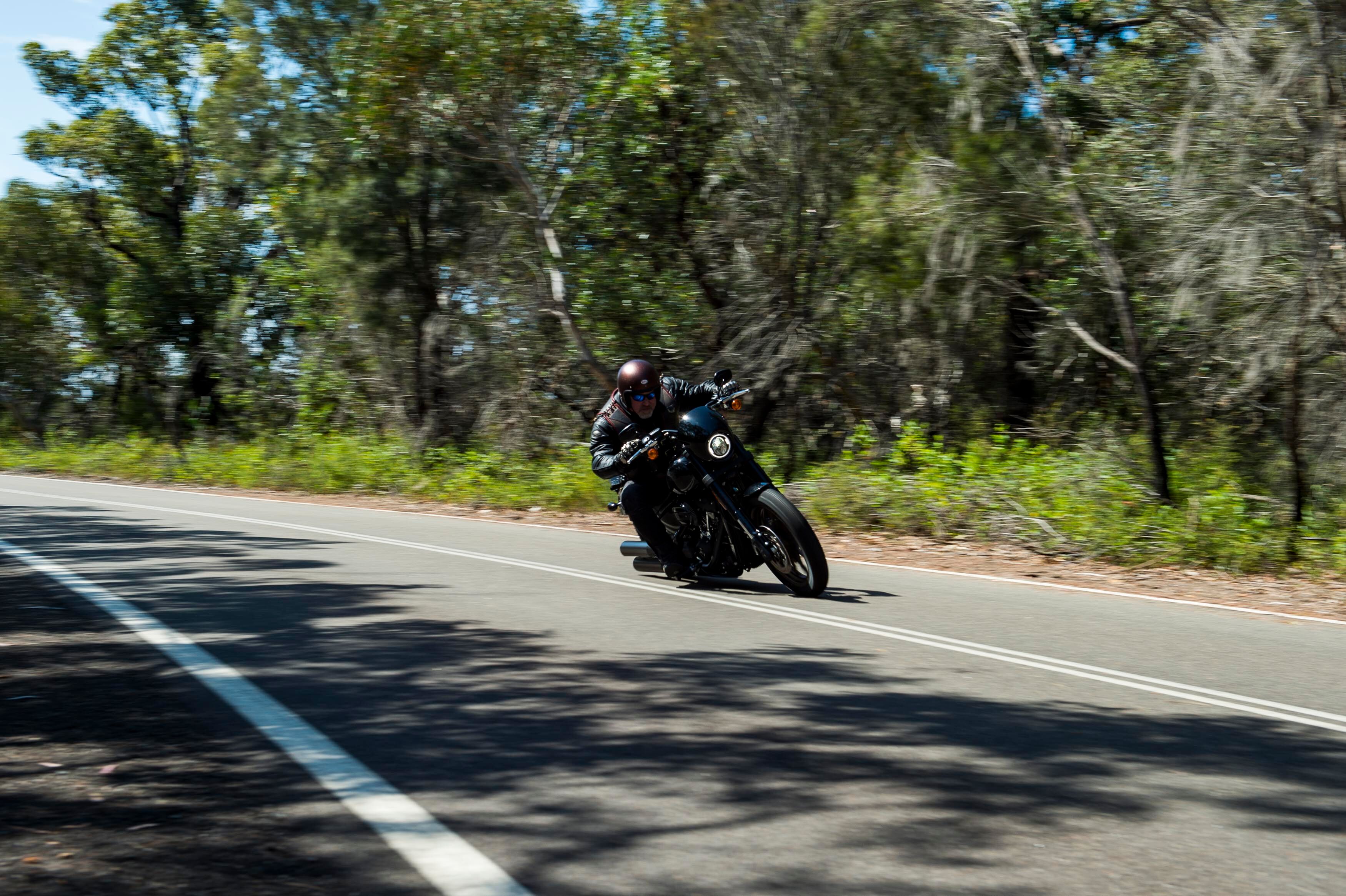 By comparison, the FXDR has 10 degrees more ground clearance, a fatter rear tyre and forward controls, and it gets around bends much more efficiently than the Low Rider S.
I also struggled with where the instruments are. And there they are, on the tank, mounted on a long-black metal ridge. So you have to look down to see them. Yeah, I know. Who the hell needs to see their dials when you're channeling Jax Teller, right? I've owned a bunch of Harleys and I never much bothered to look at the instruments when I was riding. The trouble is bloody Speed and Safety cameras, which are all forcing us to check our speed at almost every intersection these days. And I'm not a fan of dropping my eyes off the road as I'm coming into an intersection.
But the position of the instruments is entirely in keeping with the Dyna look, and I'm pretty sure Milwaukee doesn't care about the revenue-raising cameras Aussies are subjected to.
The suspension was reasonable – if you take the seat off, you can adjust the single coil-over unit on the back for pre-load, but the single-cartridge triple-rate spring 43mm USD up front stay as they come. Like all Harleys, it's only when you're pushing on hard and the road is less than ideal, will the suspension issues manifest. Most of the time the Low Rider S held the line I put it into – no weaving, no over-steer.
It's nicely finished, and the blacked-out everything certainly gives it that Mr Nasty look. The tiny fairing did nothing in terms of wind protection, which was just fine by me.
The back brake remains wooden, but is still an important thing to use on any American cruiser because every little bit helps when you're trying to haul the beast up.
There's no traction control, no engine modes, no electronic wizardry mitigating your failings as a rider – and I like that. It keeps you honest and humble.
The press launch saw us ride out of Manly, and up to West Head, where I belted up and down the same six-kay stretch of West Head Road for an hour or so as the photographers captured my hard-charging glory. Then we descended to Akuna Bay for lunch at a very Christian pace, which still saw the pegs kiss the tarmac now and again.
So that's why I'm head-scratching. It's a great thundering lump of bike which shovels torque at you whenever you want it. And it sure gets along and around bends if you're dedicated. But with my toes pointing at the sky, and my knees feeling like they are closer to my ears than I'd like, I'm forced to be dedicated all the time.
And there's not all that much of my licence left, if you get my drift.
As a styling exercise and a nod to the much-loved and missed Dyna, the Low Rider S is unquestionably a success. It is also in every way a much better bike than the late and lamented Dyna.
And that is no bad thing. Especially if my legs were shorter.
By Boris Mihailovic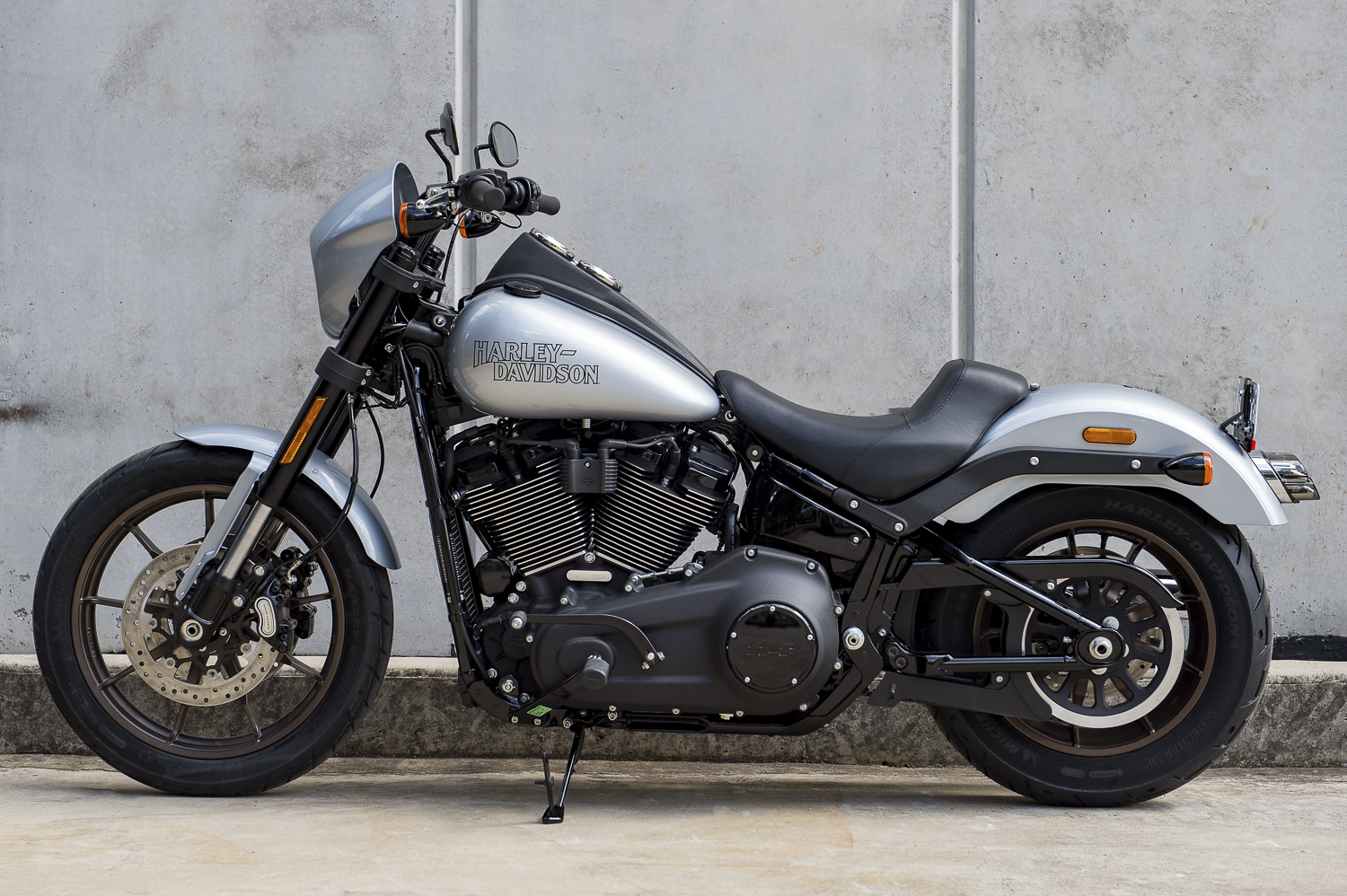 SPECS
Engine
Milwaukee-Eight® 114
Bore 102mm
Stroke 114 mm
Displacement 1868 cc
Compression Ratio 10.5:1
Fuel System Electronic Sequential Port Fuel Injection (ESPFI)
Exhaust 2-into-2 offset shotgun; catalyst in muffler
Dimensions
Length 2355 mm
Seat Height, Unladen 690 mm
Ground Clearance 120 mm
Rake (steering head) (deg) 28
Trail 145 mm
Wheelbase 1615 mm
Tires, Front Specification 110/90B19,62H,BW
Tires, Rear Specification 180/70B16,77H,BW
Fuel Capacity 18.9 l
Oil Capacity (w/filter) 4.7 l
Weight, As Shipped 295 kg
Weight, In Running Order 308 kg
Performance
Engine Torque 155 Nm
Engine Torque (rpm) 3000
Lean Angle, Right (deg.) 33.1
Lean Angle, Left (deg.) 33.1
Drivetrain
Primary Drive Chain, 34/46 ratio
Gear Ratios (overall) 1st 9.311
Gear Ratios (overall) 2nd 6.454
Gear Ratios (overall) 3rd 4.793
Gear Ratios (overall) 4th 3.882
Gear Ratios (overall) 5th 3.307
Gear Ratios (overall) 6th 2.79
Chassis
Wheels, Front Type Dark bronze, Radiate cast aluminum wheel
Wheels, Rear Type Dark bronze, Radiate cast aluminum wheel
Brakes, Caliper Type 4-piston fixed front and 2-piston floating rear
Electric
Lights (as per country regulation), Indicator Lamps6 High beam, turn signals, neutral, low oil pressure, engine diagnostics, auxiliary lighting, ABS, immobiliser, low battery voltage, low fuel warning.
Gauges 4-inch analog speedometer with digital gear, odometer, fuel level, clock, trip, range and tachometer indication; 4-inch analog tachometer.
Colours – Black or Barracuda Silver
Price: $27,995 Ride away