I feel like a princess.
A leathery one.
But a princess nonetheless.
After all, I have a dazzling new leather jacket. This does not happen often. So when it does I get all fluttery and want to go dancing at a ball.
But I go ride motorcycles instead. It's best for everyone that way.
Behold the latest in super-fine leather riding apparel from Segura. 
I wish you could smell it. I spent two days with my nose buried in the jacket inhaling that rich leathery perfume only the very finest leather exudes. My wife told me to stop being weird.
"Smell it!" I demanded. She locked herself in the bathroom.
It feels fine, too. I've touched it a lot. I've stroked it and patted it. Yes, there was fondling. It's that kind of leather.
It is thick but incredibly soft, because it comes from the plush, muscled bellies (rather than the bird-pecked and weather-beaten haunches) of steel-eyed motorcycle cows.
I would like to think the cows live somewhere nice in France, which is where Segura leathers come from. The company once sponsored GP racer, Christian Sarron, so it's not new at making motorcycle gear. It's been at it since 1967. The jackets are now made in Vietnam, a place which has had a relationship with France since the 16th century. The relationship ended in a messy divorce in 1954 which was known as Battle of Điện Biên Phủ, but clearly manufacturing fine leather products has them speaking again.
Now just relax. Just because the product is not made in France does not mean it's not of superb quality. Do you think that Dainese or Alpine Star are made in Italy?
Segura, quite obviously, is in the business of providing a top-shelf motorcycle product. And the jacket I have is very much a top-quality item.
The zippers literally purr when you use them. It feels substantial when you put it on, and it fits me very well for an off-the-rack item. The sleeves are the right length and the collar is finished with some kind of beautifully soft fibre along the top edge, so it doesn't chew on your neck when you turn your head. Every fastener clicks solidly into place and there are three inner-pockets ; one with a zipper for your phone and two Velcro-topped ones. There is also a zippered outside breast pocket and two zippered waist pockets. You can't fit a loaf of bread into any of them, but they will take a good-sized croissant.
It also comes with a magnificent, quilted thermal liner, which looks and feels like the cream-coloured bed-comforter in an expensive Parisian brothel. It zips out for summer, but I've left it in for the last week or so because Sydney offers brisk spring mornings for early-risers like me.
It is fully armoured, with CE-approved armour in the shoulders and elbows and it will take a back-protector if you're so inclined.
It is called the Steevy, after the mighty French warrior, Comte Steevy Charbonneau De Sauveterre, who rode into battle against the filthy English in 1278.
It has the number 70 on one sleeve, which is the number of English pikemen Steevy slew in battle, and it has an American flag on the other sleeve…um, because America.
There are other styles, but this is the one I liked.
I feel it's a great alternative to brightly-coloured race-style leathers. It's kinda dressy and very stylish, and dare I say, rather chic. You could wear it to dinner and still get into a massive karate fight out the front of the joint because you are fully armoured and able to empi uchi your way to glory.
But it is designed to ride bikes, and is cut accordingly. The back is a proper kidney-covering length and the arms are curved.
I like this jacket very much. It's a top bit of kit that fits well, looks cool (but then what doesn't on me?) and has the integrity to deal with me throwing my shit down the road.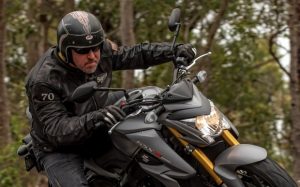 Safe and sexy me. Happy days.
Segura also offers a great range of ladies jackets and gloves, so they're worth checking out if you're not into wearing race-replica leathers.
SEGURA STEEVY LEATHER JACKET – RRP $629.95
You can check out the entire range HERE (http://www.ficeda.com.au/) and also find your nearest dealer.
Words by Boris Mihailovic