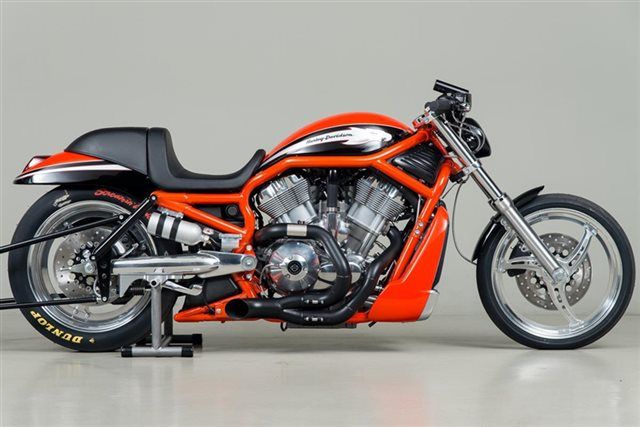 In 2006, Harley-Davidson decided it would produce a drag bike out of the box. The idea was drag-racers and assorted other psychopaths could go to a Harley dealer and buy a ready-to-go drag-bike. And I do mean ready-to-go. De-crate it, put it on a trailer, pour in some high-octane, and head on down to the nearest dragstrip.
Legend has it Harley built 635 of them, after initially stating it would only build 150. Initial demand was very high, and then it just tapered off for reasons no-one can understand to this day.
The thing worked, it worked well and it even won some titles in the US. It was campaigned here by the blokes from Morgan & Wacker in Queensland with some success..and then nothing. The Destroyer kind of just went away.
I have heard of people hauling out the amazing engine and putting in a street bike (you could not street-register a Destroyer), but I think that was just wishful thinking. I have never seen one.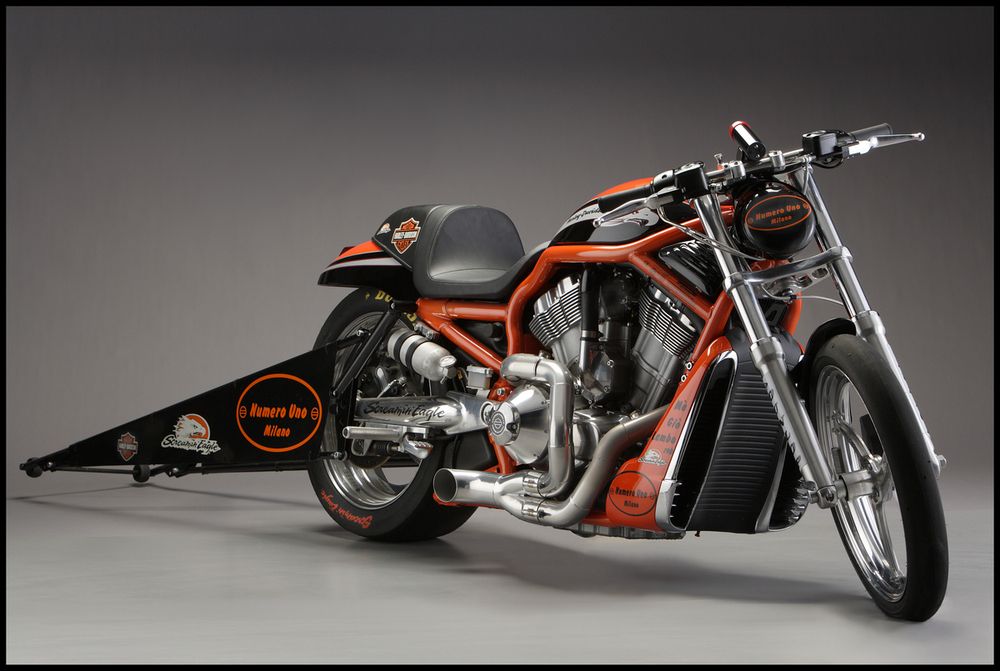 But I did ride one when it came out, and this is what I wrote at the time…..
One can only gasp in awe at what Harley-Davidson has done by building the world's first production drag bike. To put this incredible beast into perspective, imagine if Ford suddenly decided to build a production drag car. And not one of those soft-bellied, marshmallow-engined FPVs – but a proper rompin', stompin' bag-smokin' quarter-mile missile that accelerates like a fighter jet and sounds like the carpet-bombing of Tora Bora.
Incredibly, this is just what Harley had built – an out-of-the-box pro-drag bike complete with slicks, wheelie bars, a hissing air-shifter and a proper multi-stage clutch set-up specifically for the drag strip. It's full name is the VRXSC Sreamin' Eagle V-Rod Destroyer. You can call it "The Destroyer" for short, or if you've ridden it like I have, you may prefer to address it as "Master". It would like that.
After all, it is incontestably the most brutal and intimidating two-wheeler ever to don a set of handlebars and pretend it's a motorcycle. Because while it is technically a motorcycle (in that it's got two wheels, a motor and a set of handlebars), it behaves more like an artillery round. It is a purpose-built comp-monster designed to do nothing but go dak-crappingly fast in a straight line. You could no more register it and ride it to work than you could punt Schumacher's Ferrari through traffic.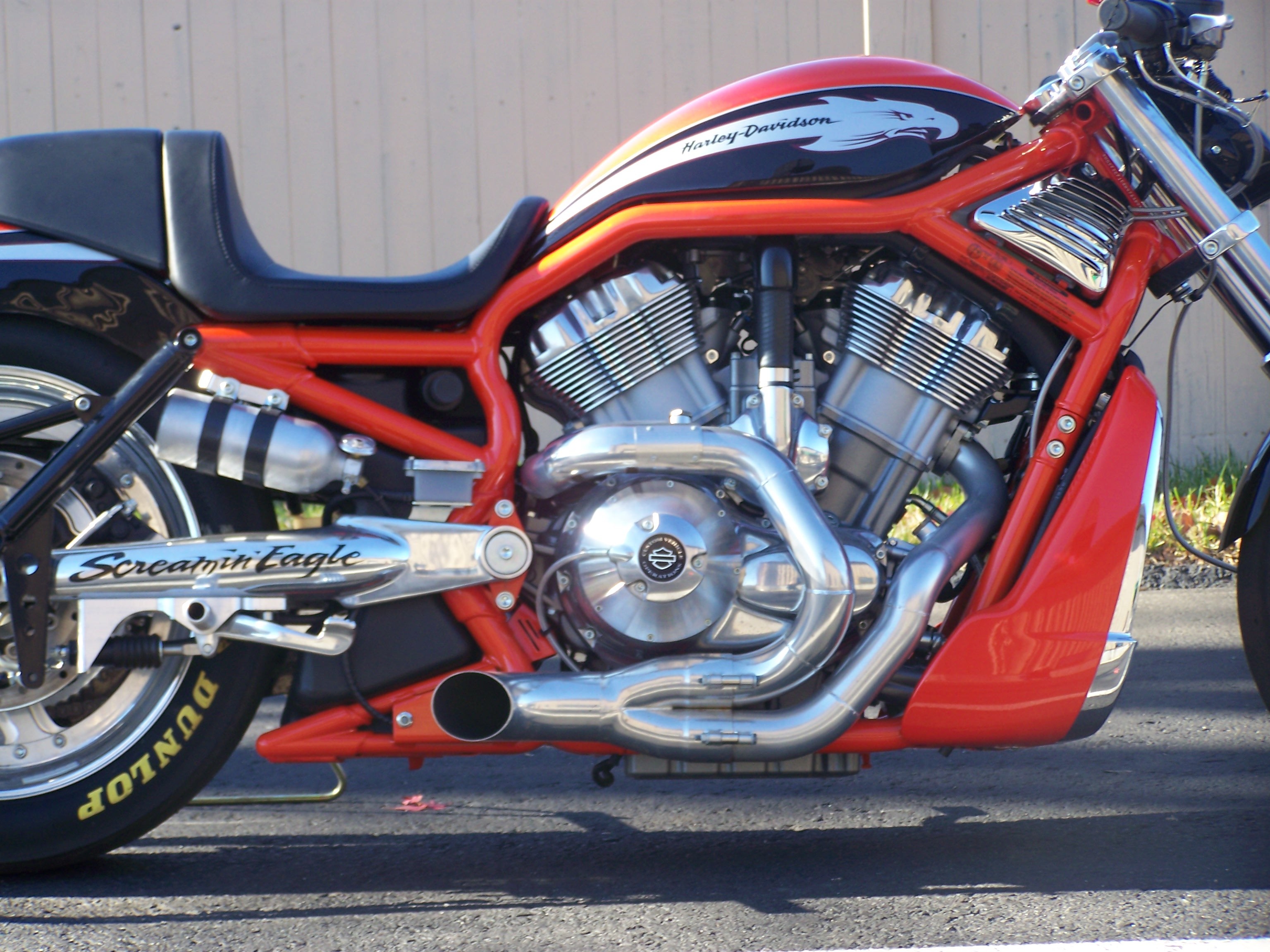 For starters, the Destroyer doesn't idle. It explodes. Repeatedly. The explosions begin immediately after you've pressed the electric start button, lain down on top of it like an Aztec sacrifice, and made your peace with God. There are no foot-pegs anywhere near the gear lever. The foot-pegs are either side of the monstrous drag-racing slick, which you'll find just in front of the factory-supplied wheelie bars. And you'll be grateful for them the second you dump the clutch and the rubber digs deep, firing you forward with a force in excess of 2Gs, while your brain struggles to cope with the noise and acceleration and the clutchless, don't-back-off-the-throttle-ya-girl gear-changes that are the life-force of professional drag-racing.
The Destroyer accelerates with the single-minded wilfulness of homicidal maniac. Relentless, seething power propels you down the strip faster than your body and brain can cope with. Just remember to breathe.
It's the ultimate naked power trip and a fitting addition to any family garage. Be encouraged knowing that only 600 Destroyers have been built and about 20 have found their way to Oz for Harley dealers to race. If you can persuade one of these dealers to part with his, he'll want you to hand him about 50 grand.
Do it.
In the hands of a professional drag racer, the Destroyer can post mid nine-second passes with an exit speed of 146mph.
A Top Fuel bike, on the other hand, is an even scarier monster that lives at the very top of the drag-racing food chain and it exits the traps at a touch over 210mph in about six seconds.
You need to work up to that.
(drag breakout)
DRAG YOURSELF ALONG
1. Simple sport, drag racing. See the green light, pin the throttle, and Bob's the uncle you never had, right? And in theory, and outside the pub after closing time, that's all there is to it. Except professional drag racing has bugger-all to do with theories and everything to do with surgical precision and snake-like reaction time. It is every bit as hard to do well as it is to be polite to a parking inspector. And it's so full of tiny but vital details, all of which must be remembered and implemented in nano-seconds. You really don't have the time to shit yourself at just how fast you're going. Or what will happen if things go wrong.
2. But don't worry. Get it right and a pass on the Destroyer will only take about nine-and-a-half seconds, and it goes like this…
3. Lie down on the bike and note the puddle of water just in front of your front tyre. Try not to cry at the explosions just under your chest. That is the motor at idle.
4. Do not roll into that water. Waddle the bike around the puddle and back into it, so that your front tyre remains dry.
5. With the back tyre in the water, grab the front brake and stand up off the bike. Pin the throttle and dump the clutch. The back tyre will immediately begin to howl and produce tornadoes of smoke.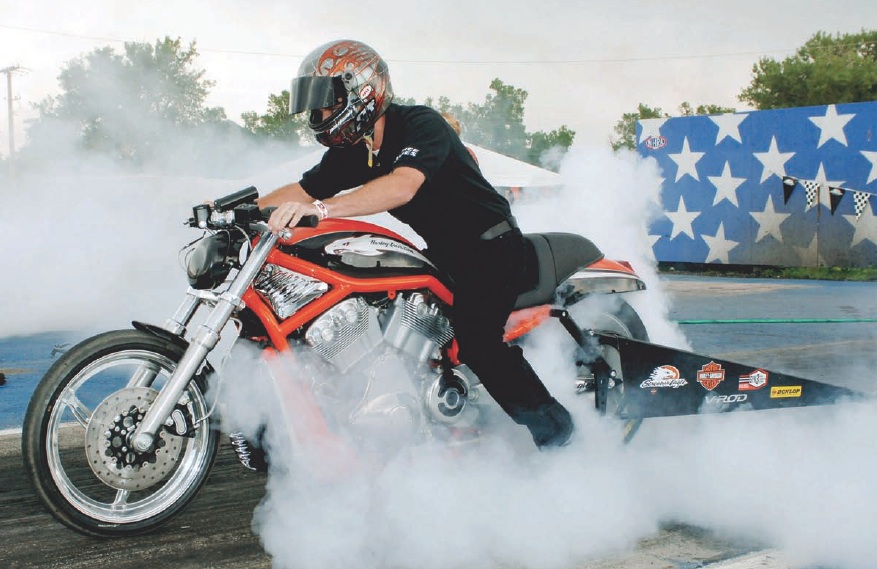 6. Sit back down and gently ease off the brake so that you roll out of the water with the back tyre still spinning. Now stop. Breathe deeply and rejoice that you have successfully warmed up your all-important drag slick.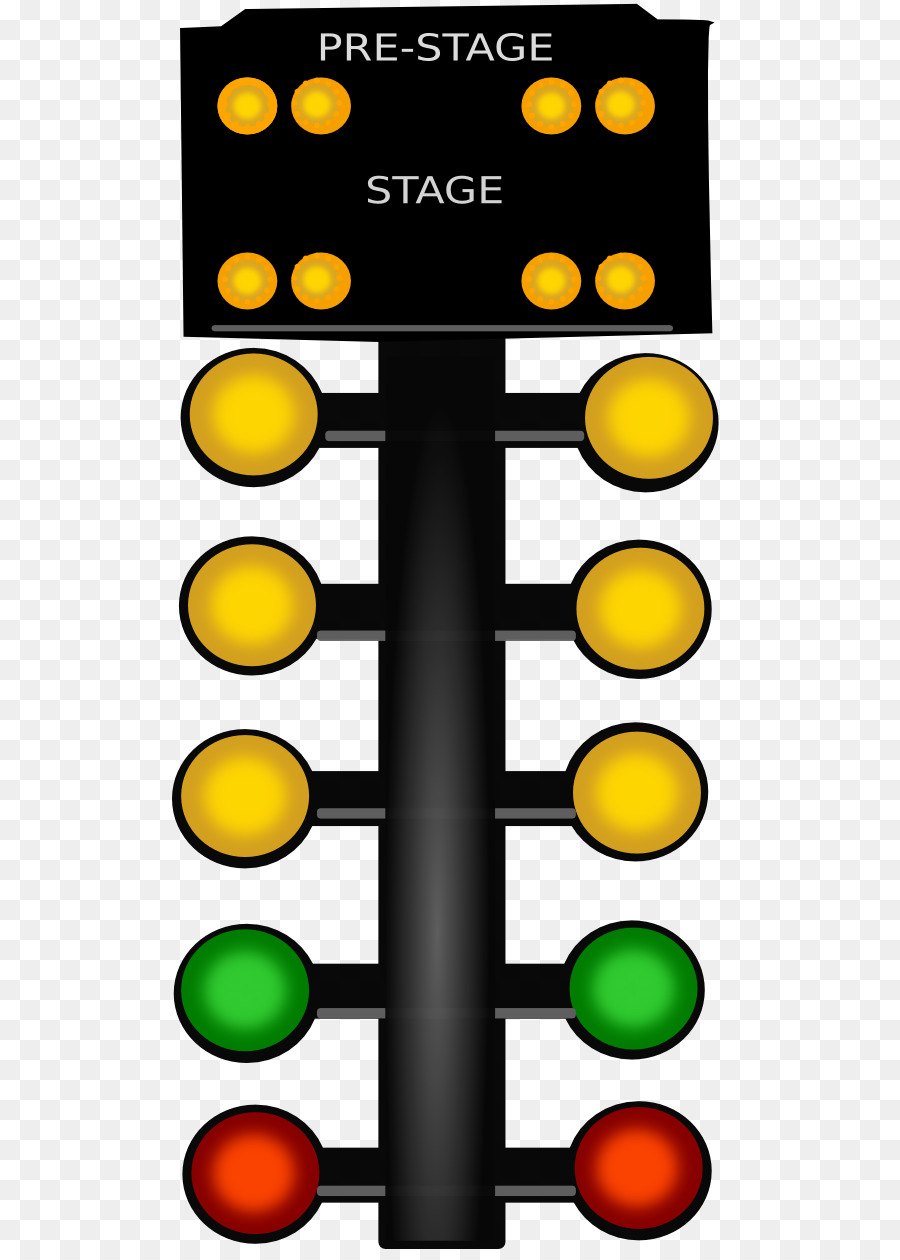 7. Now waddle the bike forward while keeping your eyes on "the tree", basically a white post with lights on it. At the top are two white lights. Underneath are three yellow lights and a green one.
8. Inching forward using your legs, you'll notice the top white light will blink on. Stop. You are now in "pre-stage".
9. Inch forward a touch more and you'll see the second white light go on. Do not move. You are now "fully staged" and ready to drag race. Too bad if you don't think so, because right about then the yellow lights will cascade down in sequence until the green light goes on, at which time you'd best be on your way to the end of the quarter-mile.
10. Reaction time is everything. The perfect reaction time is 0.400 seconds. Anything under that and you're disqualified, anything over that and you're adding precious time to your pass. The trick is to dump the clutch the instant you see the third yellow light.
11. The fun starts, because once that clutch is dumped and the throttle is maxed, the Destroyer sets about doing its thing and all you can do is try and keep up.
12. Keeping up consists of you changing gear each time the big red shift-light in front of your face flashes. It does this about every two seconds, just as the Destroyer hits 9500rpm in each gear. Your elapsed time depends on how well you meet that shift-light's demands, while also trying to find the foot-pegs with your flapping feet and keeping the throttle wide open all the way.
13. Don't even think about backing off to change gear or grabbing some clutch. The Destroyer's designed to be held flat-out and all your gear-changes are made with your left thumb hitting the button marked "shift".
14. Get it all right, and it'll be over before you realise. Ten seconds, give or take one either side, is not a long time. But the Destroyer will ensure it is a good time.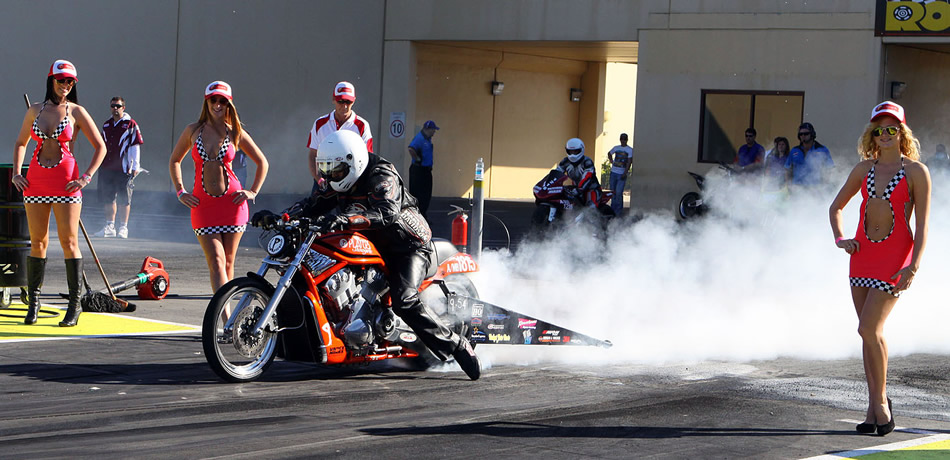 15. Once you're past the finish light, button off and sit up so your body acts like a windsock to slow you down. Do not touch the front brake. The strip is covered in a super-sticky compound called VHT, which may cause you to cartwheel the bike end over end if the front tyre bites under brakes.
16. Aim for the return road by leaning the top half of your body in the direction you'd like the Destroyer to go. Be nice and gentle. It doesn't steer or handle like a normal motorcycle.
17. Once back at the start, bolt for the toilet and empty your bladder and bowels if you haven't already done so.
(tech breakout)
TECHNIMICATIONS
Still think it's just a blinged up streetbike? Not so much
The Screamin' Eagle Destroyer is powered by a 1300cc (79 cu.in.) V-Twin Revolution liquid-cooled racing engine with 105mm cylinders and a new 75mm stroker crankshaft. The cylinders feature high-strength ductile iron sleeves. The forged pistons produce a compression ratio of 14.0:1. Special high-flow racing cylinder heads feature CNC porting, competition valves, springs, seats and keepers designed to work with new high-lift/duration cams. New 58 mm throttle bodies have tuned velocity stacks.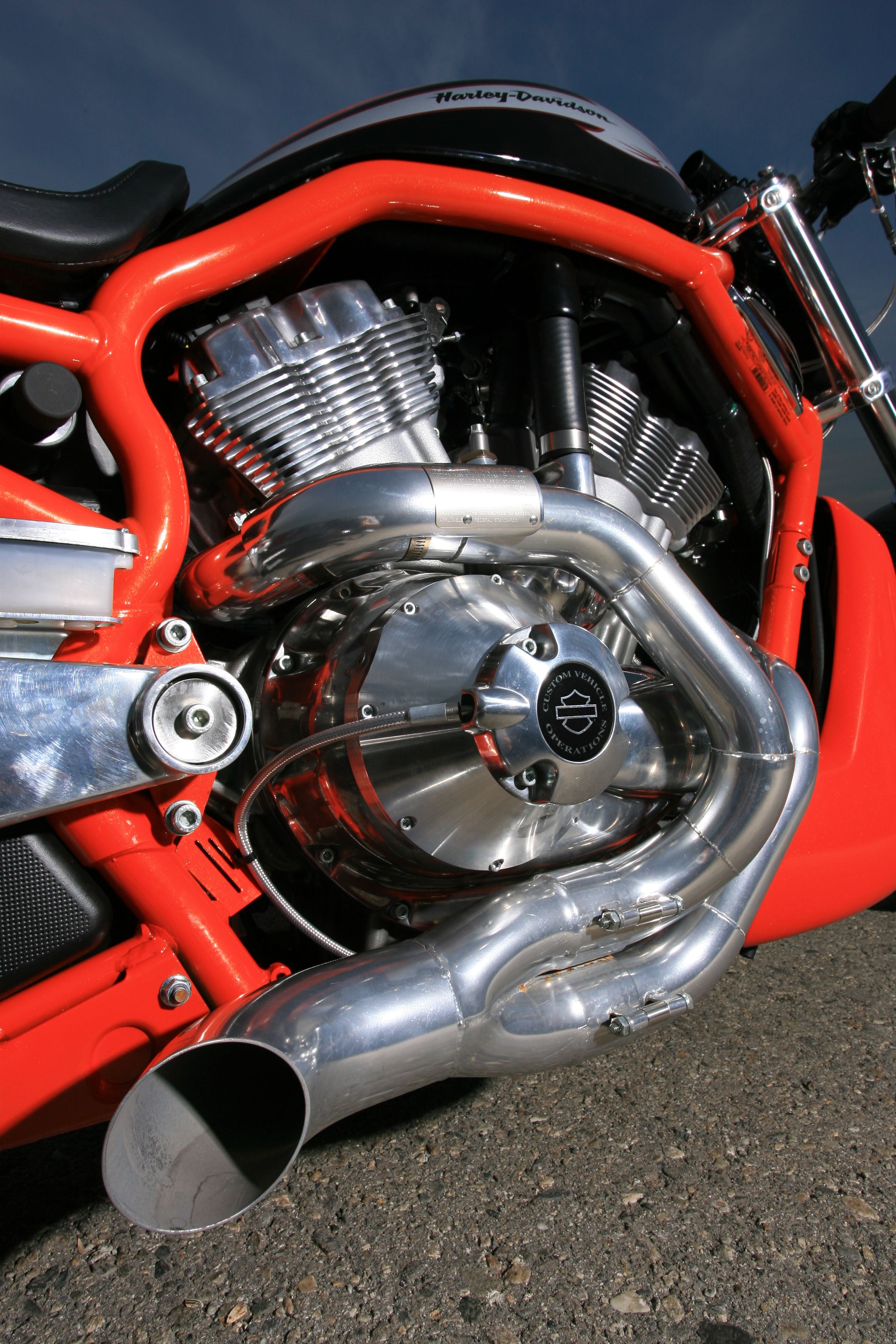 A racing transmission features modified input, actuator, and output shaft assemblies and an MTC multi-stage lock up clutch with an electric-over-air shift system. The chain final drive utilizes a 530 DRZ chain, the same as the one used on the Screamin' Eagle/Vance and Hines Pro Stock Bike racing motorcycle. The front and rear sprockets are designed to facilitate easy track-side drive ratio changes. A three-piece, 2-into-1 ceramic-coated exhaust system features stepped headers and a turn-out collector. The engine is tuned to run on 103 Octane petrol and makes peak horsepower at 9700 rpm.
A special main wiring harness supports a programmable, multi-mode shift light, a two-stage launch box linked to the shift lever, and race-programmed ECM. The Destroyer will be shipped with a Screamin' Eagle Race Tuner and is data-acquisition capable.
Chassis modifications include a special swingarm with custom rear-axle adjusters, solid rear struts and a wheelie bar with side panels. A friction-type steering damper is standard. The Destroyer is equipped with a single-disc front brake and braided brake and clutch lines. The Destroyer has a 7.6cm x 45cm front tire and a 15.2cm x 45.7cm rear tire, shod with a 7.6cm x 45.7cm Dunlop Screamin' Eagle front slick tire and a 17.7cm x 63.5cm Dunlop Screamin' Eagle rear slick.
Rider accommodations include a mini instrument panel, forward race-position risers and a drag handlebar, handlebar controls designed for drag racing, and include an emergency shut-off tether. Rear-set foot-pegs and a brake lever are positioned on the swingarm. The race seat features a high-rise back cushion. The Screamin' Eagle Destroyer features an Electric Orange and Black paint scheme.
VRXSE Screamin' Eagle V-Rod Destroyer features:
1300cc (79 cid) Big Bore Revolution Racing Powertrain
105 mm bore x 75 mm stroke
Stroker crankshaft
Modified engine cases
High-strength ductile iron cylinder sleeves
Forged high-compression pistons
High-flow racing cylinder heads and racing valve train
Deep oil pan
High lift/duration cams
58 mm throttle bodies with velocity stacks
Racing transmission with MTC multi-stage lock up clutch and electric-over-air shifting
Ceramic-coated 2-into-1 exhaust with turn-out collector
14.5:1 compression ratio
Racing wheels:
Front: 7.6cm x 45.7cm Dunlop Screamin' Eagle front slick tire
Rear: 17.7cm x 63.5cm Dunlop Screamin' Eagle rear slick.
Single disc front brake
Solid rear struts
Wheelie bar with side panels
530 DRZ chain final drive
Friction steering damper
Braided, coated brake and clutch lines and control cables
Programmable shift light
Two-stage launch box linked to shift lever and ECM
Race-programmed ECM
Screamin' Eagle Race Tuner
Race-position riders and drag handlebar
Emergency shut-off tether
Rear-set foot-pegs and brake lever
Deep bucket seat
CVO Screamin' Eagle paint and graphics scheme in Electric Orange and Black
Words by Boris Mihailovic