I don't care what anyone says. We, my good drunken friends (you are drunk, aren't you? I am), live in the most glorious of motorcycling times. The mere fact that the internet is in flames with arguments between Marquez fans and Rossi fans about who is the greatest rider in the history of the Cosmos, while both of them are still racing for our voyeuristic pleasure, speaks volumes of the glory of our time. It has been 3 generations since race fans have been as privileged as we. And motorcycle racing has only been around for about 6 generations. Think on that for a minute, and give thanks to the Racing Gods that you are alive to argue your facile opinions on social media about who is best, all while pretending someone cares what you think.
I get paid for my opinions on MotoGP. You don't. Eat me. But be sure to read this next bit, it's good. You might even want to copy and paste some of it to Facebook to pretend you are as intelligent as me.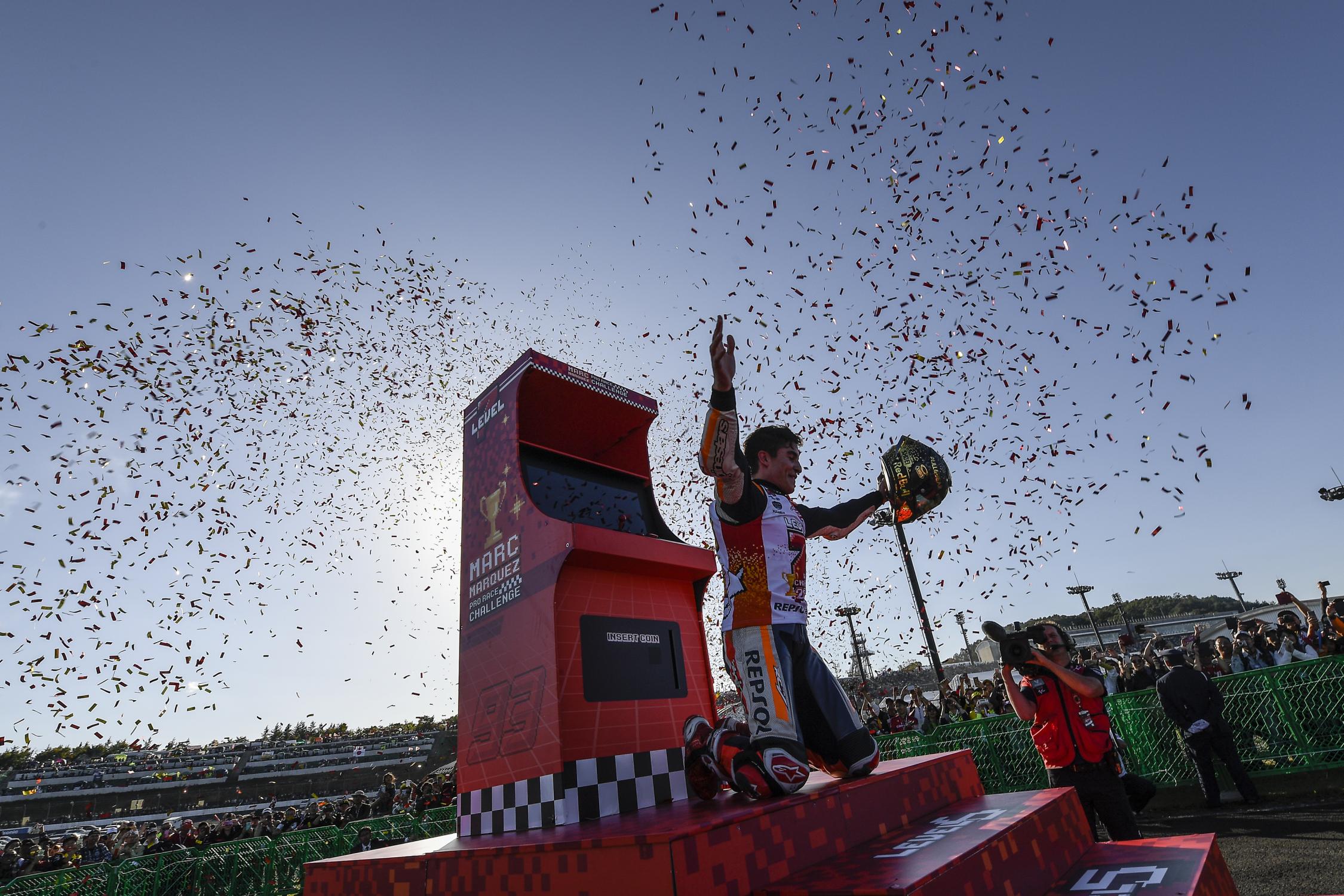 We are not worthy
By the way, I started drinking a full two hours and thirty seven minutes before the Motegi race started, that confident was I of a Marquez win. I am now on my 8th glass of 18 year old The Macallan whisky (is there any other?), celebrating glory, so don't bitch at me about my spelling. I have no shits to give about you and your vile pedantry.
In the hours after the race as I have been jotting notes to write this brilliant piece of prose for you, I have sat chuckling at the ramblings of various fanboy morons on social media. People claiming Rossi is still the greatest because he won titles on two brands of bike, like that somehow means anything. Casey Stoner did too, but the Rossi devotees choose to ignore that one. And they never want to talk about Rossi's years on the red bike, when he looked like a rookie. Marquez fans are giving them all the virtual middle finger because their guy won. It's all part of the fun.
The last time this kind of "greatness vs greatness" thing happened, Giacomo Agonstini was racing against Mike "The Bike" Hailwood. They were the best of times. I'd give my right nut to have seen it. Hailwood won 4 premier class titles. Ago won 8, many of them after Mike was gone. They were glorious, beautiful men, who did glorious, beautiful things on glorious, beautiful motorcycles.
But since then, we have mostly had periods where one rider after another has dominated.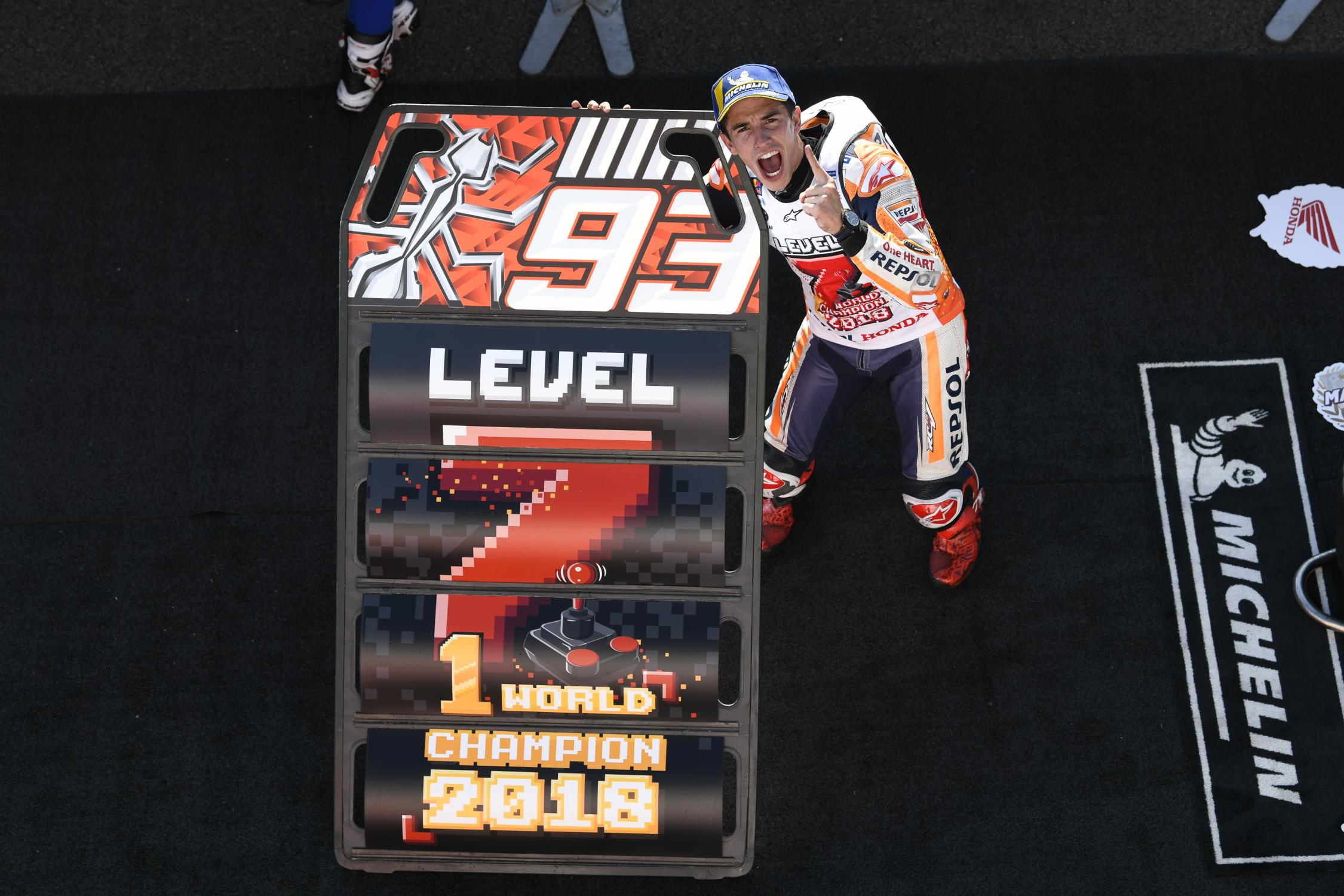 Retro marketing aside, 7 titles at 25 years of age is astonishing.
Once Hailwood departed Agostini dominated, until 1973 when a pom called Phil Read turned up on equal MV Agusta machinery and handed him his arse, and then he did it again the next year. Agostini finally beat him again in 75, before Barry Sheene began the era of the playboy racer by winning in 76. Everything changed.
In 78 King Kenny Roberts turned up and belted Bazza. Barry never won again. But he pulled lots of roots, and that's cool.
Then Fast Freddie Spencer, still the most underrated pure rider of all time, and Eddie Lawson traded titles for a while. They were good times. Freddie could slide a front tyre like nobody before him, and Eddie was the same with the rear. I reckon he was even better than Roberts on that score.
We then entered the Rainey Era, where Wayne dominated until Kevin Schwantz held it together for a title in 93.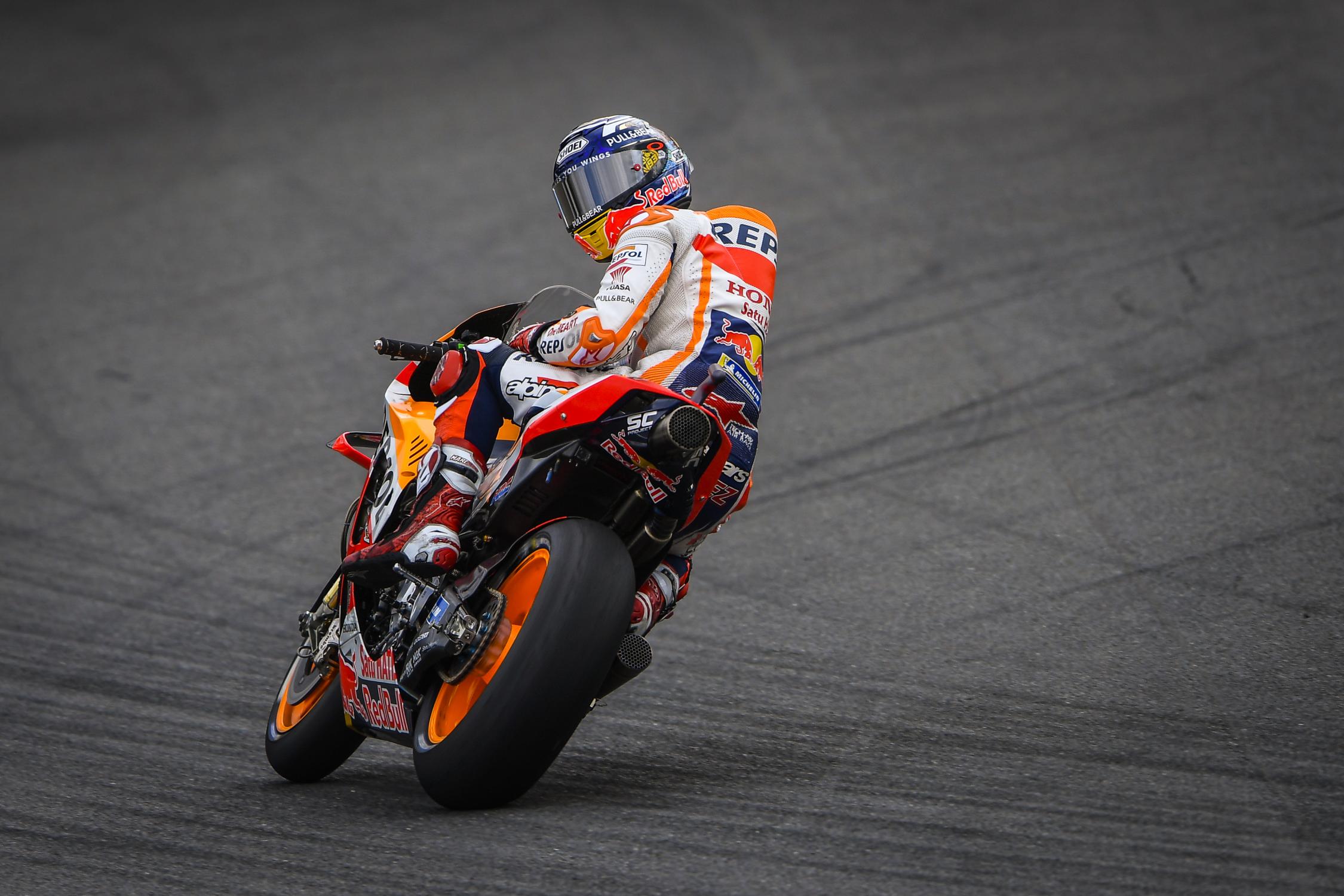 "Hello? Anyone there? No? Good."
Then began the Doohan Era. Mighty Mick took a few years to find his feet on a 500cc Grand prix machine chasing Gardner, Rainey and Schwantz, but once he did, he was the undisputed king. The most terrifying thing about riding a 500 by then wasn't the guys who were out on track with you, ready to leg check you into a fence at any moment. It was the bikes themselves. They were murderous pieces of shit. The kind of things you expect to jump out of a dark alley and stab you in the kidney on a Saturday night when you're walking home with a hot girl after you've scored a pash in the back row at the movies. They had no other purpose but to ruin your day. They were that nasty. The fans miss them. The riders who had to race them don't. They hate them.
But the truth is, by the time Doohan really hit his straps and was decimating everyone, Rainey, Schwantz, Lawson and Gardner were gone. That said, he made world 125 and 250 champs like Barros, Criville, and the often forgotten but highly talented Luca Cadalora look like kids from a special ed class. Mighty Mick was indeed a God. Only broken bones could beat him.
When Rossi hit his straps in the Premier League, Doohan was gone. Indeed, Rossi walked straight into Mick's team, so everything was set for him to win easily. All the team had to do was tune 40 horsepower out of Mick's bike so Rossi could ride it. And he still got beaten by Kenny Roberts Jnr, a bit of a journeyman who would probably not have had a ride at all without his name. For the next few years Rossi only had to deal with Biaggi, Barros and Capirossi, and once they were gone, people somehow pretended Sete Gibernau was a contender. It was a farce. He was a chump. Rossi toyed with him like a kitten that found its owner's vibrator. The Stewards did Rossi a few favours too. He should have lost a title to Gibernau, were it not for the Steward's cowardice in failing to sanction Rossi for punting Sete into the dirt.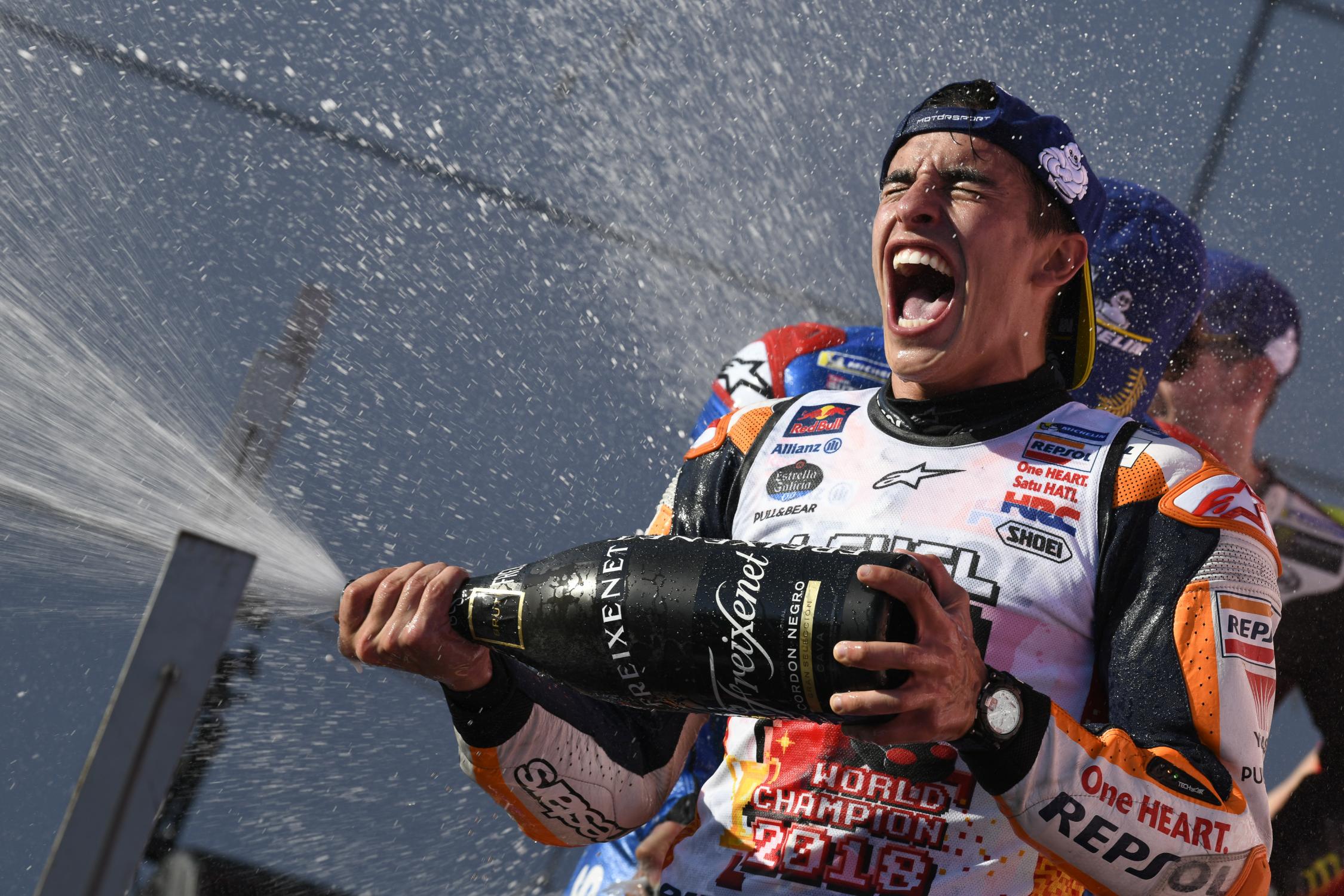 You reckon he might be happy?
None of that denies Rossi's legendary status in the sport. He's the guy who holds the records everyone wants to beat. Sure, Ago won more titles, but he did it in an era where they rode multiple classes at each round, so you could win more than one title per year. That said, they didn't race as many events each year either.
But there is one thing that has always stuck with me about Rossi's claim to greatness. It's not the the fact that he's spent most of his career (the Ducati years are the exception) on the best bike in the field. And it's not that he has usually received more support from bike manufacturers, tyre companies (Michelin used to make special tyres just for him) and other suppliers than anyone else. It is the fact he lost a title in 2006 to Nicky Hayden, who only ever won 3 GP races in his whole career, 2 of them in that year. It was a year where Rossi won 5 races. Nicky didn't win that title. Rossi lost it through his own hubris. Doohan wouldn't have. Neither would Roberts, or Rainey, or Lawson, or Agostini, or Read, or Hailwood.
It's the one blot on the copybook, and it still burns him to this day. He has 9 world titles. He is still chasing his tenth title, and with Marquez and Lorenzo around now, he's unlikely to get it. But he should already have it. 2006 was the one that got away.
Even Gods can be human sometimes.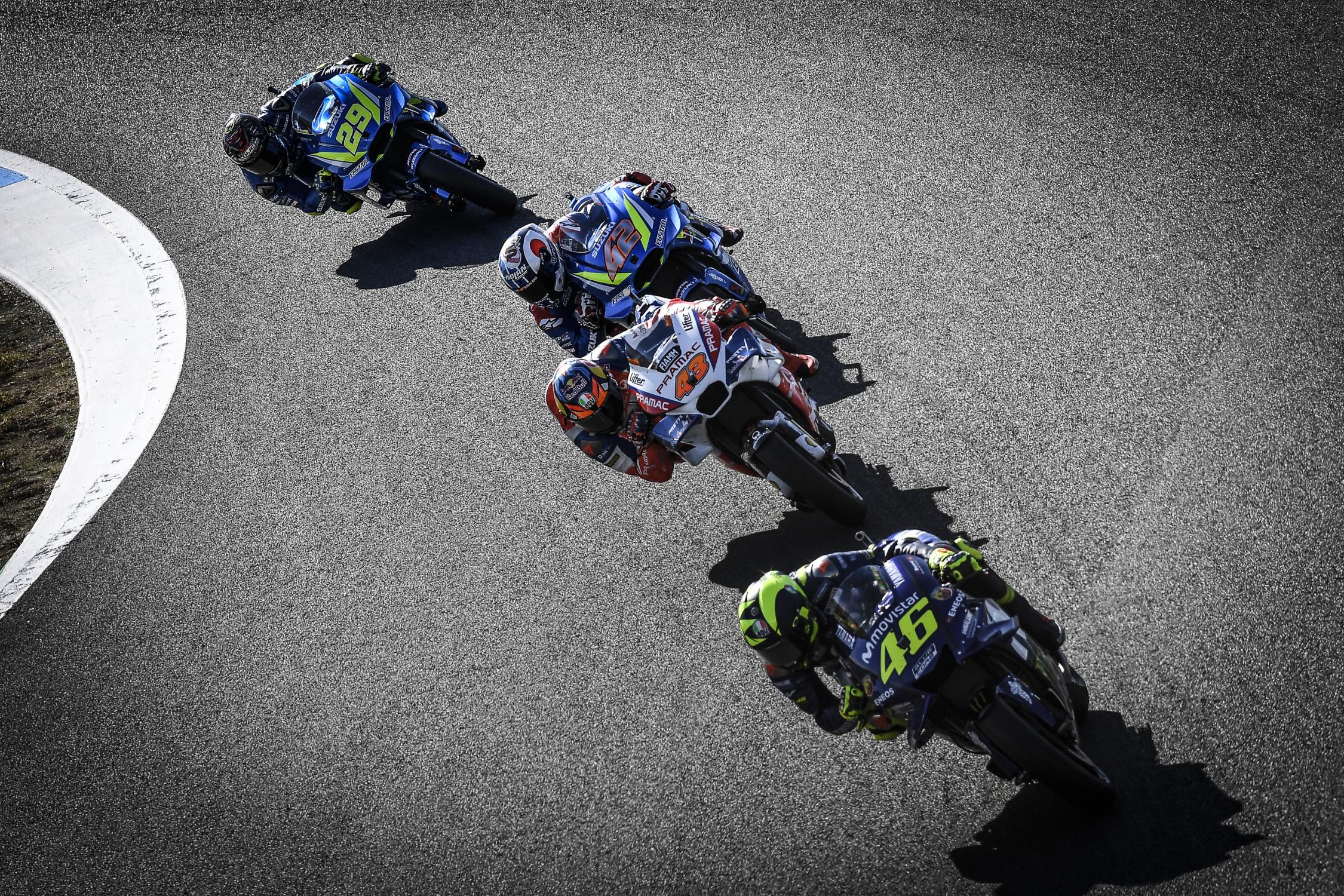 Rossi and Miller both Struggled in Japan. Rossi now believes the Suzuki is a better bike than the Yamaha.
So usually race fans are arguing over whether the current dominant hero of the day could have cut it against the best rider of a previous era. But I can't think of a time when a living legend was being violently assailed by another one at least as good as him, if not better. The whole idea of being a living legend, still in the cut and thrust of competition, is that there is nobody capable of challenging you. Yet here we are, with the most popular rider in MotGP, Valentino Rossi, who is regularly compared to the great Giacomo Agostini as being the Greatest Of All Time, being hunted like an old crippled dog by the young pup, who has already won 7 world championships at the age of 25.
Yep. 7 world championships at the age of 25. Just let that sink in for a minute.
When you were 25 you were probably still struggling to pull a root at your local on a Saturday night. You were terrified nobody would ever love you, you'd never marry, and never have kids. You may still be worried about that now. Count your blessings. Kids suck. It's likely you were still struggling to work out what you wanted to do with your life at 25. That's cool. But you need to know that by that age Marc Marquez was already a 7 time world champ. You are not worthy. None of us are. The kid is a freak.
When Rossi was 25, he'd won 6 world championships. Extraordinary.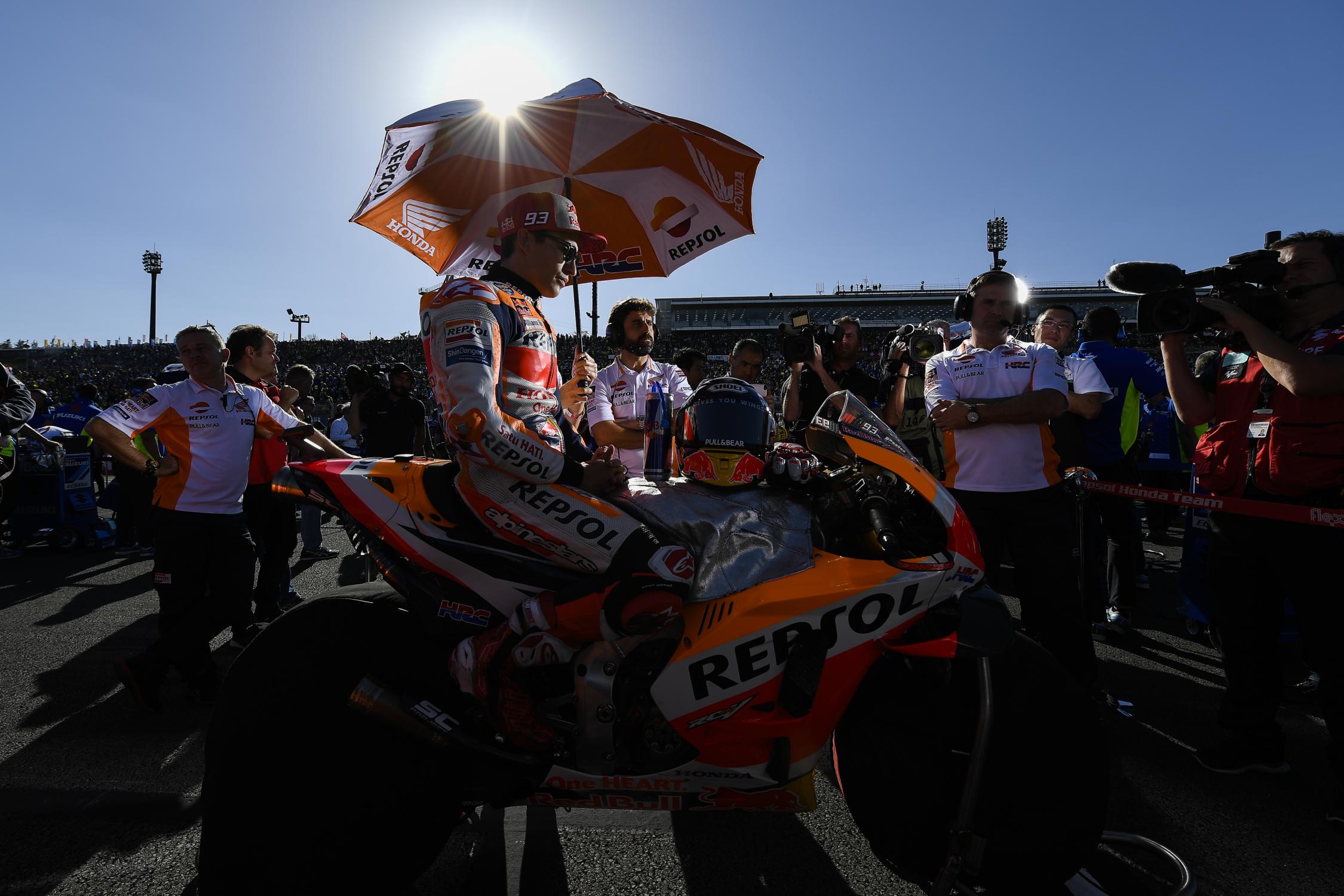 Cometh the man…
That was 2004. Since then he's won 3 more. That's taken 14 years. Three titles in fourteen years, and only two of those years were spent on a recalcitrant Ducati, so you can't blame them.
Do you really think Marquez will take another 14 years to win 3 more titles? Not a chance in hell.
If he remains in one piece, Marquez will probably do that in the next 4-5 years. If he rides until he's 35, he'll probably win another 5 or 6 titles. Maybe more. I can't see anyone coming through Moto2 who will challenge him.
In Japan on the weekend, he equalled Mick Doohan's record of 5 Premier Class world titles, although he is still 11 race wins behind Mighty Mick. Just shows how dominant Mick was.
So how many more titles will Marquez win?
Depends how long he rides for. He's clearly the best out there. He has no peer, and all but those with ridiculous egos admit it. And he will prove he is the best next year when Lorenzo pulls on the orange leathers and gets his arse handed to him by the little fella in the next shed.
While we're at it, we need to pay tribute to the man who provided us with some interest this year, Andrea Dovizioso. His battles with Marquez this year have belied his relatively low profile. He is clearly now one of the four premier riders in the field along with Lorenzo, Rossi, and Marquez.
That's no mean feat.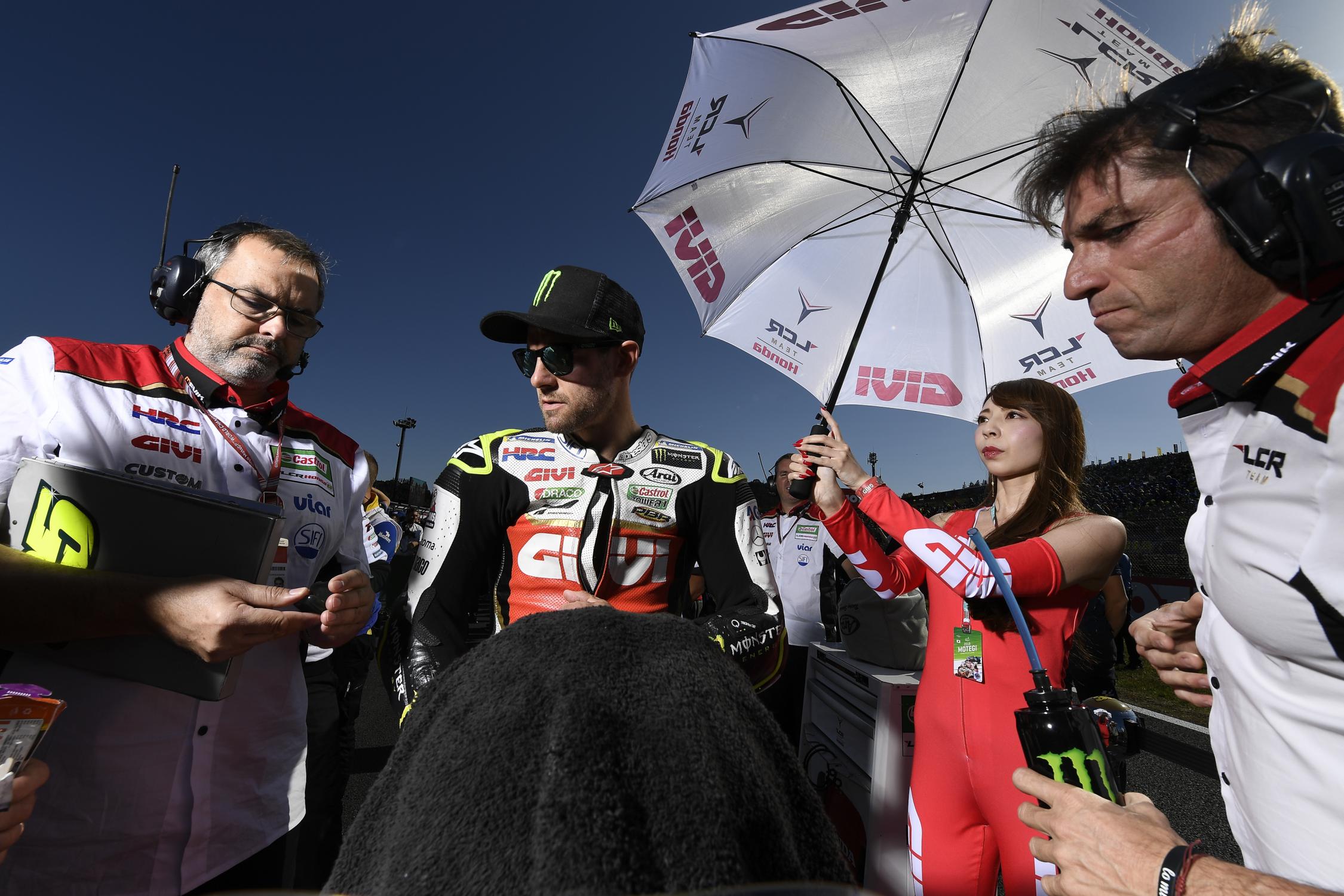 Cal had one of his best races of the year. He later joked that Marc could have let him win, just for shits and giggles.
In the Stoner era we referred to him, Lorenzo, Pedrosa and Rossi as "the aliens". They could do things on a bike nobody else could. They were the only ones capable of winning a race. Dovi has now joined the party.
The level of self-awareness he has shown, and the work he has put in are astounding. He is probably the hardest working rider in motoGP, and he is finally getting the rewards he so richly deserves.
Dovi came up through the 125cc and 250cc ranks on a Honda, in a privateer team. He won a title on the 125, and finished 2nd twice in the 250 class on a bike that couldn't really match it with the Aprilias. He didn't get the rails run on great bikes that Rossi and some others received.
Honda assisted his privateer team to move up to the 500 class with a satellite bike, and he rewarded them with a 5th place in the championship, and was offered a factory team ride on the Repsol branded bikes for the next 3 years. He won a race in his first year with them but then things slowed a little. Desperate to win a title, Honda snared Casey Stoner for the 2011 season, and attempted to offload Dovi, but he held his ground and Honda honoured the final year of his contract and ran a 3 bike team including Dovi, Stoner, and Pedrosa, but everyone knew Dovi would need another ride for the following year.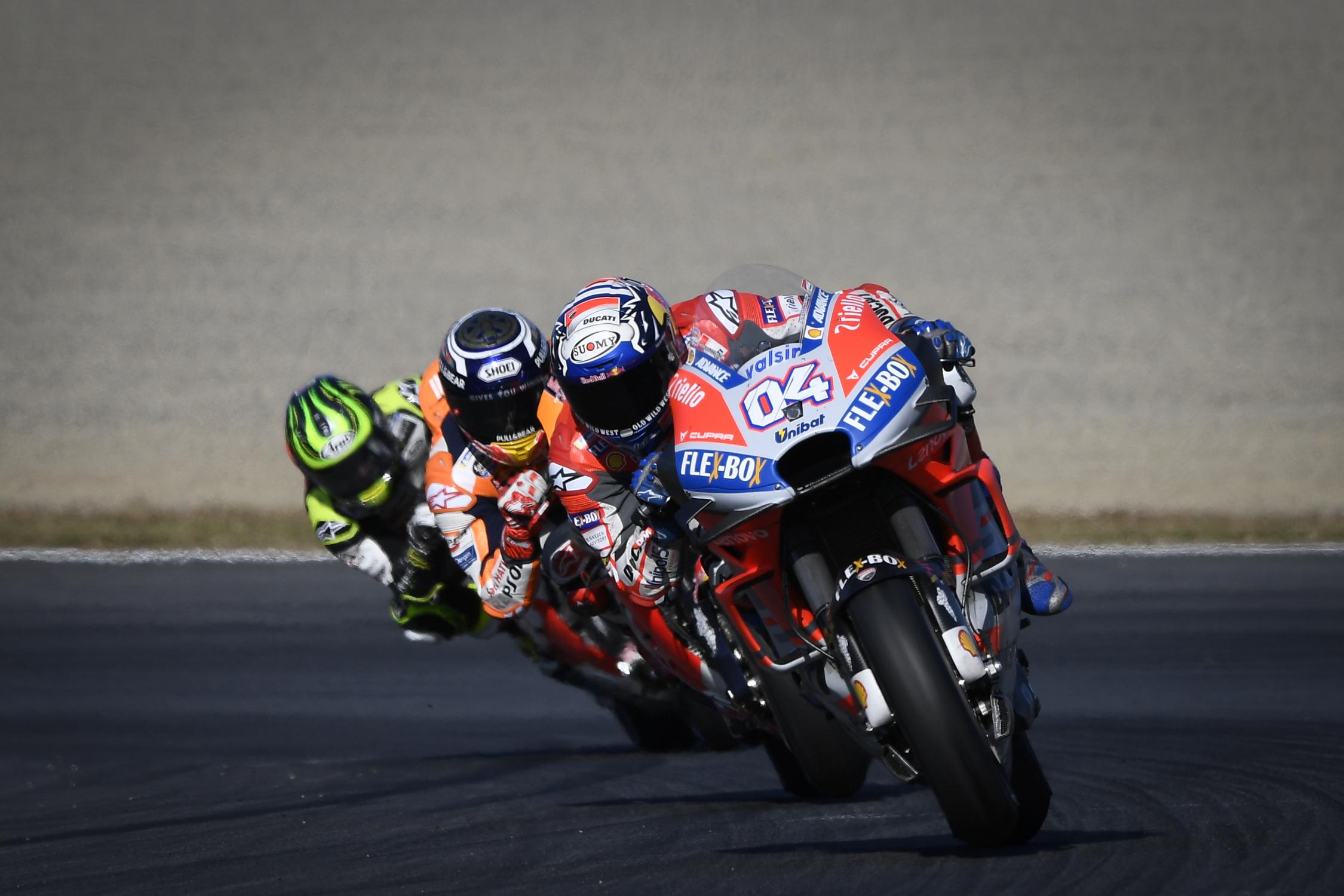 Dovi led most of the race, but Marquez never looked like he wasn't going to win.
At the first test at Valencia in 2011 on his first ride on the Honda it was clear to everyone that Stoner was a cut above everyone else, but instead of losing his nut at having yet another teammate that was faster than him (Pedrosa used to beat him regularly too), Dovi set about studying Casey's data to see where he was doing things differently.
I remember an interview in 2011 where Dovi was asked whether he had access to Stoner's data, and whether it was of any use to him. He replied that Casey's team shared all of his data with the other two team riders, but that it wasn't of much use to him as he simply could not comprehend how Casey managed to ride the bike the way he did. He was simply in awe of Stoner's freakish ability. His throttle control and manipulation of the rear brake, something no doubt groomed during his early days as a junior dirt track champ in Australia, was simply beyond the comprehension of anyone else in pit lane.
But Andrea studied. He knew he had only one year in the same team as Stoner, one year with access to priceless information, and then he would be out the door.  Instead of complaining like many others would have, he studied. He studied what it was that made Stoner extraordinary, and he learnt how to develop his own way of using some of those techniques to suit his own style.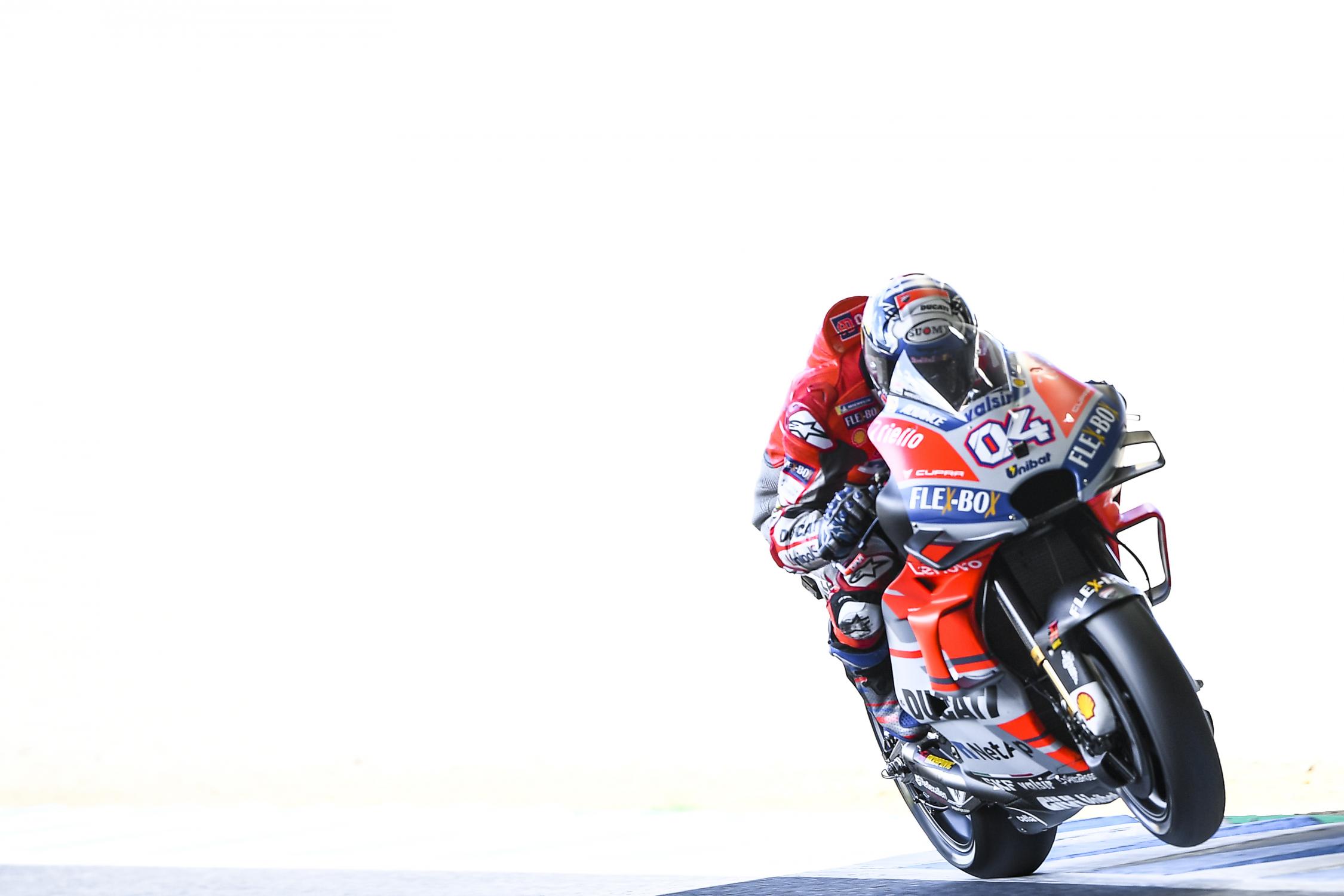 And the most improved award goes to…
2012 saw him in the relative wilderness of the Tech 3 Yamaha team, then he signed with Ducati for 2013, although his first three years on the red bike failed to see him win anything, thanks largely to Ducati being a shambles after a couple of years of Rossi's team trying to build a silk purse out of a kangaroo's scrotum and ending up with a scrotum purse.
The first 9 years of Andrea's Premier Class career returned 2 race wins.
In the last 2 years, he has won 9 races, and he is rightly considered a serious championship player. He deserves it. He is the role model for hard work and diligence. He may not have quite the prodigious talent of a Stoner or a Marquez, but he makes up for it by simply working his arse off.
And sport needs heroes who achieve because they are hard workers. It gives all of us hope, no matter how incapable we are of delivering anything of substance ourselves.