Here's your only warning, ladies.
I will not tolerate you fighting like heated cats over me. You will break a nail, and muss your hair and make-up, and then you'll look less than adorable.
And none of us want that.
Behold the latest offering from Rhok – the skinny riding jean.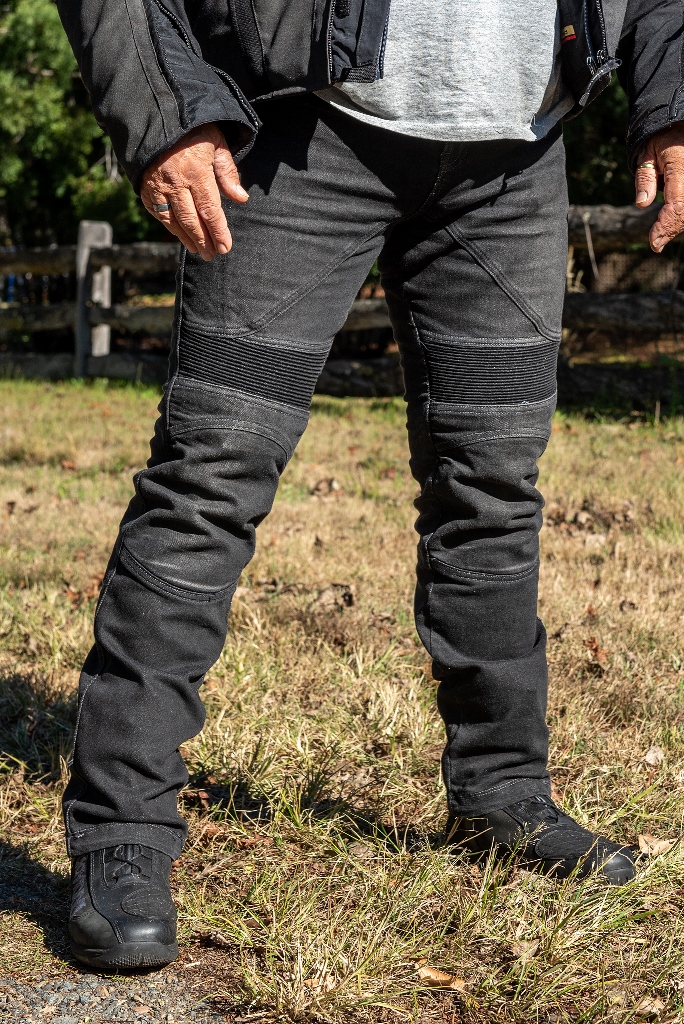 Now I ain't much of a fan of skinny jeans, least I wasn't, but then I saw how fine my junk-pusher looked, and here I am, on the side of the road doing a fashion shoot with Nick 'Leibovitz' Edards, and I can see the way he's looking at me.
Full disclosure, then. I am a fan of Rhok jeans. I have two pairs that I have had for almost five years now and they are utterly bulletproof in terms of wear and tear. I've got them on in many of the bike reviews you might have read.
I have not crashed in them, but I know people who have, and they do the job one expects DuPont Kevlar jeans with CE-approved armour (knee and hip) to do. So they work in that regard.
But just as importantly, they last.
And even more importantly, they are very comfortable to wear because they are made from a stretchy denim, and cut in a way that man-sized men will appreciate.
The pockets are stripey inside because that stripey material is also very long-and-hard-wearing. Pockets often seem to be overlooked in riding jeans, but not in this case. Keys are sharp. And if you put them in your pockets, they will eventually dig a hole in them and then your keys will be in your boot if you're lucky, or on the road if you're not.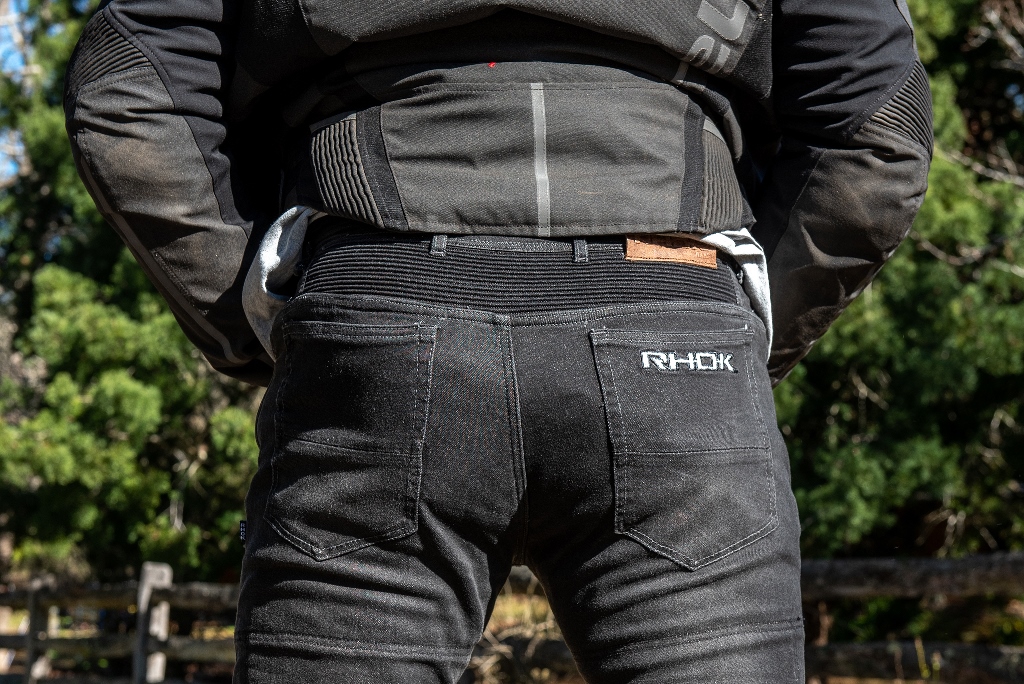 This is the Next-Gen of Rhok jeans and tweaks have been made in terms of ribbing in the stress places. Length is a consideration and these are designed not to ride up your leg when you ride, though you can still get a mid-length boot into them quite easily.
Don't tuck your jeans inside your boots, OK? It's not 1980 anymore.
The jeans are designed in Oz by a bloke I know, and he's Serbian and utterly uncompromising when it comes to his gear. And other things. Like being sass-mouthed on an Asian jungle ride by younger non-smoking types who learned the error of their laugh-at-the-big-breathless-guy ways when they had good manners slapped back into them.
I'd buy his stuff on that alone.
But his Rhok jeans, all of them – and there are a few styles if skinny is not you – are excellent, and they come at a killer price.
He can charge this because he sells them on an eBay shop. So overheads are for other people.
HOW MUCH $140 plus $17 Express Post
YOU MAY SHOP FOR THEM HERE
https://www.ebay.com.au/itm/RHOK-S1-Skinny-Motorcycle-Jeans-with-DuPont-Kevlar-CE-armour-knee-hip-/332502377500
Boris Mihailovic
IMAGES BY NICK EDARDS / HALF LIGHT PHOTOGRAPHIC