Jorge Lorenzo visited the Honda headquarters in Japan before the Catalan MotoGP.
He claims it was all about developing the bike, and making changes so he could actually ride it, rather than ride around like your mum
.
Magically
his bike turned up in Barcelona with little tankwings (look, I even gave them a name),
just
like Ducati did when Lorenzo's performance
dramatically
improved last year, after 18 months of absolute shit riding
.
Apparently
it helps him grip the tank with his legs. Other riders can do this without the help of tankwings, because they don't skip leg day.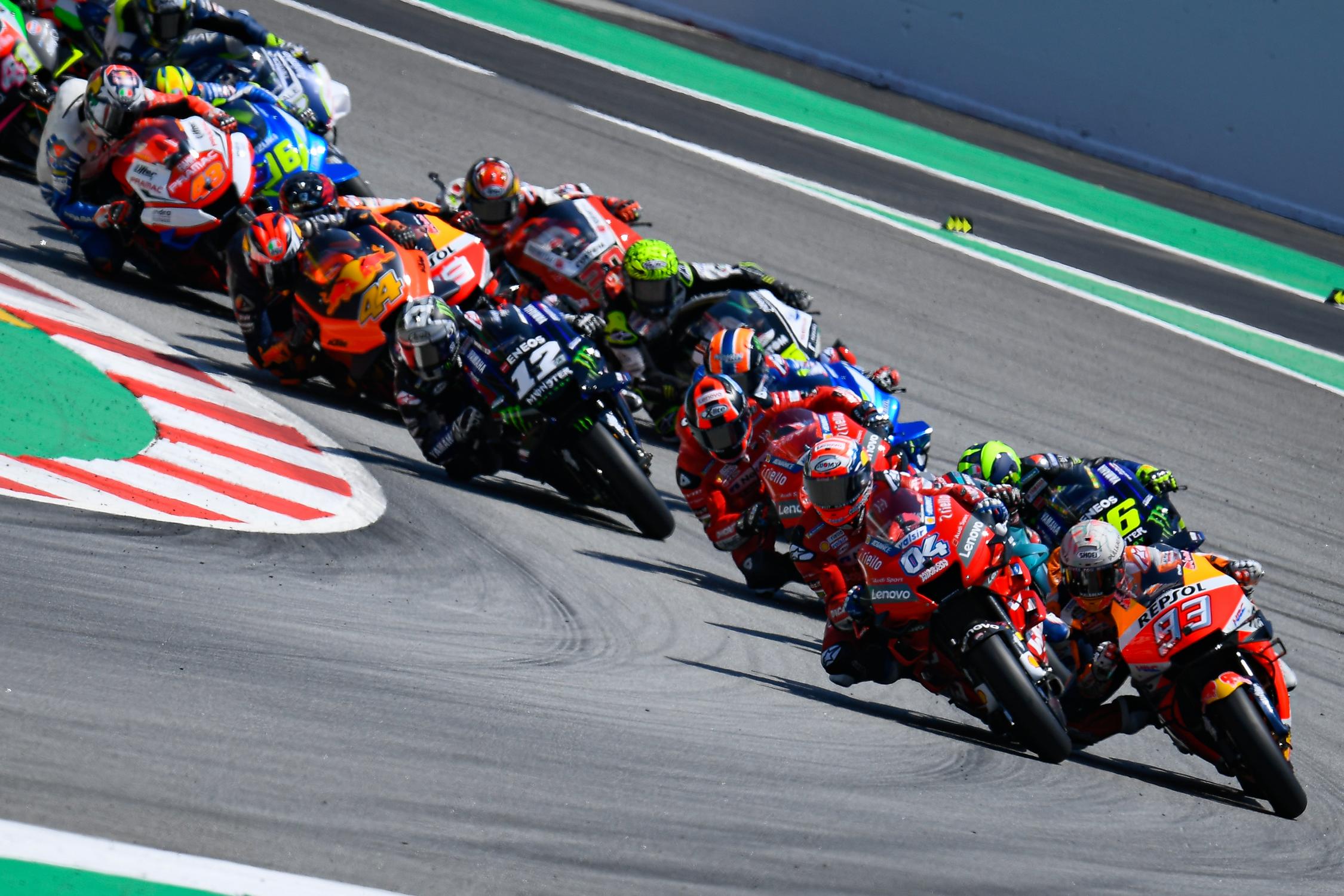 This pic was early in the race. We know this because Lorenzo is in it.
Now let's be frank.
If the sole reason for Lorenzo's shit riding this year was down to the absence of some tankwings, Honda would have sorted that in pre-season testing with some epoxy and a bit of silly putty
. They're not stupid. In fact, they're less stupid than anyone. I'd let Honda engineers do brain surgery on me.
They knew, and Lorenzo knew, all about how having tankwings affects his riding, so they finally gave him some
. Honda would likely have preferred to
just
give him more Red Bull. It's supposed to give you wings. And you don't need epoxy or silly putty
So was Lorenzo's new found speed all to do with the wings? Nope.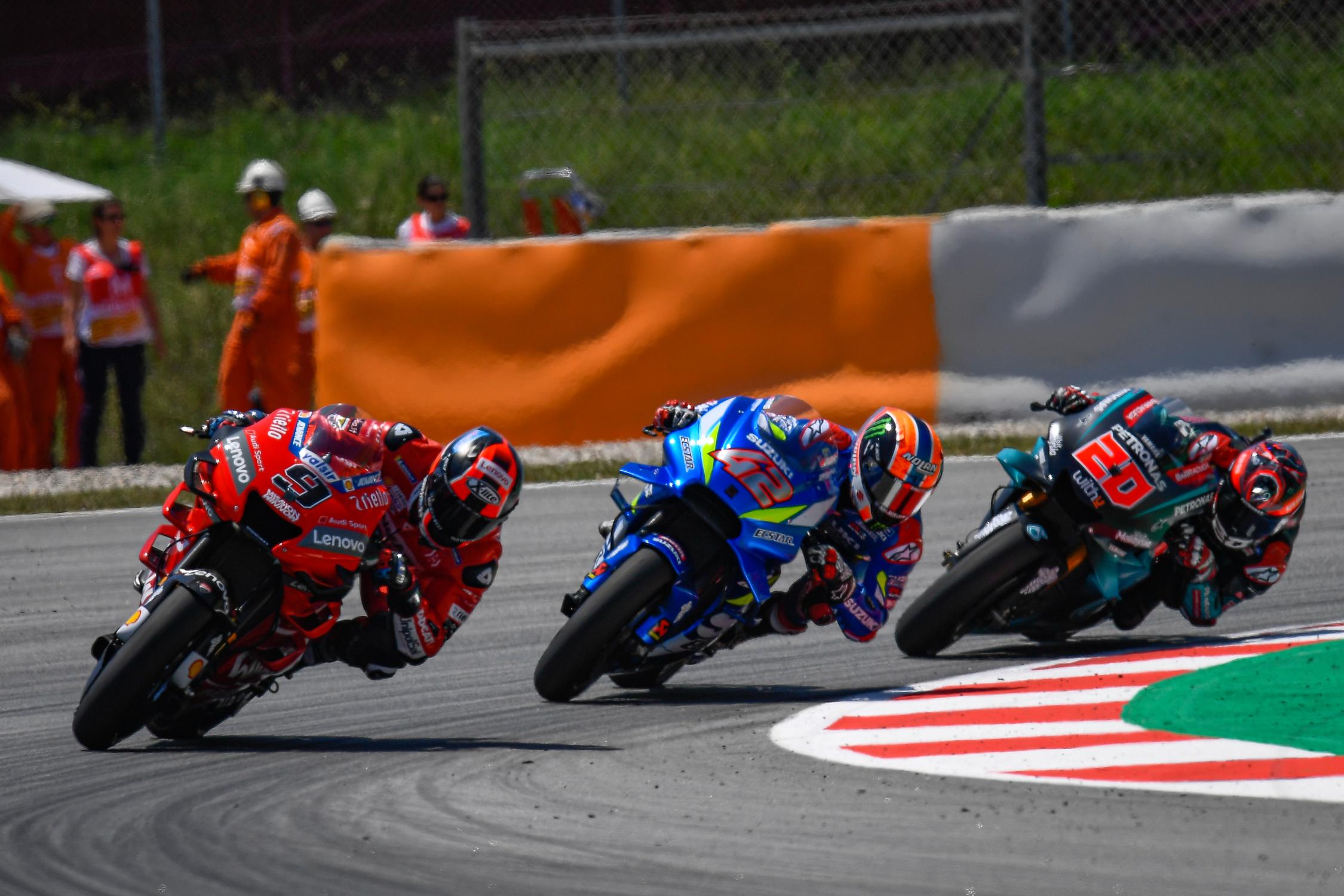 Danilo did good. Managed his tyres well. Rins had a great ride too, except for one error,
but you get that when you're on a slow bike and trying to make it go faster than it deserves.
It
just
so happens I scored an interview with a
highly
ranked HRC operative the day before the race and asked him about Lorenzo's pace over Friday and Saturday
.
He's not
really
an "operative", more like an engineer, but engineers love when you call them something more cool than "engineer"
. And I'm trying to keep his identity a secret, so he's not
really
an engineer either, get it? Good.
He told me he was in the room when Lorenzo complained of his lack of tankwings.
Honda's big wigs told him to stop being such a pussy, and reminded him of all the championships he'd won without tankwings
. And how nobody else had tankwings.
They also pointed out that all Hondas have wings on either side of their tank (it's the Honda logo after all), and that Stoner, Rossi, and Marquez all managed to win championships (and lots of them) on Hondas with
just
the normal Honda logo wings
.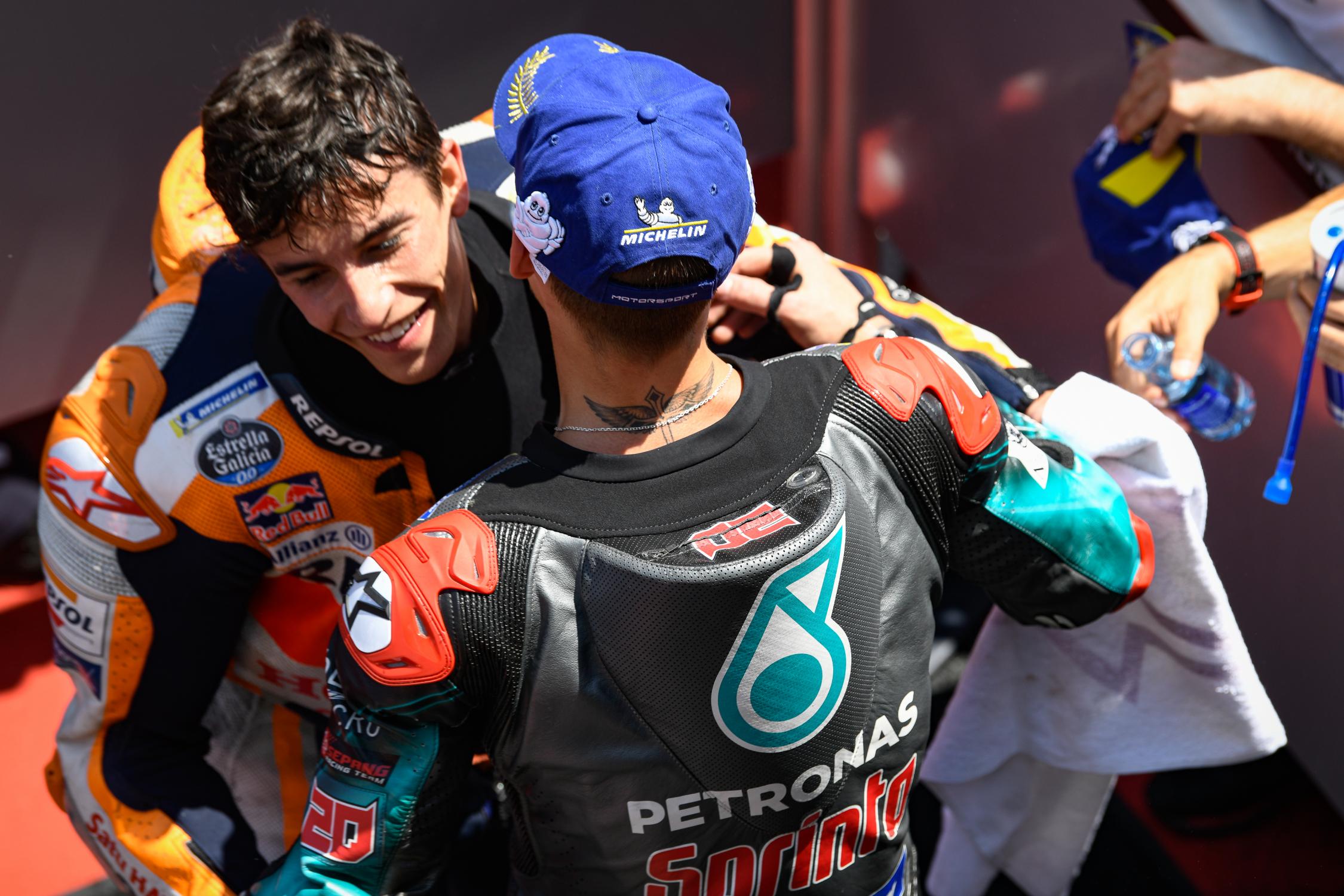 What's the saying? Keep your friends close…
Then Honda said "Jorge, you cannot win the championship. We never expected you to.
We only bought you from Ducati to take points off those other crazy fuckers so Marc could win more titles with a little help from his teammate"
.
Jorge said "Hold my beer".
And with that, he took out pretty much everyone who had any hope of beating Marquez within 2 minutes of Sunday's race starting
.
He
just
earned his contract for the year. If he does it again, he might even get a pay rise.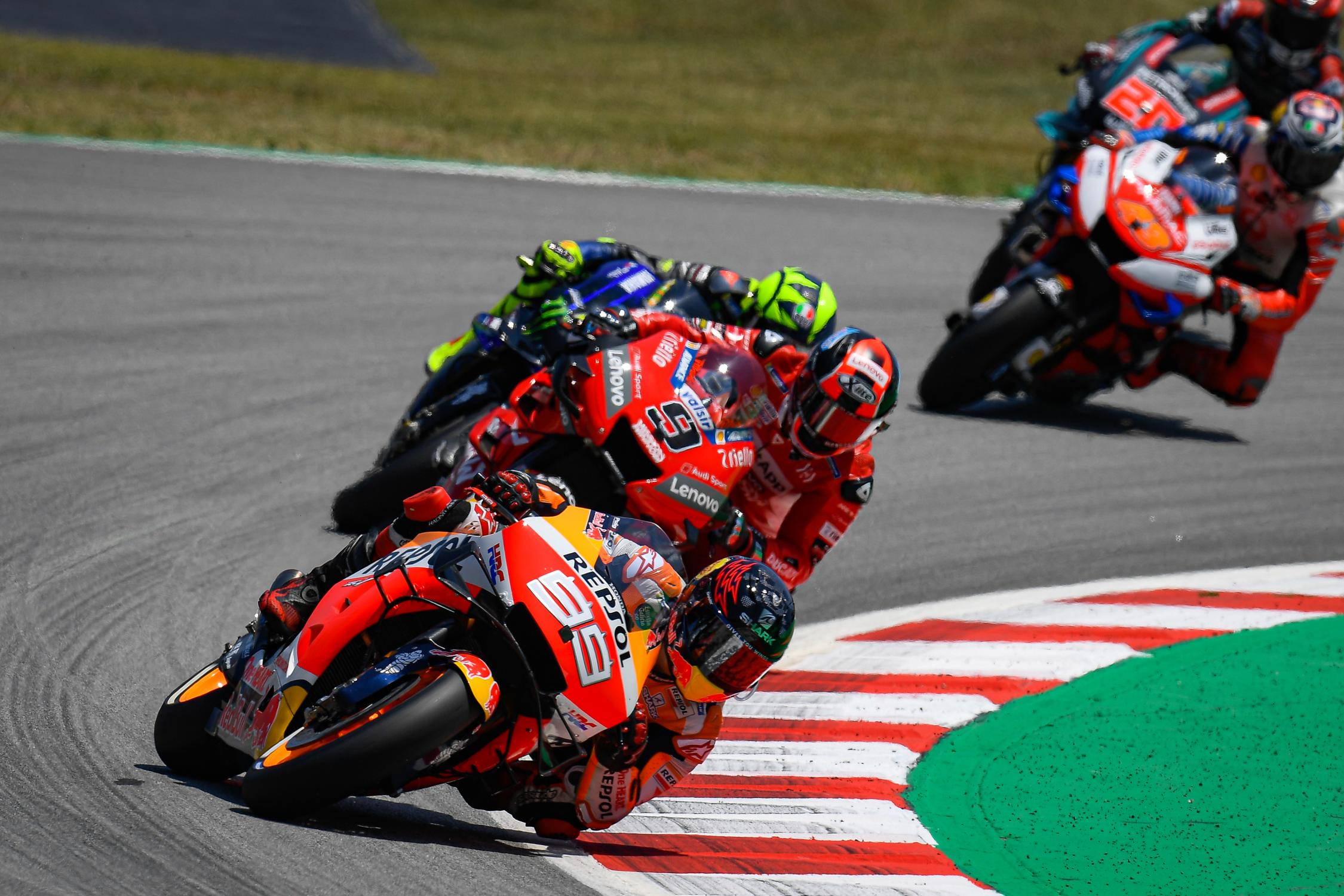 Ah, Jorge. Look what you've done!
Truth is, he looked like a bloke riding at the pointy end of a MotoGP field who hasn't been there for a long time and
simply
screwed up
. He was over-excited to be racing with the big boys again, and made a grave error of judgement. Shit happens.
Everyone else was feeling each other out, making sure their tyres and brakes were getting up to race temperatures, and Jorge launched a move down the inside like a rookie
.
He was never going to pull the thing up, that much was obvious to everyone except him, including pretty much everyone watching on TV
.
By the time he'd realised he'd screwed up it was all too late.
Dovi and Mav were the initial victims, with Rossi trying
valiantly
to avoid the carnage, but
eventually
three cartwheeling bodies and three spinning bikes were too much even for the great one, and he went down too
. None of them were able to continue.
You'll
be pleased
to know Jorge's form continued into the test session that took place on Monday after the race, where he somehow managed to park his bike on top of a tyre wall
.
So while Marquez cleared off to an easy win, and fans declared it a boring race after Jorge's Miley Cyrus impersonation (you remember that wrecking ball video where she was in her undies
?
Of course you do), it actually taught us a lot about where all the bikes
are placed
and what the rest of the year might look like
.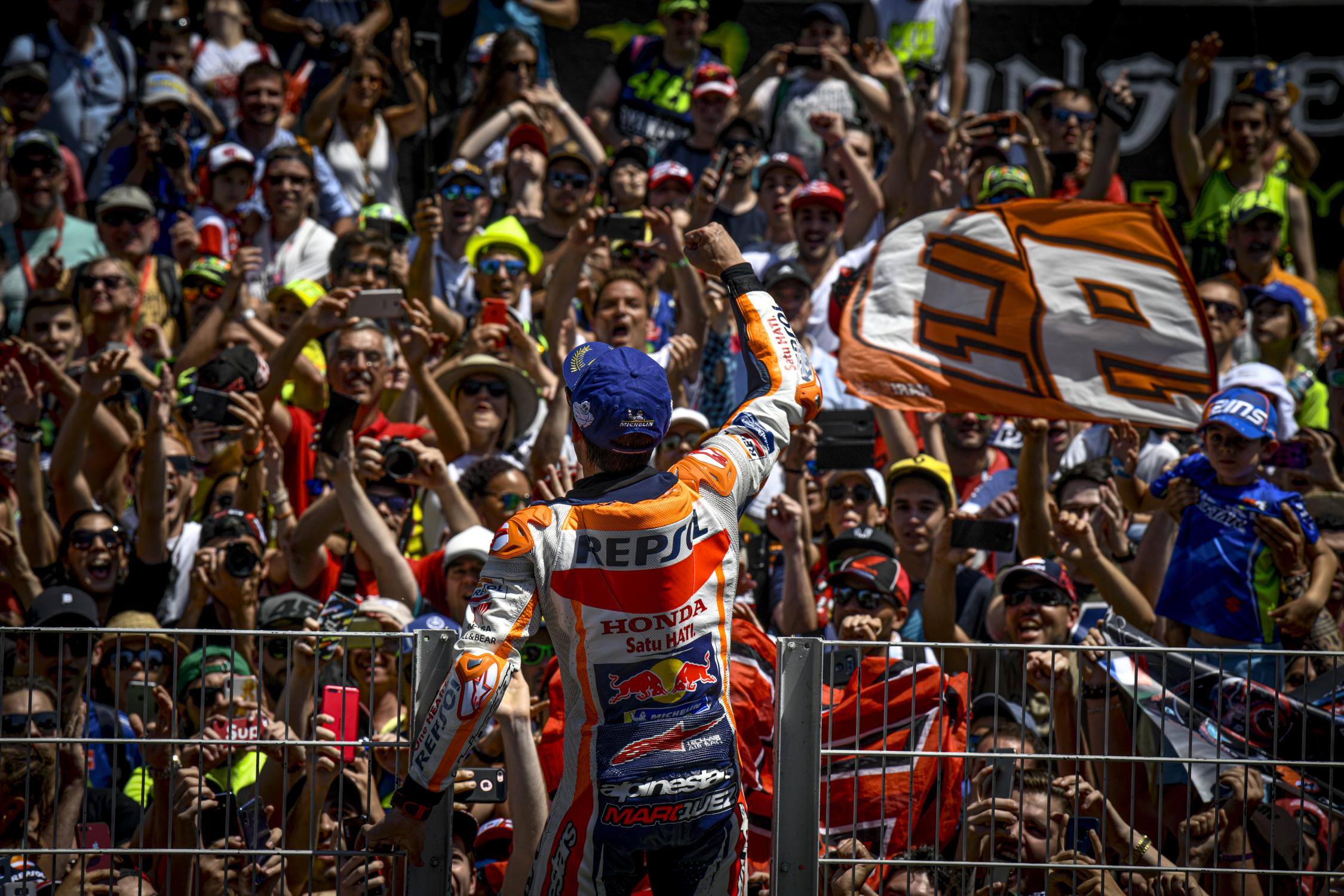 Get used to this. You'll be seeing it for years.
So lets look at the manufacturers and their motorcycles and see what's what.
Honda has dealt with their horsepower disadvantage from last year. But while they can now almost foot it with the Ducatis in a straight line, they have other problems. The only Honda rider who can make it work on cold tyres and with a full tank is Marquez. Nobody else comes close. The bike doesn't turn well, and it hasn't for years. Marquez
just
makes it look like it does. But it does look after it's tyres pretty well, as shown by Crutchlow's late race pace every week. The Hondas can run a whole race and cut good times even on the last lap. Except Lorenzo. That dude's messed up.
Yamaha has a problem.
Maverick has struggled with a full tank, although he seemed to have sorted that before he
was crashed
into on Sunday
.
Rossi is struggling for outright pace in qualifying, but has good pace over race distance, but not good enough to win anything
. Both are struggling in the very last few laps with tyre life.
But Quartararo is making them look silly right now, on a machine that
technically
shouldn't be as good as what the factory boys have
. He's not getting the help they have, and didn't start the year on the exact same machine.
At Barcelona many saw his early race speed and muttered that he would cook his tyres and couldn't run the whole race at that pace
. He did not know how to manage his tyres.
Clearly
, he did. Is it the impetuousness of youth, or
just
ability? I'm going with the latter. The kid's a freak, and my tip is Honda will be his next home as Marquez' partner. God, I hope they don't
employ
the little Marquez instead. That would be too much. Those two toothy bastards in one team would do my head in.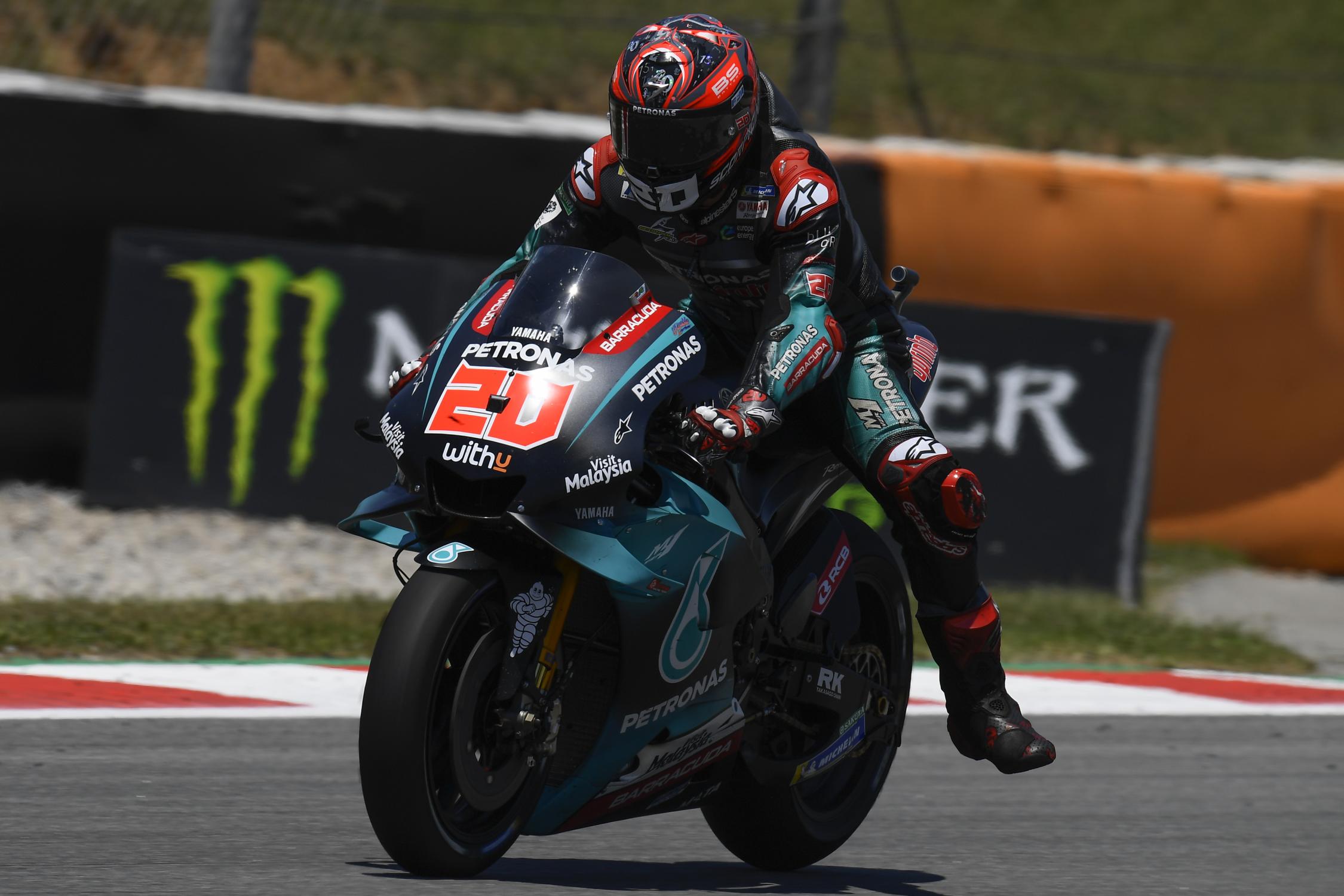 El Diablo is the future. In a few years, he will be the regular challenger to Marquez.
The Yamaha is still a nice handling package, and needs some horsepower, which may come with some mid-season engine revisions at the Brno test
. If it comes, watch them.
The bike is good, looks after its tyres pretty well, and has nice power delivery from the 2019 engine, it
just
needs more of it
.
Suzuki has the best handling bike in the field. It looks gorgeous mid-corner, especially in the fast corners. Great chassis, shit engine.
It is
seriously
outgunned in the horsepower stakes, and Rins will win some serious shit if they can sort that out
. They tried a different chassis at yesterday's test, but
I don't think
that's the problem. 15 ponies are their problem. Find the missing ponies and Rins will be a championship contender next year.
So to Ducati. Their massive horsepower advantage is gone. It cooks its tyres. It doesn't turn well, and is atrocious mid-corner, especially once the tyres go off. I watched Petrucci and Miller
closely
during that race.
Petrucci's bike seemed to be a little more settled than Miller's in the corners, but it still wasn't great, and you could actually see his tyre edge grip fall away in the last ten laps
.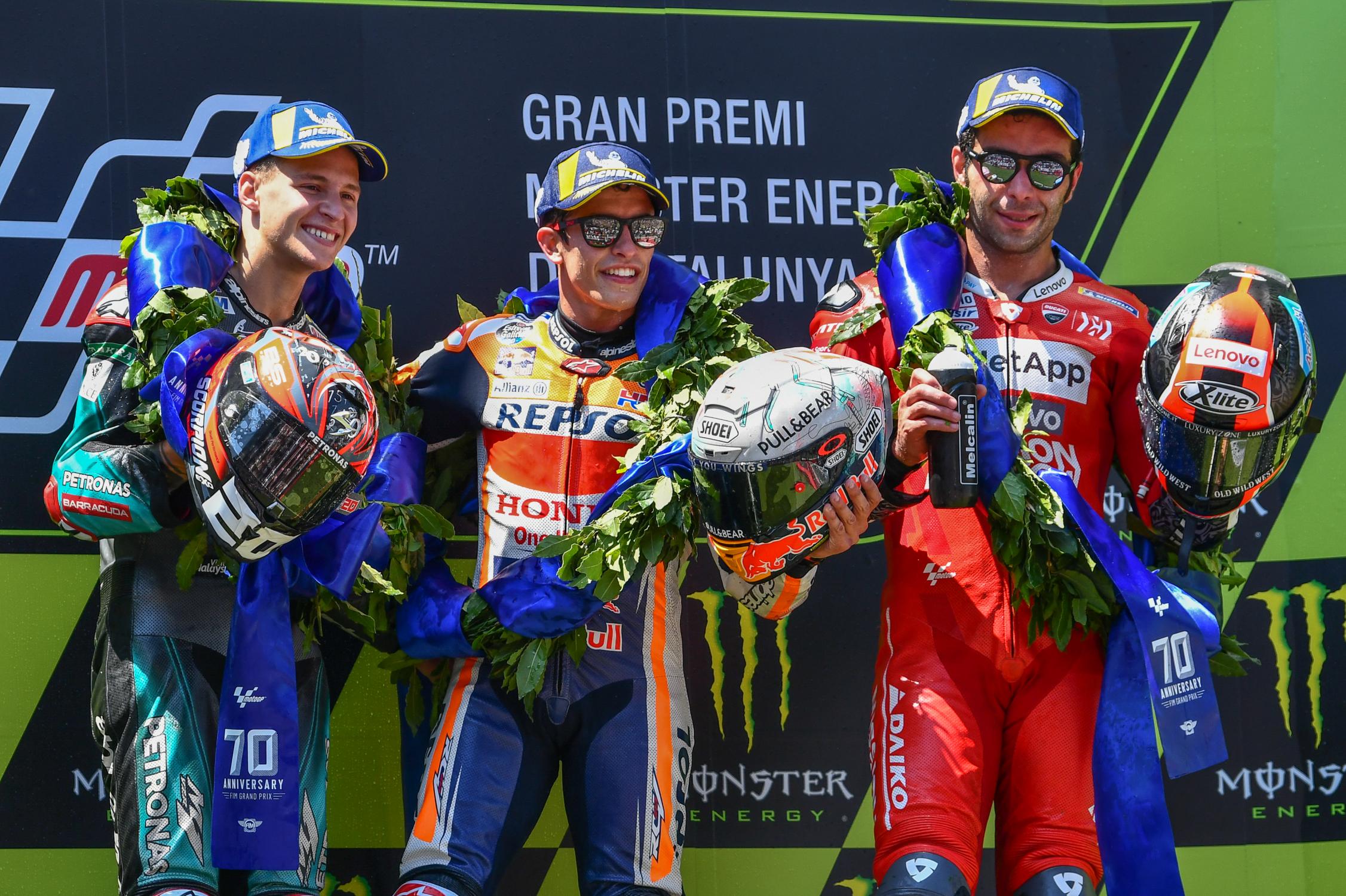 Not the podium we expected, but an interesting race nonetheless.
Miller spent the whole weekend battling a bike that was struggling to turn in, and wanted to run wide mid-corner through the whole race
.
In the last 5 laps he
was shot
, and even after Rins almost crashed and ran off track, he still caught Miller again with ease
. Miller was a sitting duck for the guys behind him as his Ducati turned recalcitrant beneath him.
By the end of the race it wouldn't turn, wouldn't hold a line, and wouldn't get off the corners the way we expect from the Ducati's
.
The factory Ducati boys tested bikes with carbon reinforced frames on Monday,
similar to
the 2018 bikes
.
Problem is, sometimes trying to stiffen a frame can be the wrong direction, and creating more flex is the answer, but this is a question that has dogged Ducati since the Casey Stoner days, when front end crashes were a Ducati trademark
.
So things have tightened up.