If you've not been to Mugello, you've not experienced MotoGP. Just something approximating a cheap imitation. Sorry, but it's the truth. Some other GP tracks have their own mythology, but nothing matches this. This is epic. This is The Playground Of The Gods.
For Australians, The Phillip Island Grand Prix has a life of its own. Adored and loathed in equal measure by those who venture there, it is, at the very least, a place that evokes emotions. Sadly not all of them are good. For me, every trip to "The Island" starts out with that moment where you ride down the gentle slope from the hills into San Remo, and onto the Bridge that takes you across the fast flowing channel and delivers you onto the famous Island. It's the same feeling kids get when they wake up on Christmas morning and stumble out of bed and crawl silently down the hallway to do a reconnoissance run to try and figure out what Santa has left, about 3 hours before the parents wake up. It churns your stomach. The expectation gnaws at you. Then you get to the other side of the bridge, usually to be met by a hoard of 20 or so Victorian Police all auditioning for the yet to be announced VicPol Death Squads, who pull you in, go over your bike with their beady evil eyes looking for defects, and make it clear they are going to make damn sure you have no fun whatsoever, all weekend. That the Victorian Government forks out millions of dollars every year to bring an international event to Australia and then sends its Police Force there to do all they can to destroy it is a constant reminder of just how dumb we Australians are.
And that's where the fun ends in Australia, often seen by people around the world as one of the best GPs of the year. It probably is, on telly. The rest of the Australian MotoGP is a poker game with the weather, a marathon of tired legs because there's nowhere to sit, and a dire struggle to hold your turds in, because nobody wants to take a shit in what passes for dunnies at Phillip Island. And given the food that's available, holding your turds in is no mean feat. Thank the Racing Gods for the riders. They are all that makes it click.
Compare that to Mugello. This is Ducati's home ground, so you don't need to be da Vinci to figure out what that's going to mean for the atmosphere. And while it's not Valentino Rossi's home track (San Marino gets that gig) it is only 3 hours from Tavulia, so the Yellow Army call in their Tuscan reinforcements for this race too.
The track sits in The Mugello Valley, an area in the north of Tuscany that at different times has been under the control of the Magelli (which is where the name came from), the Etruscans, the Ancient Romans and the Florentines. The history here is staggering. You can spend weeks here exploring. The valley is lined with mountains, which give birth to roads that make you think you are in heaven. It is motorcycling nirvana. And it has a racetrack in the middle of it. Bliss.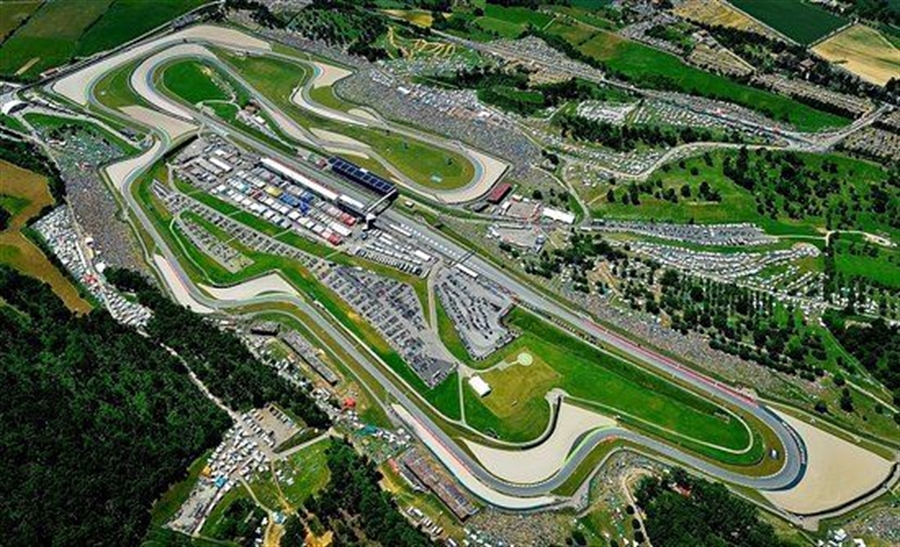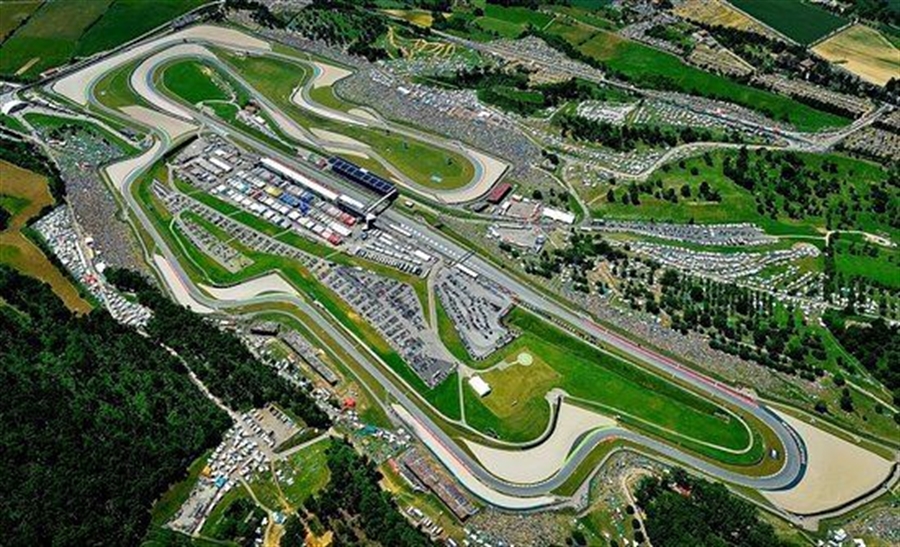 Look at it. Just look at it. It's beautiful.
But people raced there long before the track existed. Road races in cars were organised since back in the 1920's, with famous names like Campari and Materassi winning most of the time. Grand Prix Motorcycle racing came to the circuit in 1976, when Barry Sheene became the first winner of the 500cc class at Mugello. I think it's fitting that the God Of Stardom won that first race.
As for the track itself, it is a thing of wonder. There isn't a bad spot to sit anywhere in the joint. It winds up and down and around and back on itself and inside itself, all nestled within a circle of hills that creates a monolithic spectator area. It is compact. Sweeping. Brutal. Demanding. Stupefyingly beautiful. And fast. Shit, is it fast. The bikes will likely hit their highest speeds of the year here, on a straight that isn't even straight, and has a hump in it just before the braking zone for turn 1, San Donato. It is a hump that has a habit of causing tank slappers at 350km/h vicious enough to push the brake pads back in the callipers and leave you with a fist full of nothing when you squeeze the lever into turn 1. A couple of years ago the Yamaha's were getting completely airborne over the hump and over-revving, with Rossi and Lorenzo both lunching an engine in a weekend. It was one of the things that really drove the leap in aero effects on the bikes to try and keep them on the ground.
You can camp at the track, where you will be woken at 5am by the sound of someone revving the absolute soul out of their bike, usually with the exhaust removed, until it destroys itself to the howling chorus of hundreds of mad drunken Italians. Followed by another one. Then another. They will not rest until everyone is awake, and dozens of expensive bikes have spewed their fiery innards onto the grass. Those preferring a bed can stay in a number of close by ancient towns, the closest being Scarperia, complete with its own medieval castle.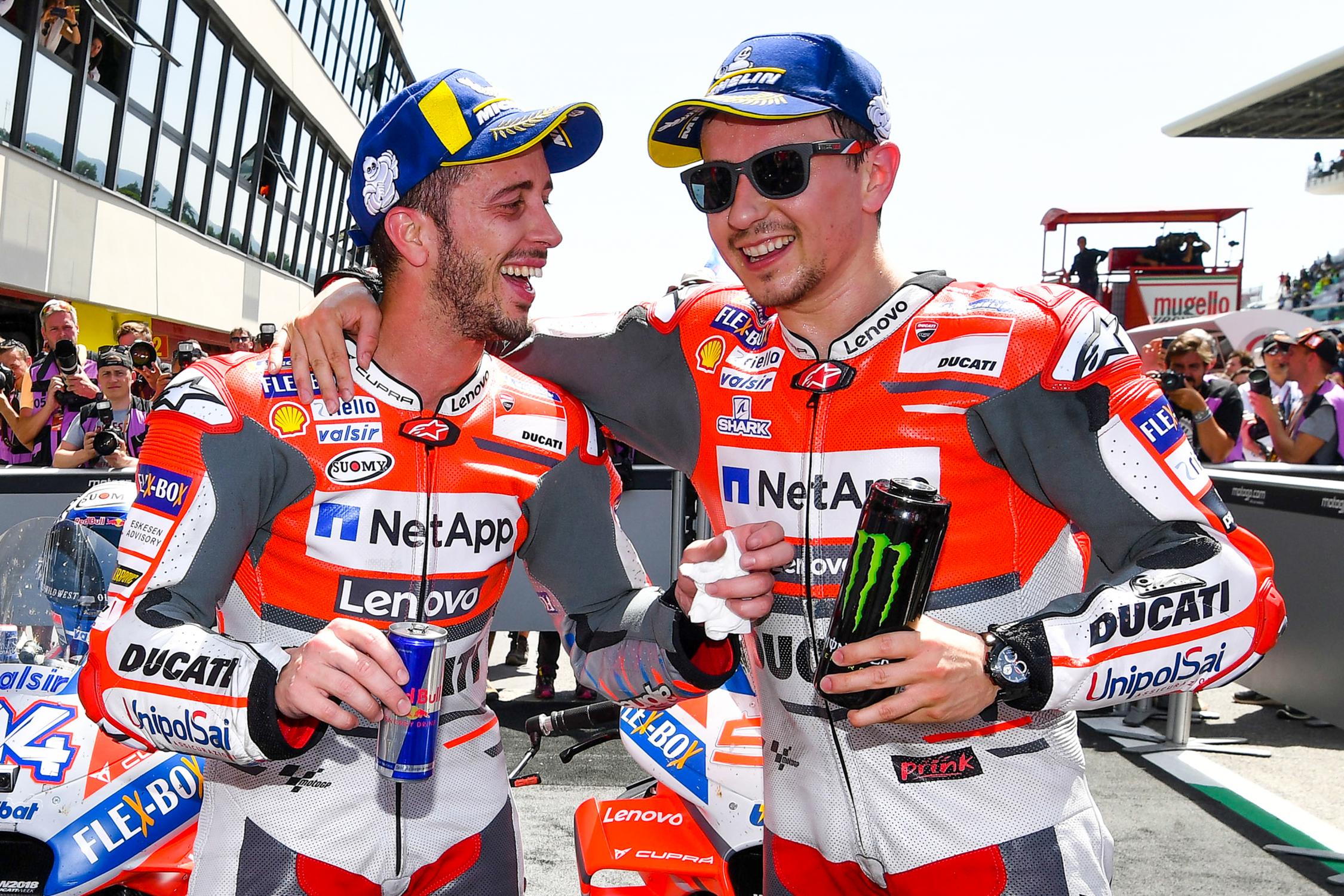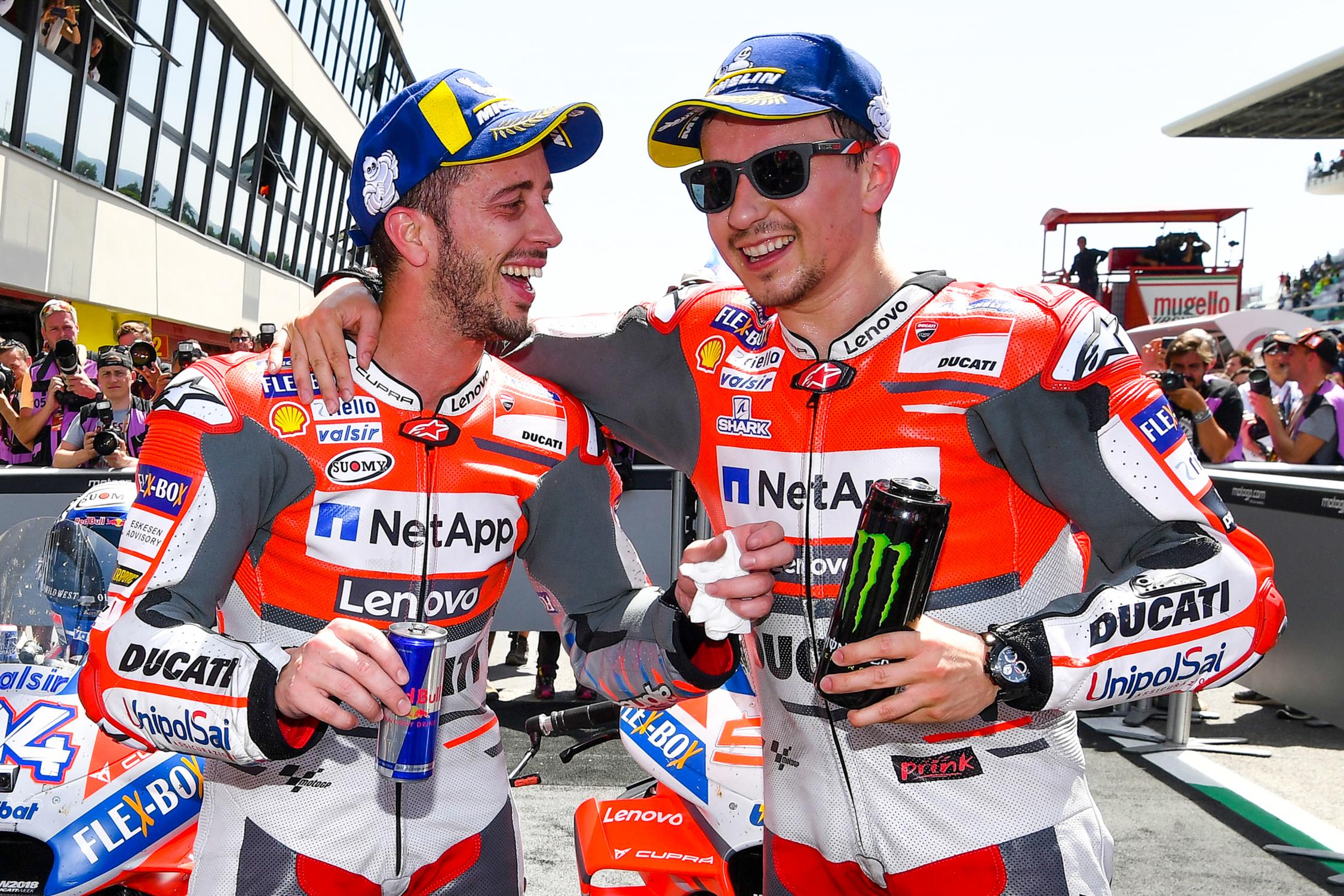 Jorge; "Sucked in, I beat you." Dovi; "Who cares, you'll still be riding a Suzuki next year."
I prefer to stay over the mountains to the South, in Firenze, or Florence to you uncultured non-Italians. It's only 30km away, and it is one of the most incredible cities in the world. Unimaginable history that turns your brain to mush just trying to take in a tiny piece of it, culinary delights that will satisfy the harshest Masterchef viewer, and a sense of self that only immaculate cities have. Firenze doesn't try and impress you. It just is what it is. If you are not impressed, Firenze couldn't give a shit. Fuck you. Go to Rome for all Firenze cares. Firenze is my kind of town.
The other beautiful thing about staying in Florence is the early morning trip over the mountain to Mugello. Cresting the mountains and gazing down into The Mugello Valley brings about the same feeling as crossing the bridge onto Phillip Island, only its like you have also eaten a cocktail of cocaine, meth-amphetamine and Macallan for breakfast. As you get close to the track, you feel your chest tighten, to the point where breathing becomes difficult, and talking impossible. You're having a heart attack. You'd swear it. You're just waiting for the pain in your arm to start and your vision to go black and the sirens to start wailing in the distance. It is that intense. Every racetrack creates excitement as you drive in. It's one thing they all share. But this place makes you feel like you've already wet yourself.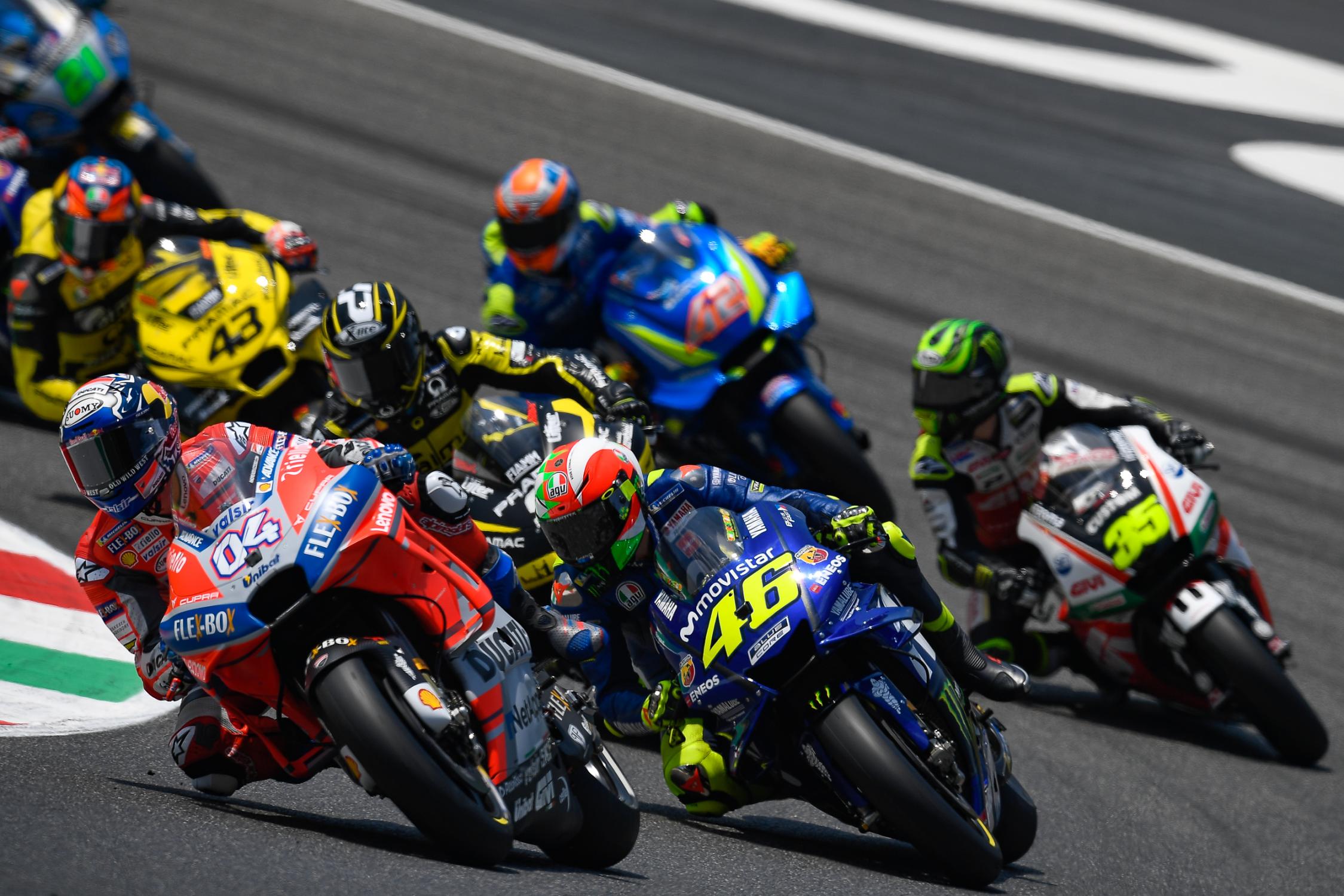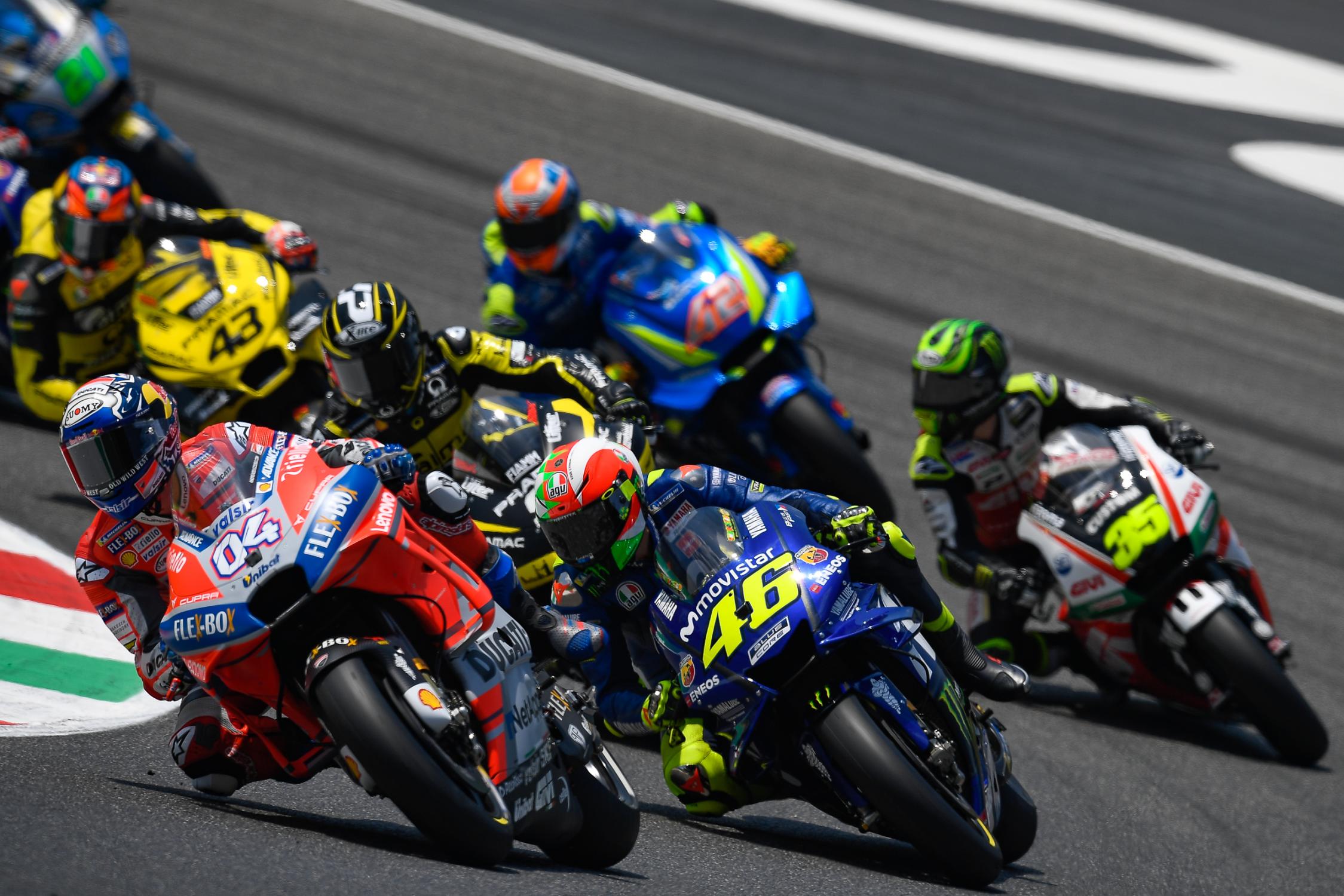 This was very early in the race. We know that because you can see Jack Miller in the shot.
My first trip there conjured all these feelings, and it wasn't even for a race meeting. It was a track day. But still, the place is palpable. It is alive. It screams at you, right up in your face, and it wants you to buckle. Only the best are allowed to play at Mugello, because it is the domain of people who know how to live. It demands of you that whatever you are there to do, you do as hard as you can, whether it's riding, racing, watching, or writing. It's just that kind of place.
Welcome to Mugello.
And on GP weekend it is a different beast again. 100,000 baying fans, all resplendent in the colour of their heroes like rabid football hooligans, armed with coloured flares that would see them shot by the cops if they let them off at Phillip Island, and all having a fucking great time. They are passionate people, the Italians. It's why they create the most beautiful things on earth. They've been doing it since before Jesus was invented. The riders speed through a haze of flare smoke. The fans invade the track at the end, sprinting for the best view of the podium. They drink, they eat, they enjoy. All things that are banned in Australia. Especially the enjoy bit. In fact, if Mugello were overseen by the Victorian Police there would have been at least 37 people shot dead on Sunday, and that was just the ones I saw that were having too much fun. I'm sure the cops would have found more. They're good like that.
As for the racing, Mugello did what it does best. It turns titles. Creates legend. Puts on the greatest show on Earth.
In this case, it served up a challenge to Marquez to save one of his trademark front end crashes, and this time he ran out of tarmac. He refused to let go and stayed under the bike, holding on, digging half his body into the road to try and make the bastard dig in and stand up. Another 4 or 5 metres of tar might have done it, but the frictionless gravel came all too early and all was lost. Nevertheless, it was a valiant effort. Nobody can hang onto a front end lose like Marquez, the God Of Traction. He remounted, and didn't manage to get into the points. So that has levelled up the championship somewhat, with Rossi, The God Of Marketing, and Dovi, The God Of Bridesmaids, getting back within striking distance.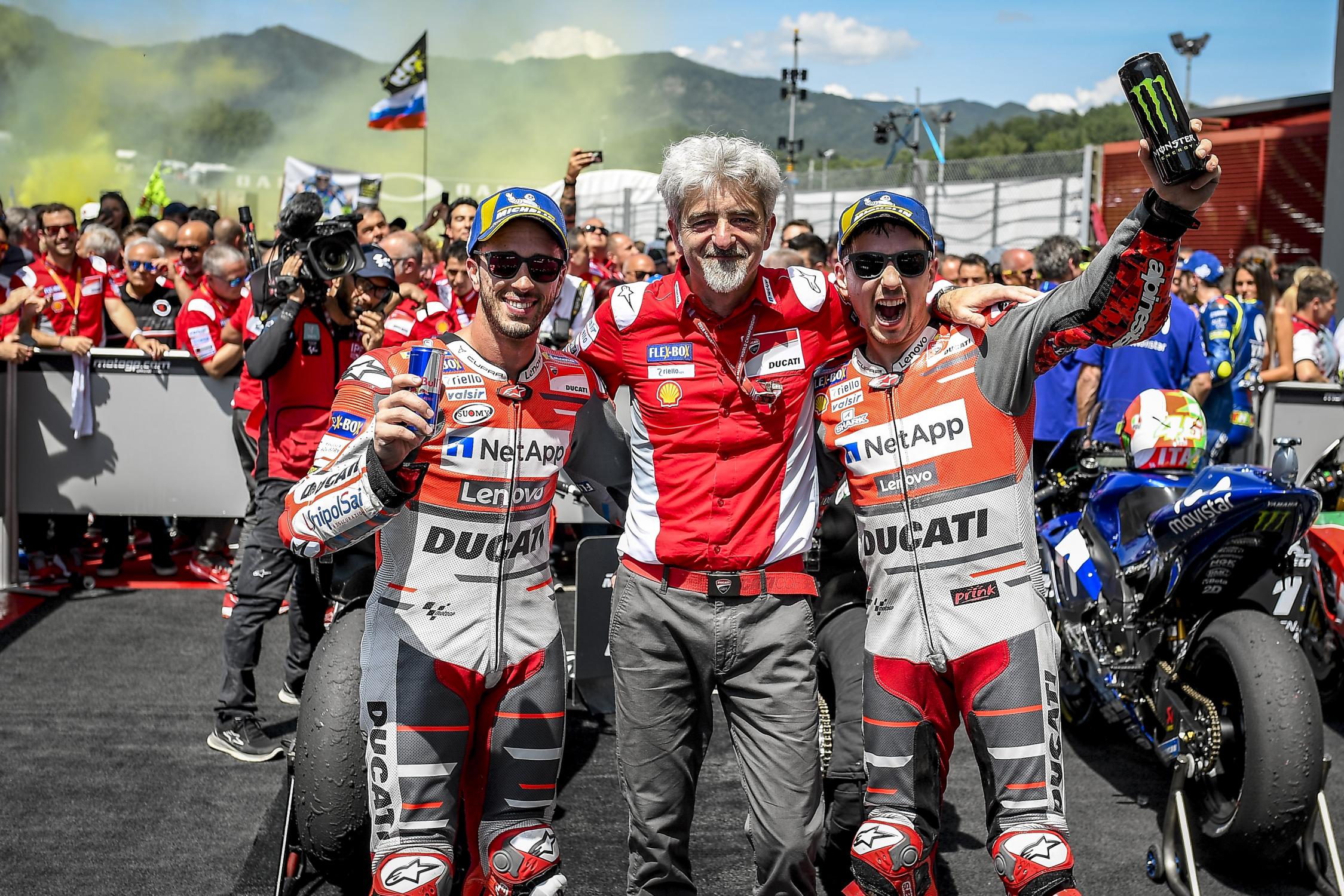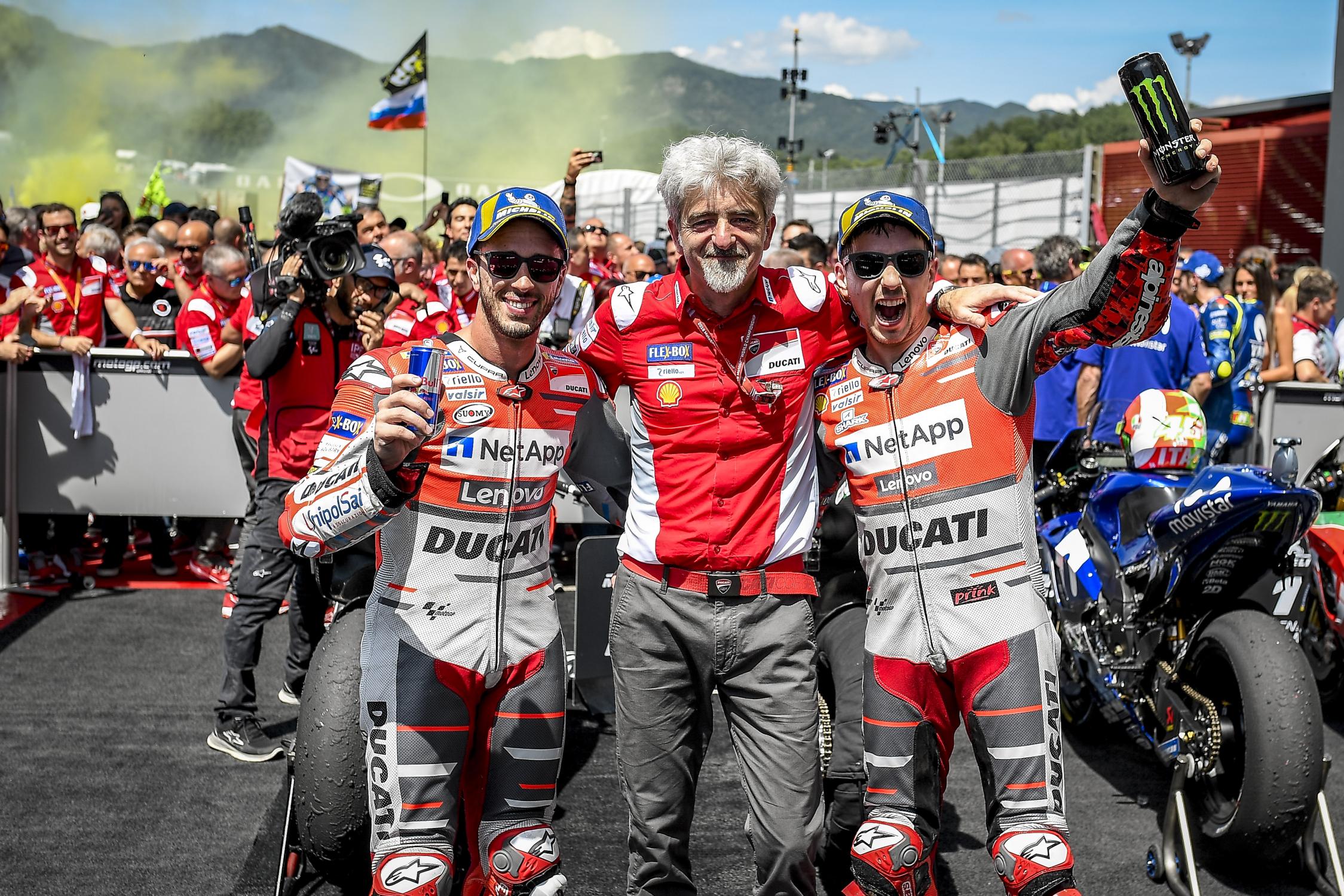 Gigi is thinking, "Just when I was about to replace you, you go and win, you bastard."
Lorenzo, The God Of Butter, was back to his metronomic best, smothering the black mamba with the butter and then hammering it into a timesheet that was so full of 1.48 laps that it made for pretty boring but impressive reading. Thankfully for Lorenzo, Mugello is a track that punishes riders who get caught in a scrap. It's corner structure and design means that if you lose a place or run wide somewhere, you will be pushing hard for the best part of half a lap to catch that 15m you lost back up. Being in a battle around Mugello means massive front tyre loads in the first corner, and massive rear tyre wear after that in the fast long curves through Materassi, Casanova, Arribiatta 1 and 2, and all the way to Scarperia, before you finally get another slow corner at Correntaio, almost 2/3rds of the way through the lap. So when you have to push to make up for an error, or are running odd lines and diving up the inside under brakes during a fist fight with another rider, you will wear your tyres much harder than a rider alone on the track.
This played into Lorenzo's hands. His rhythm was perfect, and the lack of a challenger for most of the race allowed him to baby his tyres, running similar times right to the flag. Everyone else was busy carving each other up, pushing each other off line, and basically making it impossible for anyone to get anywhere. Dovi looked like being a challenger for a little bit, but he'd already done some tyre damage getting to second, and very nearly found himself swallowed up by Rossi in third by the end. Petrucci came and went, then came again, and Crutchlow looked threatening, but that's all it turned out to be, a look. The Suzuki boys beat each other up in a very good fight, Pedrosa paid the price for qualifying badly by tangling with Nakagami and coming down, Miller crashed out early, and so did a few others.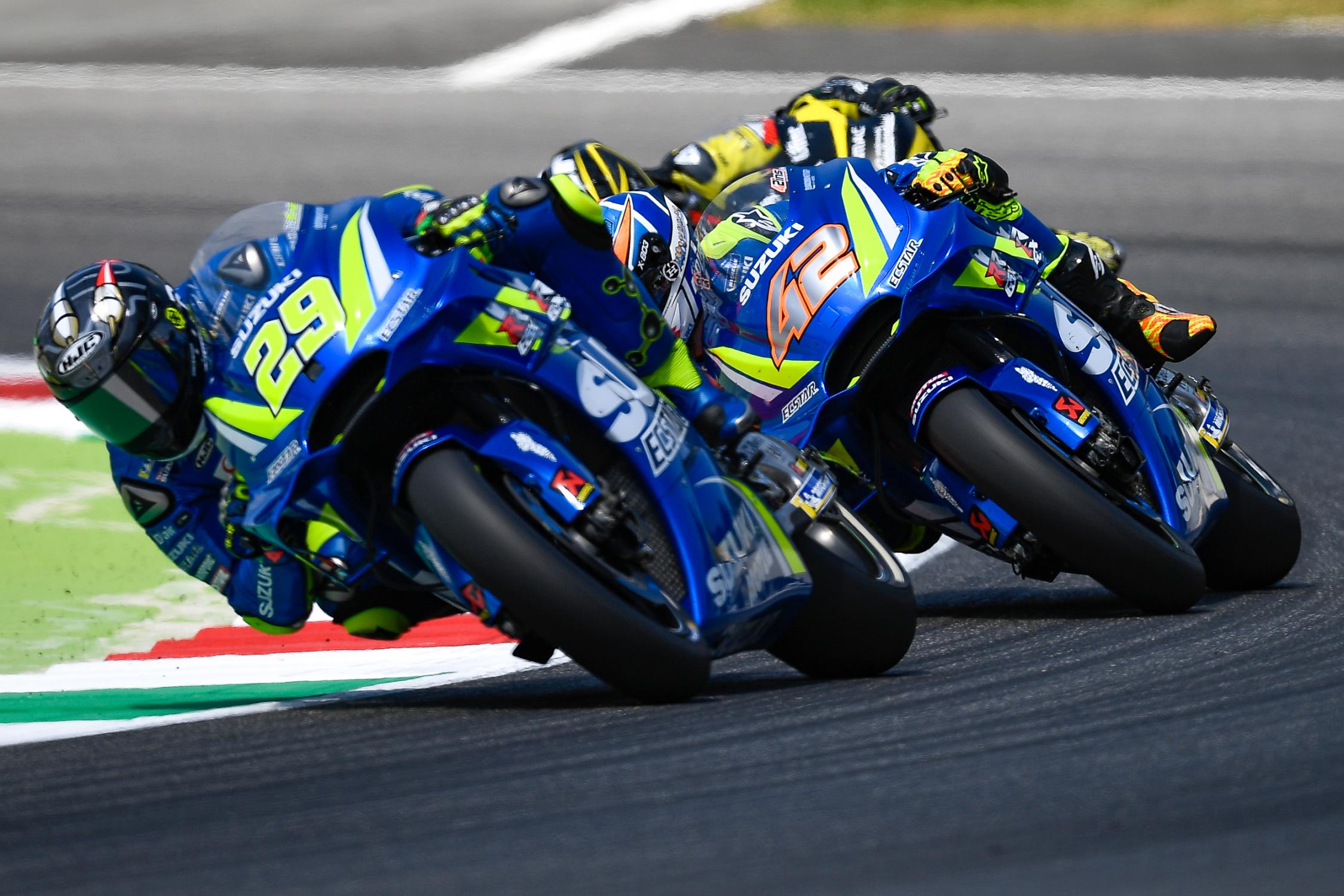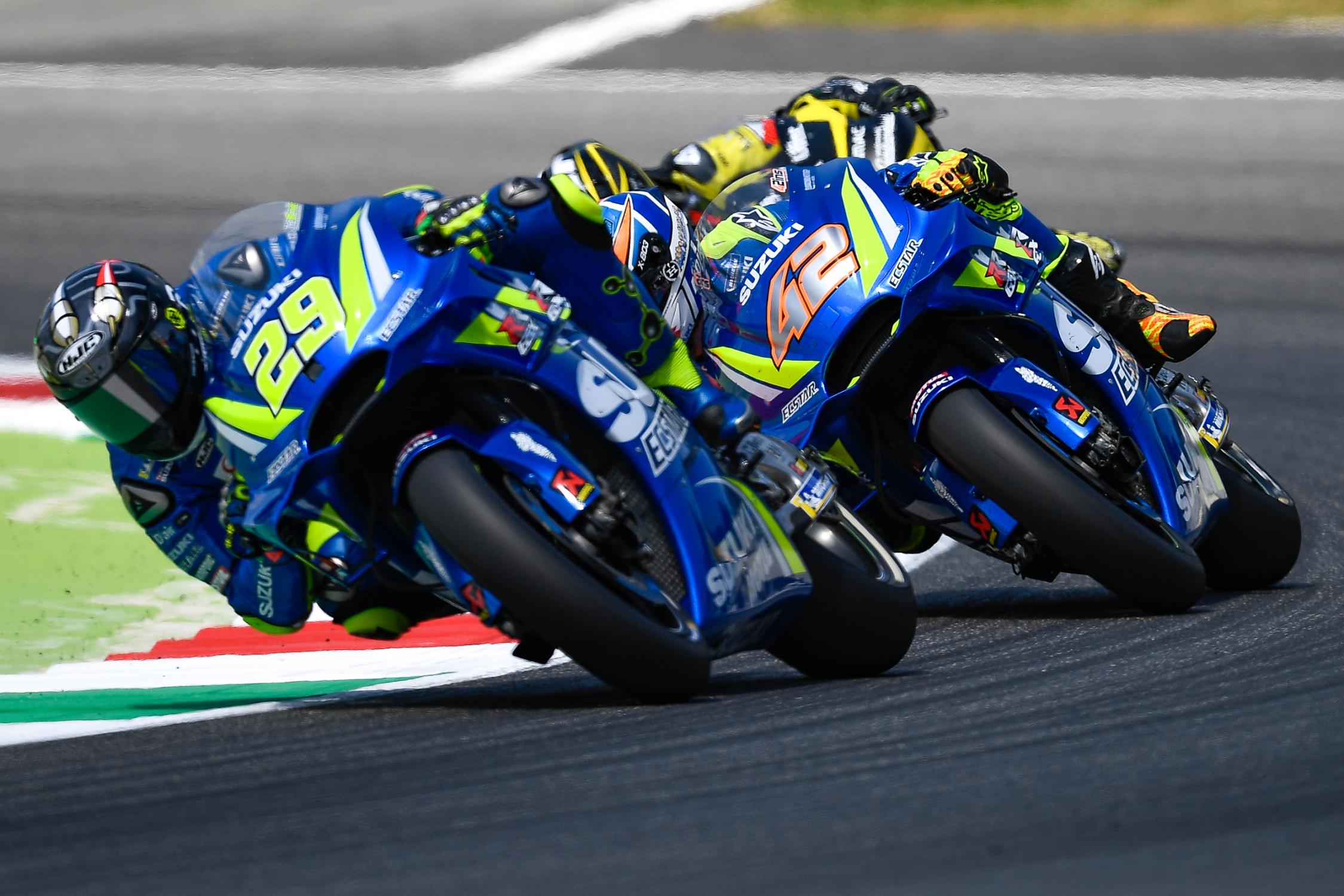 The Flying Blue Shovels had a good day.
Besides Lorenzo's return to form, Rossi was the other story of the day. He knew he didn't have the pace to win. A podium was as good as it would get, and a combination of talent, guile, and experience led him there. It was a masterful ride on a day when the other Yamahas struggled, including Zarco who was surprisingly 17 seconds back in 10th.
Would an upright Marquez have beaten Lorenzo? Plenty have asked me. The answer is it doesn't matter. He wasn't upright. The old axiom "to finish first, first you have to finish" applies. But at least now we have some life in the championship again.
A Lorenzo championship would take a miracle from here, but it appears he now has the speed to be a factor in the remaining 13 races this year. So he could make life uncomfortable for some by taking points off people who desperately need them.
Could Lorenzo's newly found form ruin Dovi's chances at a title…again?
Who knows. All I know is right now I'm off to a party. Jorge invited me to a fiesta de cumpleaños, which apparently is some kind of party full of blokes with no shirts on. Apparently he's forgiven me for my last two columns. He said something about showing me the "butter and the hammer fist". Fuck, I hope this party has some hot strippers. Female ones.
If I survive, I'll see you at Catalunya in a couple of weeks. If I don't, and I meet my horrific demise in a bath of sweaty, buttered, shirtless young men, then we will all know life is terribly unfair. As if Donald Trump marrying a model wasn't proof enough already.