The naked middleweight segment of the bike industry is one of the toughest, primarily because people shopping for such a bike tend to have certain expectations.
It's gotta be light, it's gotta be fast, and it's got to feel a little bit special in terms of handling.
Consequently, the manufacturers have serious skin in that game, and offer up some of the sweetest rides you'll ever chuck a leg over.
Triumph has made quite focused efforts to ensure its offering in this segment is right at the pointy end – which is why its delightful Street Triple has undergone its second major upgrade in as many years.
And this is why my time on the 2020 Street triple was entirely déjà vu-like.
In 2017, I attended the press launch of that year's range of Street Triples – which consisted of a heap of feverish road miles followed by an even more feverish day of track work at Lakeside.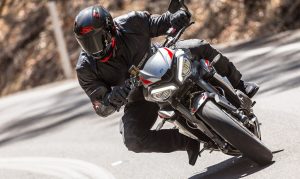 Thus the 2020 launch, which offered up some 400-odd kays of hot-weather road-riding on some of Queensland's finest swervery, and a day at Lakeside to examine the Street's track manners, was an excellent way to make a comparison between the outgoing and the incoming.
And the difference is quite substantial in the best possible way. The 2020 iteration of the Street Triple is in every way a better bike than the previous model.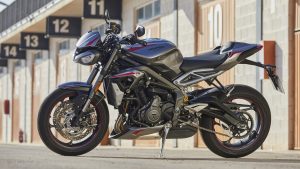 The styling, while staying true to the model, is now much more…well, complete, I guess. Especially with the crucial front, where a new nacelle and headlight treatment have very much improved the bike's look.
Power and torque are up substantially in the important mid-range, and those committed to getting hard on it will be rewarded with a motor even more eager to serve you hot shots of hooliganism.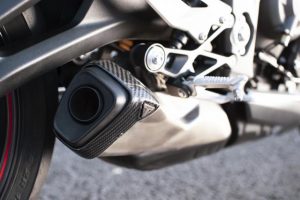 Triumph is now employing higher tolerance levels in many of its engines thanks to its involvement with the Moto2 class in MotoGP – so you get less engine inertia eating up the proffered grunt. And it is noticeable, especially on the road. I'm too busy not-crashing on the racetrack to notice that stuff – and it's not like I was any quicker around Lakeside this year than I was last time.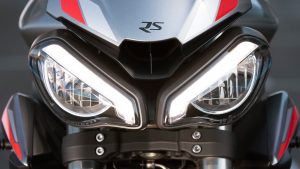 Just know the engine is keener than a cut-throat in a street-fight.
The rear suspension has been upgraded to a higher-spec Öhlins unit, while the front 41mm Showas are quite excellent. You get a compliantly firm, fast-steering ride which works beautifully on the road and only requires a slight firming at both ends to provide a comparably great feel on the track.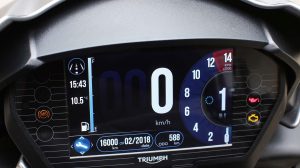 Somehow, Triumph as also managed to wedge a 17.4-litre fuel tank in there, so you'll easily get a good crack more than 300 out of a tank.
And you won't mind the time in the saddle, either. The seat is new and more pleasing to the buttocks. Your pillion will need to be a Russian gymnast or someone who loves you to the point of madness. Look, you'll be able to get her home from the pub, but I'm not sure about inflicting a five-day Street Triple odyssey to Darwin on your girl.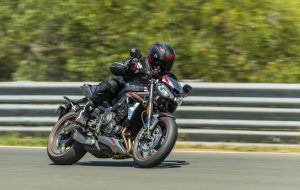 The Brembos (M50s) with MCS span and ratio adjustment were top-shelf, and I sure did give them a work-out while baking like a ham in 40-plus-degree temps.
The overall finish reflects Triumph's unapologetic positioning at the premium end of the mid-size naked niche, where the Street runs right up against the brilliant Monster Stealth and the sexier-than-sexy MV. It's also competing with Yamaha's superbly priced and able MT09, but offers a much higher spec of goodies to reflect the price difference.
And that's where the Street Triple wants to be – at the upper-end of the market, hence the beaut up-and-down quick-shifter, carbon-ended pipe, and tiltable TFT dash with more customising options than are probably necessary.
Look, I love the fact there are five colour options and three layout variants on the TFT dash – but only like I love the same supermodel putting on different coloured bikinis. Do you really need to be able to customise the colour of your display? No. Will you be changing the look each time you ride? No. Is it nice to have. Sure. Why not? It's all a bit hard to see in direct sunlight, but given the amount of time you'll spend switching it all around (bugger-all, I'm guessing), it's no biggie.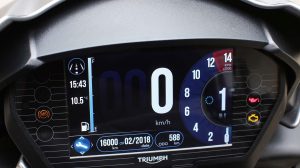 I guess it goes with the whole modern, high-fizz aspect of the Street Triple. Sport mode is breath-takingly intense. That engine spins up so fast and so smooth, it will make you slit your eyes and gird your loins. Road mode is certainly less evil-minded, so that's where mine stayed for the most part.
I did a solid 400-plus road kays – some of which were over some truly heinous bumpy rubbish that ran along the banks of some lakey thing in the Sunshine Coast hinterland. I was not battered to death and at no time did the Street feel unsettled or out of sorts with my inputs. It steered fast and true – which is exactly how such a light, febrile, and intense bike should feel. Being all light and shit is great, but if it's twitching and carrying on like a mad goat on bumpy roads, it's just a pain in the arse.
The ergos are not too upright, but I was at my physical limit in terms of knee-bendability. Any higher and it would have been a struggle for my six-foot frame. As it was, it felt spot-on. I could get my "Lean forward and pretend you're fast" shit on when it got twisty, and I could relax a bit on the boring transport stages.
Except when Dale, our lead rider made us ride through a terrifying grass fire. I stopped relaxing then and just hoped Dale wouldn't stop because I could not see anything for maybe twenty metres through the thick smoke, which was instantly followed by total clarity and an ambient temperature of some 60-plus degrees as we buzzed past the roadside burning.
I could not fault the Street Triple on the road. I felt quick, I felt comfy, and I felt very much in charge of proceedings. I was expecting some sort of tetchy lightswitch carry-on, and was very pleased to get rock-solid stability instead.
On the track – well, it ain't no Supersport, but then you're probably not much of a Supersport yourself. Normal people will be as fast and as sure on a Street Triple as they would be on any comparable Supersport, or indeed Superbike. Especially around smaller and tighter tracks like Lakeside. The chest-beaters will lament the lack of a 299km/h top-end at Phillip Island, but I'm betting they'll carry the same corner speed on the Street without any of the ergonomic compromises demanded by sportsbikes.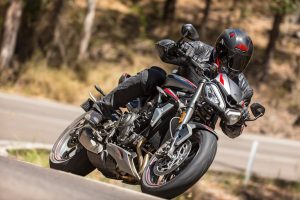 It's quite a potent package for 2020. Triumph as seriously nailed that difficult compromise between a superbly competent back-road hooligan-bike and a hugely satisfying track-weapon.
It's hands-down a more refined package – both in terms of ride and certainly in terms of finish – than the previous model, with some very smart and welcome upgrades.
It's up against some serious competition – but it's certainly equipped to fight that good fight.
And who isn't interested in that battle?
JUST ONE MORE THING…
You are now able to access and upload the Bluetooth navigational/phone/music program which was in the final stages of development when I was at the press launch. We didn't have it to try then, but it's here now.
HOW MUCH? $18,050 plus ORC.
COLOURS: You can have it in satin grey with red highlights, or matte black with sassy fluoro green highlights.
IMAGES BY iKAP
by Boris Mihailovic